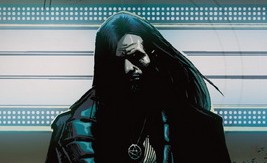 The horror genre and independent filmmaking have a relationship similar to that of Ramen Noodles and dorm cooking.  These two relationships exist for several reasons, one of which is the relative accessibility of the means required to achieve an end that's entirely gratifying.  In one case we achieve lunch, dinner, maybe even breakfast, and in the other case we get the almighty horror flick.  This is not to suggest that independent filmmaking is easy.  It's not.  It's a path artists take often out of frustration, sometimes out of rebellion, and it's always fraught with ups and downs, starts and stops, and successes and failures, all of which are the result of a hell of a lot of hard work. 

When it comes to independently realizing one's artistic vision, Bob Heske takes no prisoners.  A prolific writer whose work spans across several genres and mediums, Heske is a purveyor of horror at heart who's steadfastly independent.  Most of his award-winning graphic novels and comic books are self published and "The Night Projectionist", Hekse's vampire-centric graphic novel, was picked up by Studio 407 – an independent press on the very cutting edge of publishing.  Yet these stories have not only garnered the attention of horror fans, but movie studios as well.  I caught up with Bob to talk about the adventures of genre writing and to get the dirt on his next independent project, "Unrest" a feature length horror film, and his biggest challenge yet.
RavMon: Your background is in screenwriting, but you've successfully parlayed those skills into scripting comic books.  Creatively, how do writing films and writing comics compare? 
Bob: They are pretty much exact opposites, really.  In writing a screenplay, you are not supposed to give too much direction or you'll come across as an amateur or hack.  You pretty much have to "imply" what you want the director to do but are prohibited from giving explicit camera direction other than FADE IN and FADE OUT.
 In writing for a comic book, on the other hand, I've found it saves time to give as much direction as possible so the artist knows exactly what you want to see on each panel.  Otherwise you'll go through rounds and rounds before they capture what was in your head onto the page.
In many instances, I'll even insert a picture (a big taboo in film scripts – Final Draft doesn't even allow you to insert a pic into the script) to reveal a location or show what a character should look like.  Both comics and screenplays follow the beginning/middle/end story structure – however, in writing the graphic novel, "The Night Projectionist" I had to create 4 sub-books as it was supposed to come out in comic book form first.  So each of these sub-books had a beginning, middle and end.
RavMon: Which do you prefer?
Bob: I prefer writing either short scripts or short graphic tales.  Writing a feature or a graphic novel is very time-intensive and requires you to (literally) have the Big Picture inside your head as you settle down to the computer to write it.  But if I had to choose between writing a short graphic tale or a short film script, I'd probably pick the graphic tale as it lets you be director/writer and cinematographer all in one.
RavMon: Tell us about "Unrest".  Where did the idea come from?
Bob: "Unrest" is a tale about a brutal home invasion with a supernatural mystery woven in.  Think "Eden Lake" meets "Stir of Echoes".  The inspiration came from my older brother who is an ecologist/scientist and lives in a berm house in Illinois.  Berm houses are partially built into the ground – almost Crypt-like.  I wanted to do a micro-budget film and figured I could shoot at his house for free so I came up with the premise: "What if your bedroom wall were connected to an unmarked grave?"
A few of the events are actually based on things that happened to my brother, although I changed the main character to be a pretty young female ecologist who teaches at a university – better for the hardcore male horror fans aged 17-34 who flock to these indie films.  Also, the visiting grandparents who visit the heroine (who is a loner) to celebrate her 30th birthday are based on my own parents – my father is a caregiver to my mother who suffers from severe dementia.  In the film, the grandmother's dementia serves as a portal for ghosts buried at the berm house to "come through" and become central to the present-day home invasion story.
It's a very creepy, but riveting story that's tied together by a series of seeminlgy disconnected murders – in the past and in the present.
RavMon: Did the screenplay exist first or did you write it to serve your desire to tackle a micro budget film?
Bob: I wrote it to serve my desire to make a micro-budget film.
RavMon: You've had several screenplays optioned.  But with "Unrest" you've elected to raise the capital yourself.  Why?
Bob: I simply got tired of waiting for someone to actually MAKE my screenplays.  I've had a few short scripts that I have co-written get produced and win awards at film festivals.  However, after a few false starts on feature film projects, I decided to put the process in my own hands and try to get it done on my own.
RavMon: How far along is the production of "Unrest"?  What's been the most challenging aspect so far?
Bob: I'll start with the latter first.  The most challenging aspect is that I knew absolutely nothing about making a micro-budget film.  Robert Rodriguez I'm not.  The first thing I did was pick the brain of a friend who had made two ultra-low-budget films and then find an entertainment lawyer who specialized in micro-budget filmmaking.  I happened to listen to a screenwriting podcast called "On The Page" where the guest was a lawyer/author/filmmaker named Paul Battista.  I Googled his book, bought it off his website, and emailed him.  He eventually read my script and came on board as my entertainment lawyer and mentor.
The next thing I did was hire a Casting Director to get me a few Letters of Interest from notable actors who would be perfect for the project and could attract some financing.  I was very fortunate with the names I got – Eric Roberts, Ellen Muth from "Dead Like Me", and veteran film/tv actors James Keane and Juli Erickson to name a few. 
I'm in the financing stage now, making my business plan available to people who are interested in horror films and who might have the financial where-with-all to participate in the project.  I'll be focusing on raising capital and locking down a location over the next 3-4 months while I hold down a day job and try to pay attention to my wonderful wife and two little girls.  It's a juggling act, that's for sure!
RavMon: Your vampire feature, "The Night Projectionist" is being adapted into a graphic novel in conjunction with Studio 407.  A couple years ago there were also plans to also bring the story to the big screen.  What's happening with that?
Bob: It's been a slooow process – both in completing the graphic novel and in getting momentum for the film.  Here's the upshot – issue one of "The Night Projectionist" was released in January 2009, at the same time that Diamond (the company that monopolizes comic book distribution in North America) raised the sales threshold for titles to be included in their monthly "Previews" catalog.
Issue one sold about 800+ copies, which would have been fine in "the old days".  But under the new requirements, because it sold less than ~2,500 copies, subsequent issues would not be included in the Previews catalog – a virtual death sentence for a comic trying to build an audience and generate buzz.  As a result, Studio 407 waited to release the entire series as a graphic novel which will happen sometime in the first half of 2011, I'm told.
The irony was that Myriad Pictures, who shared office space with Studio 407, saw the panels of "The Night Projectionist" and were so intrigued by the premise, they optioned it.  As for the film, I wrote a first draft last year and will be doing a rewrite soon. We expect to attach a director and go after funding in 2011, so stay tuned!
RavMon: What were the stories/movies that led a young Bob Heske down the treacherous path toward becoming a writer?
Bob: The truth?  Probably the harsh reality that I was a lousy athlete led me down the creative path.  If I could knock down three-pointers on a basketball court or hit a 90 mph fastball, I'd probably be too distracted to bother with my morbid imagination.
RavMon: Why screenwriting?
Bob: My first few jobs I wrote a lot of business videos and AV presentations.  This, in retrospect, was pretty odd since I failed to get into a creative writing class in college.  Apparently all I could write about was keggers and sorority babes back in my fraternity daze.
RavMon: As a New Englander, are there any challenges you face as a screenwriter based on the East Coast?
Bob: Well, it can be challenging not being "local" to Hollywood.  Frankly, I don't have the social personality to market myself and knock elbows with celebrities at parties anyway.  Most writers are closet introverts and I'm no different.  Sure, I have a day job in marketing and have a wife and kids.  But part of my personality is always locked in a secluded corner.  So, in the end, the writing has to speak volumes about you.  Either that or you roll the dice and make noise with your own movie.  Hopefully, I will succeed at both.
RavMon: Among your many scripts, several of them have been comedies.  What does comedy have in common with horror? 
Bob: Horror and comedy are actually great bed mates – like chocolate and peanut butter.  Comedy gives the blood-thirsty nature of a horror film both an anxiety release and a sense of humanity in a world where monsters rule.  I love black comedies so when I write horror, I try to infuse a bit of dark humor and when I write a comedy I inject a dollop of death.  That's what life is about anyways, right?  Laughter and pain.
RavMon: Do you consider yourself a horror writer? 
Bob: I do.  But my wife and family just think I'm twisted.  They want me to go back to writing pure comedies so they can brag about my films.  My horror comics and scripts are too dark for their taste.  They constantly tell me, "You're a father now, what the heck are you writing this stuff for?!"
RavMon: How do you feel about all the incessant remaking, re-imagining, and regurgitating of classic horror that's happened over the last decade? 
Bob: Horrified.  Makes me want to kill someone.  I'm kidding, of course.  I'm not sure if "The Night Projectionist" will become a film franchise; however, I'm certain that "Unrest" will be one and done.
RavMon: Given that the vast majority of studio-backed horror films are remakes does it affect your expectations as a screenwriter with regard to genre material? 
Bob: I'm cognizant of it.  But when I write something I try to make it "high concept" – something that's familiar, but done in a different and engrossing way.
RavMon: The horror film has always been the primary vehicle for pushing the creative envelope of filmmaking.  I believe this is because of the DIY nature of the horror film and the fact that so many of them are made by people who've never operated within the studio system and who've had to be extremely creative to overcome a lack of resources, including knowledge of formal techniques.  Having said that, there are negative consequences to making movies without the tried and true methods of the craft and they usually manifest in two areas: acting and writing.  The result is that there a lot of bad horror movies one must sift through to find the gems.  How do you, having a formal education in writing and having been a professional script reader, approach your own horror scripts?
 Bob: Great question!  In researching and writing "Unrest", I tried to include several elements:
A great story done different.  The berm house provided a great venue to weave the story I wanted to tell.
Combine elements of my favorite indie horror films – in this case, elements of "Eden Lake" (urban violence) and "Stir of Echoes" (a ghost mystery).
Introduce recognizable and talented cast.  Historically, micro-budget horror succeeded because it didn't rely on stars, just a cruel premise and an attractive cast.  But if you figure on going straight to DVD, you're wise to get a few name talents on board. And if your film borders on psychological horror as much as violence, you want to build the most talented cast you can to have the audience sympathize with your characters and suspend disbelief in the story.
Bad visual effects ruin your horror cred – so it pays to identify a quality post-production house and a director with horror and/or visual effects experience.  Nothing brings a film down quicker than cheezy special effects that are more laughable than scary.
In summary, the formula is simple: a great story with a great cast shot by a great crew.  Oh, and a cool location can also be an additional "character" to set the tone and eerie mood.
RavMon: What are some recent horror flicks that knocked your socks off?
Bob: "Eden Lake" is my favorite (trailer).  It stars Kelly Reilly (Sherlock Holmes, Pride & Prejudice) and Michael Fassbender (Inglourious Basterds, 300, Centurion) as a couple on a romantic holiday gone awry.  If you haven't rented it from Netflix, you definitely should.
Here's the logline:
Refusing to let anything spoil their romantic weekend break, a young couple confronts a gang of loutish youths with terrifyingly brutal consequences.
Another good one I recently saw was called "Devil" about 5 people trapped inside an elevator – one of them presumably the Devil himself or herself.  A detective who tries to rescue the captives ends up having a strange connection to the last survivor.
RavMon: Admittedly, I haven't read all your stuff, but the things I have read, such as "Cold Blooded Chillers", seem to involve elements that are variations on the ghost story.  Is this a motif you're conscious of or have I just coincidentally read all your ghost material?
Bob: One motif I've really gravitated to is "Man as the ultimate Monster".  If you read the 3rd issue of Cold Blooded Chillers (Supernatural), then you definitely read the one issue that had a supernatural/surreal bent.  All the others focused on people doing bad things to other people.
In writing "The Night Projectionist", I went back to a creature feature – albeit almost like a Marvel comic where the hero, in this case a vampire who is the night projectionist at a condemned theater, has human imperfections to go along with his vampire super-human powers.  Plus, with the outbreak of all these "Twilight" fangirl films, I wanted to write a vampire story that was less romance and more gore.
RavMon: With "Unrest" on the horizon, what else can RavMon Readers look forward to from Bob Heske?
Bob: "Unrest" has pretty much been my focus for this year and for 2011 as well.  However, as mentioned earlier, you can look for "The Night Projectionist" to become available in graphic novel form with news forthcoming about the film.  In the meantime, readers can check out the first half of "The Night Projectionist" in "noir" (black and white) format.
I encourage readers to visit my website at www.coldbloodedchillers.com for updates on the fllm and as well as previews of my books and links to podcasts which I've appeared on.
More Links: