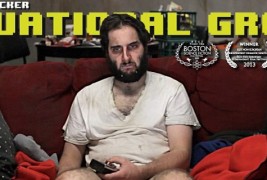 Motivational Growth tells the story of Ian Foliver, a completely broken and reclusive schmuck who lives in an apartment that would make even the filthiest couch potato break out in hives.  While going through his "recognition of self-worthlessness process," Ian decides it's time to end it all.  While concocting a life-ending potion in the bathtub, Ian takes a nasty spill but manages to still have a grasp on his mortal soul.  The realization that he even fails at suicide almost breaks Ian entirely.  Until a fungal mass clinging to the side of the bathroom sink begins to speak to Ian and set things straight.  Or does it?
Writer/director/editor Don Thacker decided to take on a project that really doesn't have a genre. A film that centers on a miserable loser of a man who spends a quarter of the film in his underwear.  It's a film that revels in the weird and silly and makes no apologies.  Thacker enjoys the non-existent restraints that come with independent filmmaking and he makes sure to wander the farthest reaches of the plains.
We enter Ian's sad little world when he's about as low as a human being can be, naming household appliances and admitting he hasn't showered in weeks. We watch as he begins to clean up his life thanks to a bar of soap and a razor and we really start to root for the guy.  Then things kind of get crazy in an Evil Dead-bloody sort of way and you just can't help but snap your fingers, shake your head and think, "maybe this dude is just doomed to fail at everything in life?"
Adrian DiGiovanni nails the role of Ian, displaying a great knack for delivering hilarious lines without coming off as a smart ass. Thacker couldn't have cast a better fit for the role.  With that being said, everyone really fit nicely into their parts, from Danielle Doetsch as the pretty girl next door to Pete Giovagnoli as Box The Ox.  Ken Brown deserves a special round of applause for his ridiculously crazy portrayal of a TV repairman who may love his job just a little too much.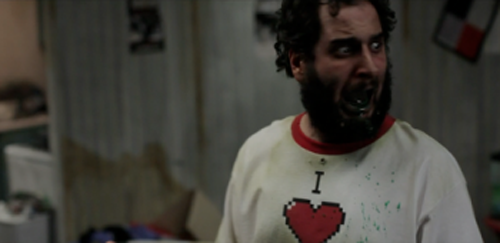 To add to the downward spiral of madness that Motivational Growth enjoys, the legendary Jeffrey Combs contributes his vocal talents to The Mold.  Combs knows a thing or two about slipping into madness (it doesn't get much crazier than portraying Herbert West and Edgar Allan Poe!) and it should come as no surprise that The Mold delivers some of the best dialogue in the film.
Whether Ian is narrowly avoiding a massive beat down from Box The Ox—his abusive lug-nut of a landlord—or projectile vomiting on a very peculiar TV repair man, our poor protagonist just cannot catch a break. Then he meets Leah, a beautiful neighbor he's been "door-stalking" for a few days and finally has the chance to speak with.  Things seem to be turning in Ian's favor.  Or are they?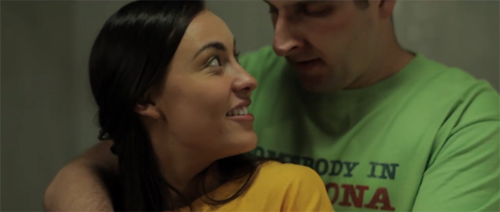 The production value of a low-budget film is always one of the most scrutinized aspects of said film. Whether it's lighting, set designs, costumes or any special effects that are attempted, the goal of any filmmaker working on a tight budget is to make sure the audience doesn't believe she or he was working with a hollowed out bank account.  Fair or not, your "little film that could" (or couldn't) will receive more attention on the details than anything else and it can make or break a viewer's experience.  Fortunately for Thacker, he knows what the hell he's doing and presents a film that is as crisp, vivid and creative as its million dollar counterparts.  Enough cannot be said for the attention to detail in this film, from making every inch of Ian's apartment look like a total pig pen to the puppetry of The Mold.  Throw in some nifty camera work and a solid script full of top shelf one-liners, and Thacker deserves every accolade coming his way these days.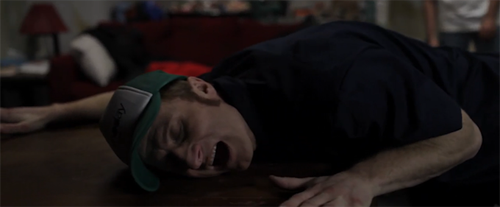 And finally, I absolutely loved the score of the film. Consisting of nothing but 1980s-style video game beats and action noises, Thacker does a great job of making this film feel as if we're watching a game play out…which is kinda what we're doing.
Overall, Motivational Growth is a trippy flick—the IMDB synopsis doesn't do it justice as it isn't just about a blob of mold and a sad bastard. There's a lot of clever writing that really makes you invest in Ian Folliver, for better or for worse. The deep self-searching dialogue is crafted nicely but it doesn't stray away from the general insanity of the film. There is a lot to like about this film, but it isn't for everyone.  There were times when I was unsure whether or not I was enjoying what I was seeing, but by the end credits I was more impressed with Thacker's direction and honest-to-goodness creativity than anything else.  One way or another, Don Thacker's directorial debut will grow on you.