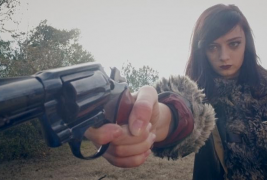 While the faux-vintage exploitation craze seems to be nearing an end, every now and again a true-blue bit of weird cinema made for next to nothing and chock full of death, depravity, drugs and damage gets our attention.  This time out it's a gross little ditty by the name of The Theta Girl made in earnest by first-time filmmaking duo David Axe and Christopher Bickel.
We love bizarre movies that take the salacious underbelly of storytelling and lustfully mutilate it for all to see.  And if the trailer at the bottom of this article is any indication, The Theta Girl is one such film.
Read on for the full press release and trailer, Horror Fans….
The Theta Girl, a feature film produced by first-time filmmakers David Axe and Christopher Bickel, is coming to film circuits this Winter.
The film had its world-premiere in Atlanta on Friday the 13th of October at midnight — a fitting time slot for opening what director Christopher Bickel calls "a brutally violent existential horror film." At the Atlanta screening, several audience members walked out of the film following one shocking scene depicting a violent home invasion. The audience members who remained were very vocal and enthusiastic about their enjoyment and appreciation of the film, one audience member writing in a comment online: "Holy sh*t! Talk about a low-budget MASTERPIECE. A gory drug-induced mystery! A psychedelic B Movie thriller! Roger Corman-esque Punk cinema that's WAY better and smarter than it should be! A++++++"
The Theta Girl was produced on a shoestring budget of $14,000. To put that budget into perspective, the film could have been made 3,571 times over for what it cost Hollywood to make one Emoji Movie. It is the first film for Axe and Bickel, and indeed it was the first film for the majority of cast and crew. Though the film exhibits some rough edges as a result of its extremely low budget and the experience level of the creators, it has been enthusiastically praised for its high entertainment value, thoughtful existential themes, and shocking content.
The film has already received accolades from critics. One critic gushing "not only is it possibly the best independent film of 2017 but possibly one of the best examples of low budget filmmaking EVER!"
Venerated indie film magazine Film Threat gave The Theta Girl high marks calling it "edgy, thoughtful, quality entertainment."
Billed as an "existenploitation film," The Theta Girl follows the trials and tribulations of young drug-dealer, Gayce Delko, and the hallucinogen she peddles. "Theta" was a "fun drug" — a drug that blew people's minds. Theta was supposed to be a door to Heaven, but when her best friends get methodically and brutally murdered, Gayce realizes theta might also be a door to Hell — and it's up to her to shut it. The film's tagline is "She brought the pills. He brought the kills."
Bickel describes The Theta Girl as "an exercise in sex, drugs, punk rock, brutality, gore, revenge, and self-actualization… but really it's an art film."
The Theta Girl was written by David Axe and directed by Christopher Bickel, who also shot, edited, and provided sound-design for the film. Axe and Bickel also served as the film's producers under the Barron Perter Productions moniker. The film stars Victoria Elizabeth as "Gayce," Shane Silman as "Brother Marcus," and Darrelle D. Dove as "Derek."
The film has not been rated by the MPAA, but it contains nudity, drug use, adult themes, and extremely graphic violence.