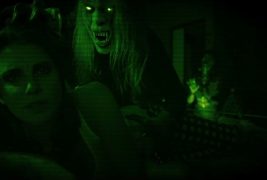 It's been a while since we've had a black-magic induced scare at the cinemas, but for those of you with a proclivity for pin cushions shaped like your annoying roommate, the wait is over. 
Filmmaker Tom Costabile's fright feature Voodoo is coming to the big screen next month.
Read the press release and watch the trailer below, Horror Fans….
Highly-anticipated horror feature Voodoo, written and directed by Tom Costabile, hits theaters across the US February 24.
Produced by HyperCube Films, Voodoo tells the story of an innocent southern girl, Dani, vacationing in Los Angeles to evade her increasingly complicated life.  Once Dani arrives in Los Angeles, she learns that trying to escape her past is not as easy as she had hoped.
Markets to be included includes Los Angeles, Boston, Chicago, Washington, Philadelphia, and New Orleans.
Voodoo stars Samantha Stewart, Dominic Matteucci, Ruth Reynolds, Daniel Kozul, Ron Jeremy, and Lavelle Roby.
Voodoo official website: http://voodoothemovie.com/