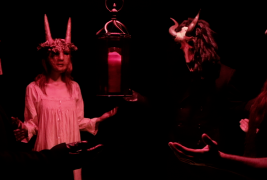 Wild Eye Releasing will start the year off with some tried and true satanic shenanigans with The Devil's Well, director Kurtis Spieler's tale about a group of paranormal investigators that goes back after one of their own who disappeared at the titular location a year prior.  Is the malevolent well a portal straight to hell…or something else?
Read on for the full press release and trailer, Horror Fans….  
Get your first big scare of the New Year with Kurtis Spieler's spine-chilling The Devil's Well, on DVD 1/23 from Wild Eye Releasing.
Karla Marks mysteriously vanishes while conducting a paranormal investigation with her husband into the Devil's Well, an underground location reported to be a gateway straight into hell, and the site of ongoing strange phenomenon. A year after her disappearance, a group of investigators go back to uncover the truth about Karla, and are faced with evil forces greater than they ever imagined.
Winner of the Gold Award at the Spotlight Horror Film Awards, and featuring a superb line-up including Bryan Manley Davis (Sheep Skin), Chris Viemeister (Bridge and Tunnel), David Alexander (Thelema the Equinox Diaries), Kristen Seavey ("Nightwing: Escalation"), and Anne-Marie Mueschke ("Siberia"), The Devil's Well is full to the top brick with bloodcurdling chills. Look for it 1/23 on DVD.