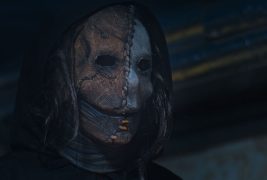 Filmmaker James Crow's House of Salem has one thing going for it, for sure: a cool idea.  While the film's title is a little nondescript, the synopsis below piques our interest here at House of RavMon and the trailer speaks for itself.
Read on for the devilish details courtesy of Wild Eye Releasing's press release and view the trailer below, Horror Fans….
Don't Breathe meets You're Next in writer-director James Crow's ''brooding and compelling horror with a crime thriller twist" House of Salem, streaming on VOD 1/23/18 from Wild Eye Releasing.
Kidnappers become a child's unlikely protectors after discovering they have unwittingly been set up to take part in a satanic ritual. As they begin to uncover the truth of the house in which they find themselves trapped, they must battle demonic forces and uncover a legacy of over a hundred years of murder in the name of the Devil.
Jessica Arterton, Jack Brett Anderson and Liam Kelly star in "an excellent watch" House of Salem, premiering on VOD this January from Wild Eye Releasing.