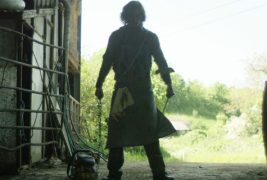 The Texas Chain Saw Massacre, being the progenitor of the "rural family of cannibals" horror movie trope, is arguably the most oft-imitated fright flick of the past half-century.  Doing so is no sin.  Rather, it's resulted in more than a few awesome movies through the years.  However, based on the trailer, calling Cannibal Farm a mere TCM homage would be an understatement of monstrous proportions.
Again, though, that's not necessarily a bad thing.  In fact, some of the imagery on display in this trailer would have been welcome in this year's legitimate claim to the TCM throne, Leatherface, which was okay, but not stellar.
Cannibal Farm should look compelling to the blood-n'-guts crowd and fright fans at large might want to keep their eyes on this one as well.  Read on, Horror Fans, for the full press release and the trailer….
Even Leatherface runs at the sight of Hunt Hansen and his Chainsaw!
Scare season starts early in 2018 with High Octane Pictures' Cannibal Farm, open for slicing and dicing from January 2!
From filmmaker Charlie Steeds and starring Kate Marie Davies, Barrington De La Roche, David Lenik, Rowena Bentley, Toby Wynn-Davies, and Peter Cosgrove, a terrifying, bloody lattice of The Texas Chainsaw Massacre, Friday the 13th and two gallons of two stroke!
The Harver family head out on an idyllic summer camping trip where they can bury past tensions and enjoy some family bonding. But when their camp is sabotaged by an unseen intruder in the night, they head to the nearby creepy old farm desperate for help, where vengeful farmer Hunt Hansen and his hideously deformed son aren't farming animals…
This January, fight to survive or get eaten alive! Cannibal Farm on VOD January 2 from High Octane Pictures.