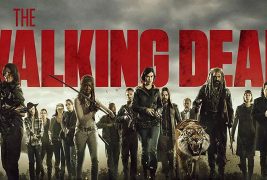 My final grade of the seventh season of The Walking Dead was my harshest one yet.  AMC's hit show had found itself in a formulaic rut the result of which was a frustrating, structurally-flawed weekly hour of television.  As a huge fan and steadfast defender of the series' better days, this reviewer grew weary of watching our well-developed group of survivor-heroes argue amongst themselves about whether to vanquish the bad guy – Negan (Jeffrey Dean Morgan) – or not, week in and week out while essentially nothing else was happening.  Good times, right?
When we left that mess, Negan was still alive and well, and things remained in a holding pattern as Rick Grimes (Andrew Lincoln) went about attempting to assemble a full coalition of allies to take him out.
Well, Horror Fans, we're now at the midpoint of season eight and here are the pertinent facts as we know them:  Negan's STILL alive…and well, as it were, there are still some heroes who are averse to taking out the bad guys (even ones named Negan), many peripheral characters have died as the Saviors and the Survivors have skirmished these past eight episodes, including the CGI tiger Shiva (one of the season's most effective sequences, actually), and despite some high-action, entertaining individual episodes, plot-wise we're still exactly where we've been for the past few seasons.
Season eight starts with Rick, Maggie (Lauren Cohan), and Ezekiel (Khary Payton) rallying their people at Alexandria, Hilltop, and the Kingdom respectively as plans move towards going after Negan.  Those plans start with the Survivors taking out all the Savior outposts as they lead a huge herd of walkers to surround the Sanctuary.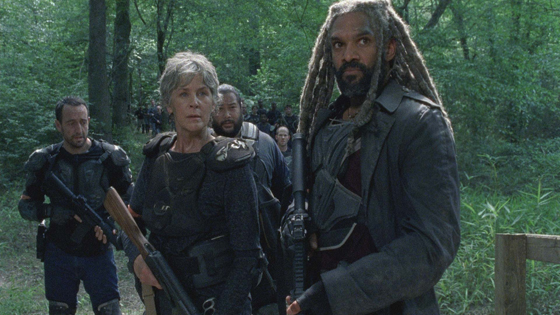 Despite things going well, it doesn't take long before some of our heroes start losing the will to take out the bad guys, namely Jesus (Tom Payne) begins moralizing and arguing with Carol (Melissa McBride) and Morgan (Lennie James) about showing mercy to a group of captive Saviors – mercy that will inevitably bite our heroes in the ass as we've been shown over and over and over again.  Eventually, even Rick and Daryl (Norman Reedus) end up at odds with how to proceed.
By the mid-season finale, former Survivor Eugene (Josh McDermitt) has helped the Saviors, including Negan, escape the Sanctuary and lead raids on the Kingdom, Hilltop, and Alexandria.  The semi-season concludes in the storm sewers beneath Alexandria.  Carl (Chandler Riggs) has led everyone to safety there and when Rick and Michonne (Danai Gurira) arrive Carl reveals that he's been bitten by a zombie – a strange departure from Robert Kirkman's source material and one of many plot moves that seemed to be serviced by any means necessary.
The Walking Dead season eight has shown clearly that this is indeed a series on its way down the other side of the mountain.  It remains entertaining, but it's lost the creative synergy that bestowed a brief window of brilliance to material, i.e. zombies, that usually isn't afforded "brilliant" talent, money, and effort.  How long The Walking Dead will remain viably watchable remains a mystery, but if there's any truth to the five-season rule, then it bears remembering that we're two and a half seasons beyond the series' optimal expiration date.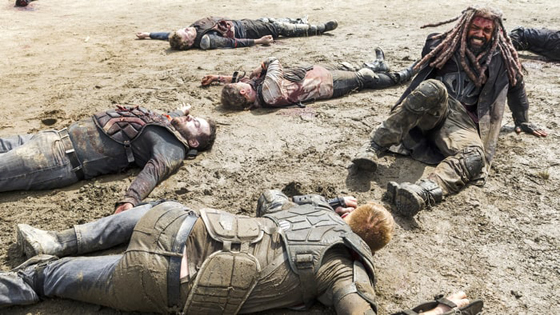 On the bright side, the first half of season eight did work substantially better than its season seven counterpart.  And despite that I'm in the minority on this, apparently – I think this semi-season's relative lack of Jeffrey Dean Morgan's insufferable Negan shtick was a simple yet major improvement.  More importantly, though, were the few action-packed episodes that featured remarkable stunt work and fast-paced plotting that kept the semi-season at large moving along and rendered the passive-protagonist problem that ruined season seven a thing of the past.  Keeping it so will be integral to how successful the remaining seasons of this series can be.
So, as much as season eight of The Walking Dead is afflicted with familiar plot holes, fuzzy details, unmotivated character behaviors, and a general lack of new creative territory for us to explore, it does have some things going for it that it hadn't had at this point last season.
Predicting what's coming next has been made significantly trickier by the show's decision to kill Carl.  You'd be hard pressed to think of a more significant departure from the comics at this point in the series.
Whatever's coming, though, it's likely we're nearing the end and I'll be there to see it through.
Midterm grade: C+