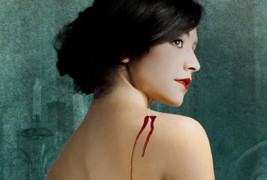 When I interviewed Freda Warrington for Ravenous Monster a little while back, one aspect of her writing I commented on was how in her stories she manages to preserve the image of the vampires of old instead of succumbing to creating the angsty teen vampires so prevalent in modern literature. And in A Taste of Blood Wine, she manages to do just that while simultaneously creating a smolderingly romantic plot.
A Taste of Blood Wine begins on a battlefield during the First World War, on which we meet vampires Karl von Wultendorf and his maker Kristian. It's obvious from the start that the two oppose one another on pretty much everything. Karl breaks away from Kristian's constraints (much to the latter's dismay), and takes a job as a research assistant for Dr. George Neville in the science field. It's there that he meets Dr. Neville's two youngest daughters and is immediately taken by Charlotte who, in return, shares a mutual fascination despite attempts to resist at first. Karl and Charlotte begin a tumultuous journey and relationship, one that leads Charlotte into a dark and deadly obsession…
Ms. Warrington displays beautiful prose in her writing. For me, that alone makes the reading experience all the more enjoyable. Another area in which this story scored points with me was its setting in the 1920s.  I absolutely love anything on that era. While some may say that the plot has been visited many times before (girl meets vampire, tries to resist and falls in love, etc.), the storytelling in A Taste of Blood Wine is quite engaging and evocative with vividly portrayed characters making it a very enjoyable read.
In closing, Freda Warrington's A Taste of Blood Wine is on my recommended list. It's also the beginning of a series so there's much more to the story at the end.
Check out A Taste of Blood Wine and its sequels (along with other books by Freda Warrington) at Amazon, Barnes and Noble, IndieBound, and Freda Warrington's Website.