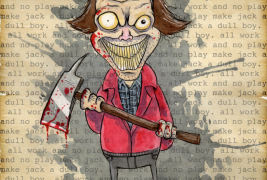 Back in November, as I was strolling down the corridors of Days of the Dead: Chicago, a very new take on some very classic horror villains caught my eye.  Think Tex Avery on acid.  Imagine Jack Torrance falling into a vat of comic book ink.  This was Angel Onofre's artwork and it was awesome.  I had the pleasure of chatting with Mr. Onofre recently and look forward to purchasing more of his artwork in the near future.  Read on….
Ravenous Monster:  Who are your artistic influences?
Angel Onofre:  There are so many.  A lot of '90s cartoons, the old Nickelodeon stuff. Edward Ross and Ralph Stedman were big influences, too.  I was just emulating those styles as a kid.  I was only watching cartoons and horror back then (laughs).
RavMon:  Do you have a favorite medium you work in?
AO:  I love water color.  It's chaotic.  You have to work with your mistakes, and I really love that challenge.  As far as kind of my "signature move" on a piece, it's definitely the giant eyeballs like in the classic Ren & Stimpy and Aaah! Real Monsters episodes.
RavMon:  Is your art your full-time job or do you have a day job?
AO:  I'm very fortunate in that my art is a hobby and that's the way I like it.  I'm an animator full-time, working with Chewy Software for the last three years.  I don't think I'd ever want to be an artist full-time, though, because art never really feels like work and I would never want it to.
RavMon:  What is the motivation, personally, behind your art?
AO:  When you work with and around so many incredible artists, you really get motivated by their enthusiasm and support.  When I'm surrounded by the things you love to look at and create, you wanna just run home and make stuff!  Artists are some of the greatest people I have ever met.  True friends.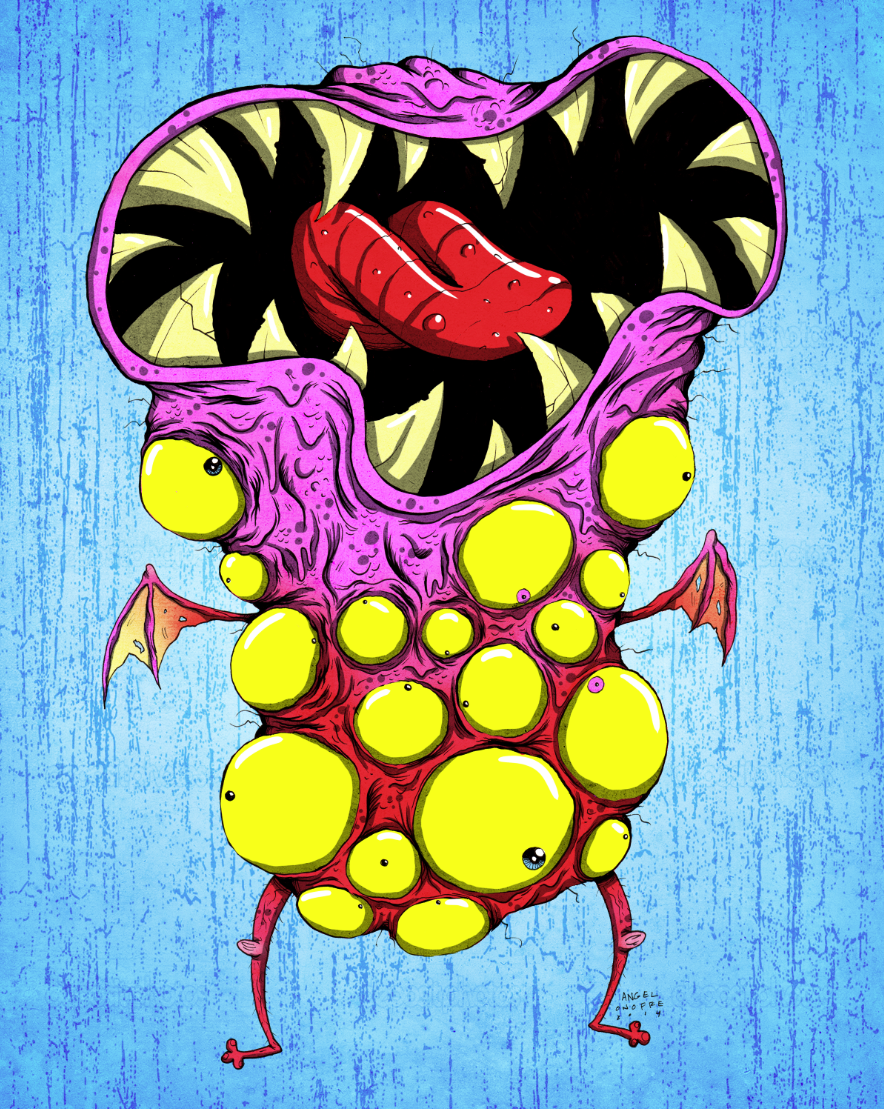 RavMon:  When did you start really putting yourself out there as an artist? What was your first convention as a vendor?
AO:  It wasn't that long ago, actually.  I'd go through artist galleries and think, 'someday I'm going to do this.'  Fast forward to C2E2 (in Chicago) two years ago, and it was really a now-or-never sort of thing.  I just took it as a challenge and I really loved it.  These days, I do as many conventions as I possibly can.
RavMon:  We met at the Days of the Dead: Chicago back in November.  Who were some of the celebrities you've enjoyed meeting during your time on the convention circuit?
AO:  I met Skottie Young at Wizard World in Chicago.  That was a real pleasure.  He is one of my favorite artists.  I was too nervous to talk to him, though! (laughs)  He bought a couple of pieces from me and he was super nice.  I remember thinking, 'He's as nice as I thought he would be!'  At Days of the Dead back in November, I met Felissa Rose and she is just so cool.  She's super nice.  I drew a picture of her and she was just so sweet.
RavMon:  Let's get the obligatory question out of the way now—what are some of your favorite horror films?
AO:  Oh, that is such a loaded question (laughs)! The Thing, A Nightmare on Elm Street, Alien and Poltergeist all rank way up there.  I love the old VHS cover art.  Rental cover art was the absolute best!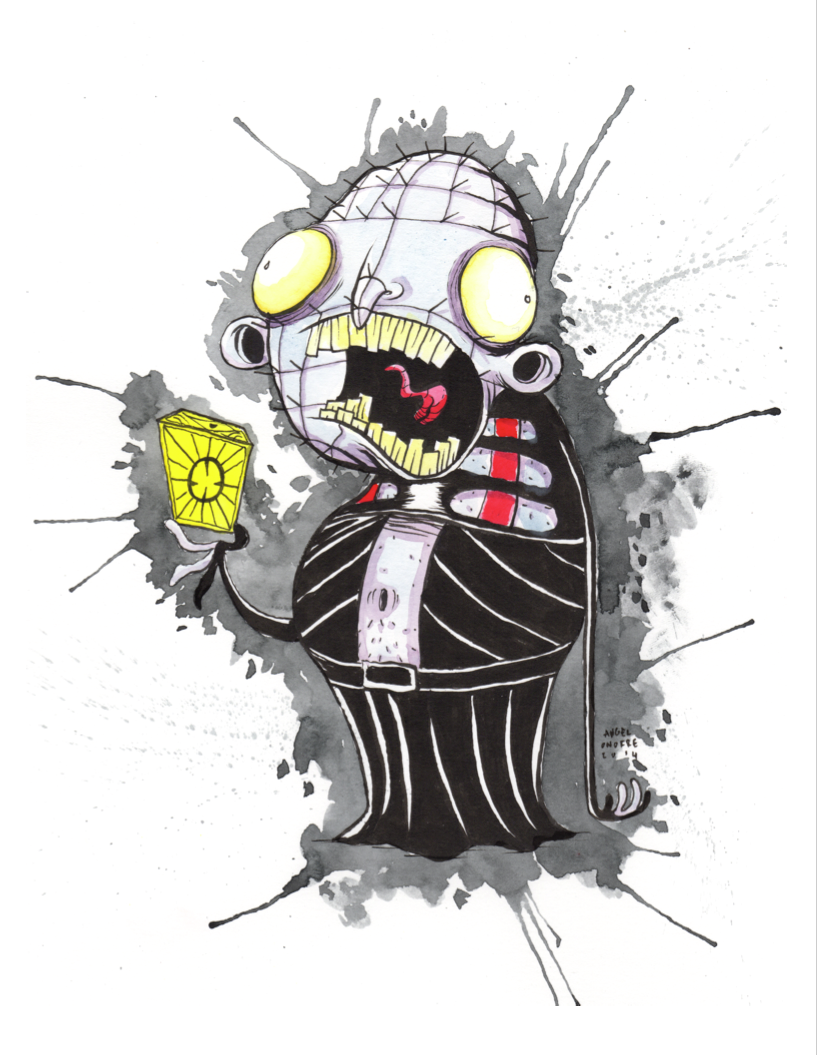 RavMon:  Do you have a particular piece that you hold near and dear to your heart?
AO:  Whatever I'm currently working on is really my pride and joy at that moment.  I usually look at the piece and think, 'I won't ever be able to do anything better (laughs)!'
RavMon:  Do you stick solely to the horror genre with your art?
AO:  I do a lot of video games and comic book work, too.  But I love to do monsters.
RavMon:  What are you currently working on?
AO:  I am working on a horror anthology with three buddies, called Scratches.  I'm very excited to be a part of that, because it is written by JSB of The Simon Corporation.  He is a fantastic indie writer and one of my favorites.  Leo Perez and Jon Michael Lennon of Cheese Lord Comics and I are going to be doing the illustrations, along with JSB.  I'm also working on a second book that I can't wait to see come to life.
I greatly appreciate Angel's time and I suggest that everyone check out his site, www.angelonofre.com!