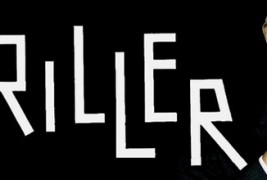 They sure don't make 'em like they used to! That's usually the battle cry of every crusty old crab such as myself when it comes to popular entertainment, resulting in a flurry of rolling eyes and groans from kids of the digital generation. Well, keep groaning, kiddies, because yes, horror and suspense today is inferior in just about every way to the glory days of classic TV.
As evidence, I present Boris Karloff's Thriller, a brilliant anthology of blood-freezing tales that lasted a mere two years in the early '60s. One would think a show of such short duration would fade into obscurity. Instead, the reputation of Thriller has steadily grown each and every year, to the point where many now consider it the scariest TV show ever made. Yes, even in comparison with classics like The Twilight Zone and The Outer Limits! What made the short-lived show so great? Allow me to show you….
The late '50s and early '60s was a golden age of creepy anthology TV shows. This art form has disappeared completely today. But there was a time when people would tune in every week to be scared silly by a different tale of terror, usually introduced by a suave host. The Twilight Zone comes immediately to mind and with good reason. The Outer Limits, with its weirdly gothic form of sci-fi, also made an unforgettable impression. One Step Beyond was an anthology show that focused on "real" supernatural events. And while it was not true horror or science fiction, The Alfred Hitchcock Hour had plenty of thrills. Each of these shows featured charismatic hosts, top notch directors, great writers and beautiful black and white photography. In such a mold was Thriller born.
The show made its debut in 1960 and was the creation of Hubbell Robinson. With the help of producers like Fletcher Markle and William Frye, Thriller aimed high from the start, drawing in stories written by the likes of Robert Bloch, August Derleth, Charles Beaumont and Robert E. Howard. The directors were also the cream of the crop and included John Brahm, Douglas Heyes and even top notch stars like Ida Lupino, Ray Milland and Paul Henreid. With all this talent at their disposal, the producers wondered about who exactly they could get to play the "host" of Thriller. That decision would be hugely important to the show's success because a good host could draw in fans while a poor one would keep them away.
They could not have made a better pick than Boris Karloff, the beloved "King of Horror." Karloff's name recognition was huge. He was certainly more well-known than Rod Serling at the time. In the late '50s, loads of old horror movies were released to local TV stations, resulting in a lot of "Creature Feature" type shows. Uncle Boris could be seen on TV just about every week in showings of Frankenstein, The Mummy and tons of mad doctor movies. After watching many episodes of Thriller I can state with confidence that Karloff was the best of the anthology hosts of the period. He was like a kindly old uncle with a definite streak of macabre humor; not as over-the-top as Hitchcock or as dry as Serling or as coolly detached as John Newland from One Step Beyond. Each episode of Thriller saw Karloff inserting himself into the action of the evening's story and warning us of the suspense and shivers to come. He would always introduce the principal actors of the show and conclude with his famous line, "As sure as my name is Boris Karloff, this is a THRILLER!"
Karloff actually had previous experience as an anthology host. He had filled that role for a very obscure early '50s effort called The Veil. But the quality of Thriller was superior all around to the somewhat threadbare productions of The Veil. Best of all, Karloff actually got to act in some episodes of Thriller and in each case he delivered a fantastic performance. Boris starred in 5 episodes total: "The Prediction," "The Premature Burial," "The Last of the Somervilles," "Dialogues With Death," and the show many consider his best, "The Incredible Doktor Markesan."  We'll look more at this last one in a bit.
From the get-go, Thriller had a split personality. There was a tremendous struggle between the producers and the network as to what kind of stories should be featured. Some voices opted that the program should focus on crime-oriented suspense thrillers similar to what was being done on Alfred Hitchcock Presents while others argued that it should showcase Gothic supernatural horror. Ultimately, the program was a combination of both. In the earliest days of the program, the crime thrillers dominated but as time progressed, the supernatural horrors began to take over. This schizophrenic feel divides Thriller fans to this day, as each style had its proponents. But there was no doubt that horror shockers like "Pigeons From Hell," "The Hollow Watcher," "The Cheaters," and "The Weird Tailor" were the more atmospheric segments. They also seemed to linger more in the public memory.
In the Good Doctor's humble opinion, the Gothic horror episodes stand as the greatest ever produced for television, surpassing similar episodes from The Twilight Zone and the later Night Gallery. Although there are also quite a few nail-biting suspense episodes as well, such as "The Poisoner," "The Mark of the Hand," and "An Attractive Family."  It's impossible to cover all the highlights of Thriller in a brief article such as this, but I'm going to take a look at some of the very best.
An early episode that blurred the lines between real and supernatural horror was "The Purple Room." In order to inherit an abandoned mansion, a cynical man must spend a night alone there. Starring a young Rip Torn as well as Richard Anderson who would later play "Oscar Goldman" in The Six Million Dollar Man, this one has some genuinely eerie and disturbing moments. The ending at first seems to be right out of Scooby Doo but one is left wondering just what is going on in that dark and dreary house…
William Shatner makes the first of two memorable appearances in the episode "The Hungry Glass." He and his new bride move to an empty seaside home to reclaim it but fall afoul of a mirror inhabited by an evil ghost. This episode also has an appearance from the Professor of Gilligan's Island, Russell Johnson and sports a very downbeat ending for TV at that time. Shatner would again show up in "The Grim Reaper," where he ironically would co-star with another Gilligan star-to-be, Natalie Schafer, the future Mrs. Howell. The ending of this episode is again unforgettable with its use of sound and imagination, as the title character seems to make a personal appearance.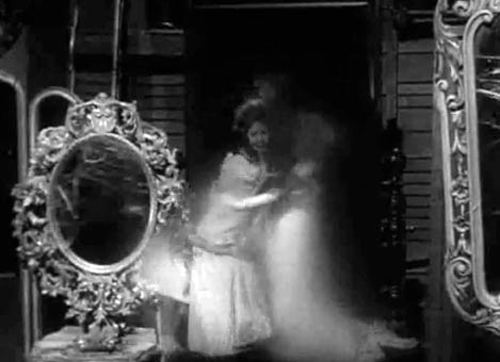 "The Poisoner" is not a supernatural story but has to be mentioned in any discussion of the best episodes. It's a beautifully mounted period piece about a cultured and refined Victorian gentleman who nonetheless is quite enamored with poisoning to death those around him. Murray Matheson is perfect as the "Poisoner" and the episode features a wonderfully atmospheric and haunting score by a young Jerry Goldsmith. This is as good a place as any to mention how tremendous the music for Thriller was. Much of it was done by Goldsmith, who would later be considered one of the greatest film composers in history as well as Morton Stevens, who gained fame writing the theme for Hawaii 5-0.
A while back, I had the opportunity to talk to former Pantera and current Down frontman Phil Anselmo about the horror genre—he's a huge aficionado. The talk quickly turned to Thriller and I found out that his favorite episode is "Well of Doom." This is another master class in Gothic, oppressive atmosphere that is so classical it hurts. Darkened Scottish moors, abandoned castles, dimly lit dungeons and menacing characters that seem to be from hell itself inhabit this tale. It's one of many Thriller episodes that feature the wonderful and cruelly ignored actor Henry Daniell. How this guy missed being a horror icon on the level of Karloff or Price is a mystery. In this episode, he plays a demonic being who might be Satan himself…or does he?
"Pigeons From Hell" is often mentioned as the scariest single program in TV history and I wouldn't disagree too strongly. It's adapted from a tale by Conan creator Robert E. Howard and offers a nightmarish stay in an abandoned Southern mansion that makes Norman Bates's digs look like Sesame Street. When two young tourists are stranded in the swamp, they take refuge in an empty old plantation house, with horrific results. Something terrible lurks within the decaying walls of the mansion.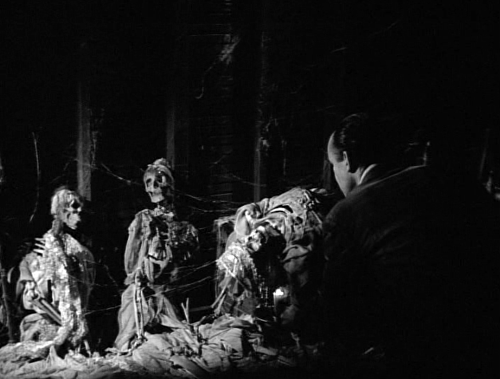 The ratings for the first season of Thriller were fairly robust and the show was renewed for a second season. The same template of mixing supernatural and non-supernatural tales was followed to the letter and the quality of shows remained extremely high. Here are just a few second-season favorites….
"The Weird Tailor" has an unforgettably grotesque ending. This tale is soaked in occult atmosphere. An amateur warlock accidentally kills his son when a ritual goes awry and he becomes obsessed with bringing the dead man back to life. He has a miserly tailor fashion a peculiar suit that will bring anything to life in the light of the moon. The tailor puts the mystic suit on a mannequin that his lonely, abused wife often speaks to at night. Eventually all the characters collide on a night of the full moon.
"Masquerade" brings droll humor to a tale of a couple forced to seek lodgings in a rundown hotel operated by creepy characters who just might be vampires. Tom Poston, Elizabeth Montgomery and the grand master John Carradine star in this pitch black comedy.
One of several episodes directed by actress Ida Lupino, "La Strega" tells a tale of a witch's sinister vengeance on her grand-daughter and her suitor. Set in 18th-century Italy, this is one of the most expressionistic and stylized stories in the show's history, with a powerfully evil performance by Jeanette Nolan as the witch.
One simply cannot talk about Thriller without discussing "The Incredible Doktor Markesan." This may be the single most morbid and death-centered television program ever filmed. Yes that includes "The Walking Dead." While the modern zombie horror is center on ripping out guts, this grim episode is soaked in a gloomy stench of the grave. It also offers one of Boris Karloff's best and most frightening performances. The episode centers around a penniless young couple (Dick York of Bewitched fame and Carolyn Kearnley) that travels to the mansion of an obscure uncle to beg for some kind of sustenance. They find the mansion in a shocking state of decay and the uncle (the Dr. Markesan of the title, played by Karloff) sullen and half alive. But Uncle Markesan allows them to stay on the condition they lock themselves into their rooms at night and do not interfere with his experiments. The inquisitive female member of the pair naturally disobeys and discovers, to her everlasting horror, exactly what old Dr. Markesan is experimenting with. Karloff is magnificently malevolent here and I personally would rather spend a night with Jason Voorhees than Dr. Markesan. The last scene of the episode is incredibly grim and downbeat, allowing not a ray of sunshine into this dark classic of Thriller.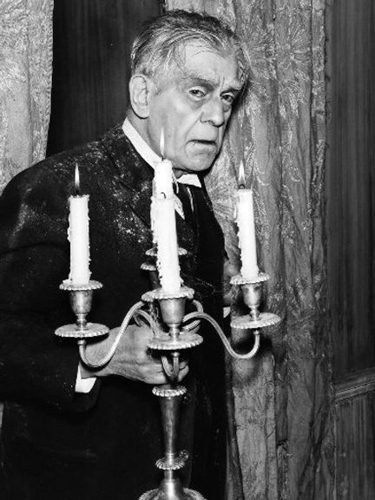 "The Innocent Bystanders" is not quite on the same level of gloom as "The Incredible Doktor Markesan" but it doesn't miss by much. It's a period story dealing with grave robbers and featuring a wicked twist at the end. The tale is inspired by the real life misadventures of the infamous Burke and Hare.
By the end of the second season, the ratings for Thriller were still strong but creative tension behind the scenes was taking a toll. There were numerous complaints about the violence and overall morbidity of the series and network executives were sensitive to them, fearing the loss of advertising dollars. The producers were in a constant battle not to lighten the dark tone they were striving for. But the real death blow for Thriller came when a jealous Alfred Hitchcock demanded that the series be cancelled. He had just signed a lucrative deal with NBC for a one hour version of Alfred Hitchcock Presents and didn't want competition and confusion with his own program. Hitch's clout was immense at the time, since he was coming off the success of Psycho and NBC bowed to his will. Thriller was cancelled after 2 seasons and 67 episodes.
Thriller was immediately sold into syndication but because it hadn't crossed the crucial "three-season" barrier, few TV stations bit at the package. The show lingered in constant showings usually during the graveyard shift after midnight, which was grimly appropriate, but it achieved nowhere near the notoriety of The Twilight Zone or even the similar The Outer Limits. But those who saw it never forgot it and as time passed, word spread, triggered by praise from writers like Stephen King.
In 2010, the entire series was finally released on DVD and made widely available. Now new generations of "victims" could see what the fuss was all about.
When this program was at its best, it produced some of the scariest, most atmospheric television ever seen. It's hard to think of any other TV show that so perfectly captured the essence of Gothic horror as Thriller did. Even the lesser episodes were never anything less than competent and entertaining. If the program had lasted one more season, there is little doubt it would have been considered the ultimate horror/suspense program.
If you humanoids have the nerve, you can find many episodes of Boris Karloff's Thriller on YouTube. Or you can take the plunge and buy the Thriller box set. Get ready for a journey into the darkest depths of television history!