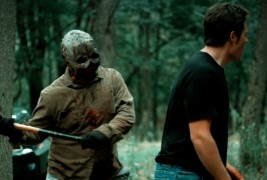 I recently had the opportunity watch a fun, quirky film – Sledge, a horror comedy that takes the age-old "campers are targeted by a sociopath" trope and wrings out every bit of delicious, gory cheesiness it can.  I talked all about it in my review, which you should look at if you haven't already, but I also wanted to get to know the creative mind behind it.  So, without further ado, come meet Kristian Hanson and learn about what it's like to make a movie for $800.
RavMon: First off, tell us a little bit about yourself. What got you interested in making movies?
Kristian Hanson: Originally I was born in Chicago, Illinois and that is where I would spend my summers growing up with my grandparents. When it comes to where I was raised however, that would be Gilbert, Arizona, which was a small Mormon town with corn and cotton fields. I just remember my mom and I going to the local video store Rent a Flick and across the street Rent a Movie—creative I know—and picking up the newest horror film or comedy that was available. There was another video store and the owner would get one copy of the newest horror film for my mom and me to watch and, depending on what we thought, he would order more copies. That is where we got to see the Leprechaun for the first time, a film that I personally love.
RavMon: I can't blame you, Leprechaun is a classic.  So about Sledge—what inspired the "movie within a movie" format?
KH: The movie within a movie actually came from not having enough footage when we filmed Sledge. I tell people that if you read the original script for Sledge, it really would be a completely different film because we added so much to the actual movie. My Co-Director John and I were talking about the length. Sledge by itself was only 68-minutes long and he asked what I thought about depicting a couple sitting down watching the movie. I thought it sounded like a great idea and that's where I thought about incorporating Assly. When he was in California visiting I pinned the Green Screen to the wall and in two quick shots we did the Assly segments. Next we were supposed to have a couple do the part of watching SLEDGE, but they had something come up and Rachel Cornell stepped in as the Couch Girl. She was great even if she did mock me relentlessly as Adam Lynch.
RavMon: It worked out perfectly, I think. So, why the decision to make it a horror comedy instead of a straight horror movie?
KH: When I was writing the script I kept thinking about the serious horror film side, but when Adam kept popping into my head, it just couldn't be serious. I wanted the characters to be more realistic, even if Alex got on people's nerves with his constant asshole side. I still remember my brother Steve messaging me and telling me that he really enjoyed Sledge, but if that Alex guy would have done what he kept doing to Nash, he would have kicked his ass. I laughed and said, "That is exactly what I want because that was me." I always seemed to be the third wheel in high school with my friends and my friends' boyfriends hated me because I lack a filter and always made the jokes that people say you shouldn't. So to be true to myself and to the characters, I just couldn't make this movie a serious horror flick without humor.
RavMon: Anybody who says they don't have a friend just like Alex is totally lying. Anyway, you've mentioned that Sledge was made on an $800 budget.  What was the hardest part of keeping costs down?
KH: To be honest there wasn't any issue with the cost of making Sledge. The movie didn't have any hiccups and we did what we could with what we had. I've said before in other interviews that we made the fake blood ourselves and we of course wish we could have done some awesome on screen gore scenes, but that wasn't in the cards for this film. Sledge isn't a perfect movie by any means, but we made it with love and I believe it shows, even if some people will wish for more of the red stuff.
RavMon: Was it challenging to play two roles in your movie on top of directing it?
KH: No, not at all. John and I would sit and talk about each scene even if I was in costume. The hardest part is talking with the teeth in so I would come over and spit them out and before going back to the scene put them back in my mouth. Adam is supposed to be funny so I didn't try to scare the cast or anything like that. I would just go over and tell everyone where I needed them and what they were doing, then go back over to the sledge hammer and pick it up and wander into the woods as I hummed "I Got You, Babe." For some reason that is the song that Adam hums throughout the movie when he is humming, all thanks to Russ Matoes, a.k.a. Nash.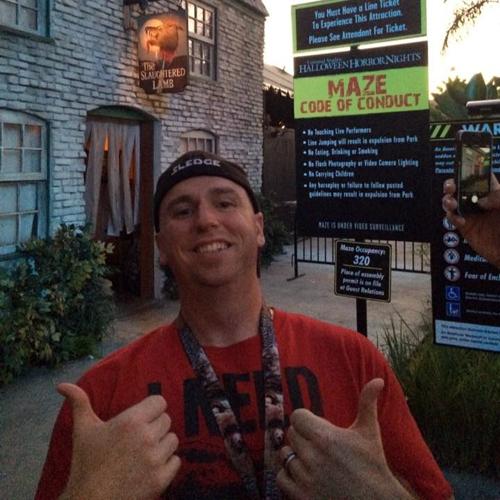 RavMon: That sounds like an incredibly fun environment to work in! Talk about bringing a character to life.  From your website, it looks like Adam Lynch has some big ambitions – merchandise, even rumors of a sequel.  What's it like building a horror icon from the ground up?
KH: To be honest I just love creating things that I, as a horror fan, would wear. I'm a fan of Adam Green and I love the shirts that he created for Victor Crowley and the Hatchet franchise. I actually own a bunch of Ariescope (Adam's Company) t-shirts because I love the work he does and it's a way to support him and the Hatchet/Holliston team. As for creating a horror icon, I think that is kind, but Adam Lynch is not an icon. He is just a goofy talking slasher who wants to be a part of his own movie/video game. Would I love for him to become an icon like Freddy, Jason, Pinhead, etc.? Of course because as a horror fan first, I don't really know what would be cooler than to look up at a collage of horror villains and see my goofy ass character somewhere in there photo bombing it like Dead Pool. The best quote I have ever gotten in regards to Adam Lynch, and it was from a friend, was when they told me, "Adam Lynch is the Dead Pool of Horror Slashers." At the time I wasn't too familiar with the character so I hunted down comics of Dead Pool and instantly fell in love with the wise-ass super Anti-hero. If people watch Sledge and think of Adam as Dead Pool, I would be beyond happy because Dead Pool is the best super hero ever in my eyes.
RavMon: I had never thought about that connection before, but you're totally right – he is absolutely the Dead Pool of slashers. Speaking of slashers.  There are a lot of references and homages in Sledge, some to movies that are pretty recent.  Say you were trying to catch somebody up on the most important or iconic horror movies of the last 20 years – what would be on your list?
KH: Wow the last twenty years is tough because that is from 1994 on. Thinking of the past twenty years I would have to say Ghost Face of course from the Scream Franchise. Next would be Victor Crowley because I am a geek for the Hatchet series. Next would be the Hillbillies from Wrong Turn 1 and 2 (3 finger is awesome!). I can honestly cheat here as well because there were sequels to Child's Play, Friday the 13th (Remake), A Nightmare on Elm Street, etc. to get people interested in my favorites like Freddy, Jason, Chucky, Pinhead, and Leatherface. I mention Leatherface because I still believe the 2003 remake is a terrifying film and one that my friend Jess sat in a theater and covered her eyes and ears throughout. The only thing I hated about that movie was the kid with the screwed up teeth. Should have gotten rid of that character because they had me from the opening scene of the gun being pulled out of the girl's hoo-haa and the camera shot from the hole in the head to the back of the vehicle. Such an awesome shot!
RavMon: That's a great list. And you can see a lot of the influence in Sledge, too, in a way.  Do you have any other projects in the works that we should know about?
KH: Right now we have a film that I co-produced and play the lead bad guy named Hal. The film is called BB and it will be having its world premiere at the Pollygrind Film Festival in Las Vegas on October 18th at 8pm. If you would like to attend and say hello you are more than welcome. Other than that, I have written Sledge 2 titled SLEDGED (and if we make the third one it will be called SLEDGED-D) and hope to film it at the end of August, 2015.
RavMon: Okay, SLEDGED-D just made me laugh, what an excellent title.  Anyway, before we wrap up: What's something you wish somebody would ask you about your work?
KH: To be honest I don't want anyone to ask me about my work. I love to talk to people and hear their stories about what they want to do or what they have done. People say I'm a filmmaker and a director and I think a lot like Kevin Smith when I hear that. I just say, "kinda." I have done so much in the past decade with deploying to Iraq, writing novels, writing scripts, making movies, and spending countless hours at Disneyland and Universal Studios with my wife that I just love talking to people about movies and what they want to do. I think the most interesting part of life is hearing stories from other people.
People's triumphs are what I especially love to hear because it brings a light out in people that you may not normally see. Someone who writes a script and gets that script turned into a movie. Or they had an idea for a book and sat down and wrote it and are now looking for an agent. They had a child and that child took their first steps, these are all stories that I love to hear because it means so much to them. Yes, Sledge was and is something I love and I am proud of, but I would much rather ask someone else a question about themselves instead of them asking me about my work, because I can only talk about myself for so long before I want to sledge hammer myself in the face. And if Adam Lynch was real, I am sure he would gladly do that for me.
Thank you so much for this interview and your time, and I am beyond happy you enjoyed the film, and I wish you and all the readers the best. Please feel free to e-mail me at [email protected] and visit our websites: www.chpfilms.com and www.sledgemovie.com and reach out if you want to chat via email or on the Sledge Facebook page.
RavMon: Hey Kristian, thanks again for talking with us! It's been a pleasure.  And readers, you know where to go if you've got more questions or want to look into Sledge.