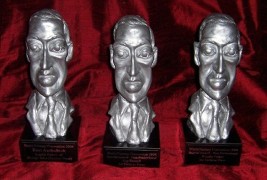 First, let's get this miserable piece of shit out of the way, and if you have a shred of human decency in you, the next eight sentences (nine, if you count the title) will not be pleasant.
On the Creation of Niggers[1]
By H.P. Lovecraft
When, long ago, the gods created Earth In Jove's fair image Man was shaped at birth. The beasts for lesser parts were next designed; Yet were they too remote from humankind. To fill the gap, and join the rest to Man, Th'Olympian host conceiv'd a clever plan. A beast they wrought, in semi-human figure, Filled it with vice, and called the thing a Nigger.
That David Duke-worthy ass-canker was written by my favorite author, the same man who revealed to me the mysteries of dreaming Cthulhu, the machinations of the Fungi from Yuggoth, the unholy prophecies of the Necronomicon, the ravenous and unidentifiable "colour" out of space.  He changed my world irrevocably. I visited his grave and dreamed of his monsters and began to see everything in an eldritch hue. Many agree with me. You'll find the author of "On the Creation of Niggers" immortalized in film, art, music, and all kinds of games. His bust is given to winners of the prestigious World Fantasy Award. But my love for his writing has always been tainted by that poem.  Upon reading it, WFA winner Nnedi Okorafor, an American author of Nigerian (Igbo) parentage, joined a long and tortured dialogue readers of Lovecraft have been having for decades.
We go in circles, offering the same palliatives: everybody was racist when Lovecraft lived, he kinda sorta grew out of it before his death in 1937, he was still a great writer and I don't care about his politics, he wasn't violent about it, he had lots of Jewish friends. . .there's anger and defensiveness and behind it all, a sense of guilt that we can find so much to enjoy in a man who wrote a poem entitled "On the Creation of Niggers."  Behind it all is the knowledge that doggerel like this represents something truly depraved: the kind of thinking that enabled the Ku Klux Klan to lynch with impunity for a substantial part of the twentieth century, that sent 11 million to the gas chambers and crematoria of Nazi-dominated Europe, that justifies the murder of young black men across contemporary America, that guns down the staff of Charlie Hebdo.  Godwin's Law or no, this is humanity-denying hate speech of the worst kind and we can neither excuse nor deny it.
The most recent twist in this debate is whether or not Lovecraft's bust (as visualized by Gahan Wilson) should continue to represent the World Fantasy Awards.  Substitutes have been suggested (Octavia Butler being the best, in my opinion), followed by counter-accusations of political correctness, and then all the old excuses.  Tessellations upon tessellations, forming fractal-like into the same, repetitive, meaningless debate.  It's time we admit upfront that Lovecraft, like many of horror's founding fathers, was deeply racist, to the ongoing detriment of our great genre.  I think Octavia Butler is as good a face for contemporary fantasy as Lovecraft, and given that the face of contemporary fantasy is no longer pearly Anglo-Saxon, she may well be a better one.   But I'm a middle-class white guy, and my opinion on Lovecraft's offensiveness can't be called informed.  So what do we as Lovecraft (or Howard, or Campbell, or whoever) fans do?
What we don't do is stop reading a man whose contribution to horror literature is as undeniable as his troubling racism.  If Lovecraft had merely been a race-baiter, he would be as forgotten as the William Dudley Pelley.  He was an ingenious writer, philosopher, and metaphysician.  He was, if his many friends are to be believed, a very genial, friendly, and outgoing man who was happy to nurture many authors who went on to be great talents in their own rights.  His letters are entertaining and often have a strange charm, like something you'd get from a kooky but lovable old neighbor—a male cat-lady.  Who also wrote "On the Creation of Niggers."
There is only one way we can exorcise this, the deep and human flaw of one of our genre's greatest creators.  We must take up our word processors, our pencils and brushes and cameras and clays and programming languages and create Lovecraftian horror that repudiates racism.  There is no other way.
I hear some of you grumbling about political correctness right now.  Hear me out.
I want to know about Arkham's black bootleggers, who run Innsmouth liquor up to Boston.  I want to feel the absolute terror of a Hawaiian navigator as he looks below his catamaran and sees a twisted building greater than the most triumphant mara'e of his kingdom.  Lovecraft tells us that Dunwich's stone circles existed before the Indians lived there.  So what did the Iroquois know about the beings that built them?  Who are the Whateleys of Mongolia?  Can the Australian Aborigines journey to Unknown Kadath in their vivid, pointillist dreams?
Horror must be open to all, not merely because it is the best and most human thing we can do, but because a rich globe of fear awaits us.  Lovecraft will not be excommunicated; he'll merely share the canon with the Lovecrafts of Africa, Latin America, and Asia.  With gay Lovecrafts and female Lovecrafts and Lovecrafts who aren't atheist materialists. Don't you want to know what scares them all?
[1] From http://en.wikisource.org/wiki/On_the_Creation_of_Niggers.