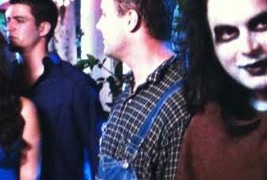 Recently, I was given the opportunity to not only review the newest effort put out by North Shore Pictures titled All Saints Eve, but I also had the chance to interview the film's up and coming lead actress, Mere Davis. Read on for more on Ms. Davis and what she has coming up—she's quite driven and will probably be doing quite a lot in the future….
Ravenous Monster: First, tell us all a little about yourself.
Mere Davis: I'm a musical theatre actor in New York, but I was raised in Uniontown, Pennsylvania, which is a small town near Pittsburgh.  I have one sister but many cousins. My family is very close, and they are a huge part of my life.  Although we are of Syrian descent, the film My Big Fat Greek Wedding is a fairly accurate depiction of what it's like to be in my family.  My father's side is even Syrian Orthodox.  Despite my upbringing, I'm EXTREMELY liberal.  I actually campaigned for Obama.  I'm kind of a flower child of the 21st Century.
I love children, and many of my jobs have revolved around that love.  I have been a kindergarten aid, nanny, babysitter, and preschool teacher.  I love animals and am a vegetarian and activist for NYCLASS, a nonprofit animal protection organization.  While we work on many different animal issues, we are best known for our efforts to end the inhumane and outdated horse and carriage industry in NYC.  Intro. 573, which was introduced back in December, would end the carriage industry by May 2016.  The legislation is a win-win for all.  Not only does it call for the horses to be retired to loving homes, but it also takes care of the jobs of the current carriage drivers – no one will lose a job if this legislation is passed.  I'm a writer, and I write a blog about living in New York.  In addition, I am a huge "Beatles" fan, especially Sir Paul McCartney.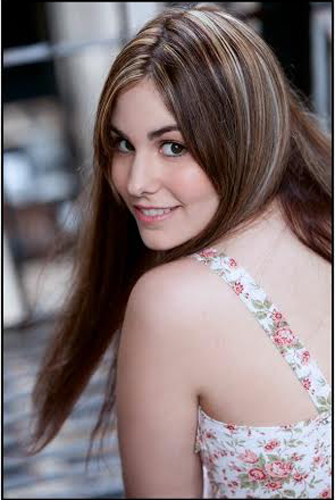 RavMon: What was your very first experience with acting?
MD: My very first acting experience was in St. Johns Roman Catholic Church.  St. Johns School always acted out the nativity on Christmas Eve, and I was cast as the Angel Gabriel.  I remember my sister Mary, who I idolized (still do), was the Virgin Mary four years ahead of me, and I wanted to be Mary so badly.  What little Catholic girl doesn't want to be Mary or her big sister?  I was so upset that they gave it to my bff at the time, but I got over it pretty quickly because I had super cool wings.
RavMon: How was your experience starring in All Saints Eve?
MD: I'm just so grateful because it truly was one of the most wonderful experiences of my life so far.  Well, except for the day my nephew was born.  Our director Gerry Lively is brilliant and cared so much about the cast and creative team.  The entire cast bonded immediately, and we became a family in less than a day.  I know that's very common in acting, but there was something about this cast that was special.  Also, Matt Bonacci who portrayed Will and I had great chemistry, so it made the 2 a.m. shoots a little less exhausting.
RavMon: Any hilarious or horrific on set stories?
MD: Okay, this is easy.  There's a scene when we ask to go back in the house, and it's a very awkward moment.  One of the actors couldn't get their line right.  It was so late at night, and I was so slaphappy I just started laughing.  Then everyone was laughing.  It felt like we did the scene one hundred times.  Scott Sullivan, who played Frank, turned around and squeezed my hand so hard, and Nicole (Kim) and I were shaking at one point.
RavMon: What are your thoughts on horror when compared to other genres?
MD: I love psychological thrillers and suspense films.  Vertigo is one of my all-time favorites, and I've seen Jaws countless times.  However, I just can't watch today's horror films.  I can watch a Hitchcock marathon and sleep just fine.  I could watch Jaws then go deep into the ocean five minutes later, but the memories of Leprechaun or Chuckie still give me nightmares.  That is really embarrassing to admit because most people would be more afraid of getting brain washed or chased by a shark rather than by being murdered by a doll.  I just could never understand how anyone could love a horror film, but it's so easy.  We all watch movies to feel something, whether it's escapism or a search for excitement.  The horror genre can make viewers feel so much, which is a beautiful thing.  I imagine horror fans don't take these films so literally.  I know my friends go because they need to laugh.  For me, though, seeing the Annabelle trailer gives me anxiety.  Anxiety is a feeling I detest.  Should I be cast in another horror movie I'd be elated!  It was so much fun.
RavMon: What do you enjoy doing in your down time?
MD: I love spending time in Central Park and writing.  I write a blog, and I enjoy running in the park.  I actually think my favorite thing to do on my own is go to a movie.  It's fun going with close friends once in a while, but I'd say going by myself is the best.
RavMon: Finally, what's coming up for you and where can we find you on the interwebs?
MD: I'll be working on a film with Triwar Pictures, so I'll be heading to Minnesota for a week or so this spring.  I'm doing a lot of writing and auditioning, of course, mostly for musicals.  I get little shows here and there.  I have a big job that may or may not happen. I'm hoping for a 'yes,' so fingers crossed! Thank you so much for this.
https://beatlesgirl89.wordpress.com/
http://www.imdb.com/name/nm5205454/