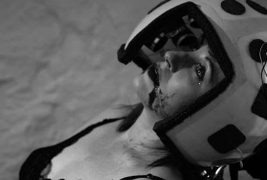 If you know me, you know that I'm usually not a huge fan of sci-fi. I don't hate the genre, but I also don't really geek out over the latest "Star"-whatever release. However, there are some pretty killer offerings that I do, in fact, enjoy. One of these being writer/director Yedidya Gorsetman's brilliant film, Empathy, Inc., which I just watched. Gorsetman's dark and gritty tale of perception, corruption, (mis)trust and desperation is beautifully presented to the viewer and immediately sucks you in. So, hang out for a little bit with me as I tell you about the one movie that I think everyone should give their attention to.
If you happen to be a fan of The Twilight Zone series, then Empathy, Inc. is a must-see. Hands down, the beautifully crisp and effective black and white cinematography of Darin Quan is definitely the je ne sais quois of this film. Also, worth gushing about is the incredibly unique and creative story written by Yedidya Gorsetman and Marc Leidner. I guess I should give you guys a quick tease as to what the story is about, yeah? Alright, here goes.
The lead protagonist is a guy named Joel (played by Zack Robidas) who seems to have it all until a devastating scandal hits his place of employment and he loses everything he and his actress wife, Jessica (Kathy Searle) had built. Instead of buying a dream house for the two of them, Joel and Jessica find themselves moving in with Jessica's parents. Ex-cop dad, Ward (Fenton Lawless) and loving mom, Vicky (Charmaine Reedy) are typical parents. They're a little disappointed in what happened with Joel's job, but they try to be supportive in their own way.
While taking a break from Jessica's parents' nagging one day, Joel finds his way to a local bar. It's there that he happens to run into an old chum from high school, Nicolaus (Eric Berryman). Nicolaus is familiar with what happened to Joel at his former job and offers him a unique opportunity to back a startup company that he and another guy are looking to get up and running. The company is called Empathy, Inc. and it deals with is giving wealthy people the opportunity to walk in the shoes of those less fortunate by using a technology called XVR, or extreme virtual reality. All Joel needs to do to be a backer is come up with a million dollars, which he's confident he can do.
He is intrigued as he hears more about what Empathy, Inc. does and why, but he's not intrigued about being asked to fund the company and its services, sight unseen. So, Nicolaus takes Joel to the secretive location so that he can experience the technology for himself.
Before getting into a vulnerable position, Joel meets the smarmy, evil mastermind behind the virtual reality software, Lester (Jay Klaitz). As Joel is strapped into one of the VR chairs, Lester tells him the rules to play by and the expected side effects to XVR before plunging a needle into Joel's arm and sending him on a virtual trip. Joel wakes up and sees with his own eyes, that he's been sent into someone else's body. So, essentially that's the selling point of the company.
The virtual reality tech is anything but virtual. Once Joel returns to his own body still sitting in the chair at Empathy, Inc., Lester asks him about his experience while checking him for any obvious signs of trauma. Joel is impressed with the technology and winds up getting the million dollars needed to buy into the company from Jessica's dad…and once Joel's a confirmed backer, that's when things begin to get weird(er). Nothing and no one is as it seems in Empathy, Inc. Corruption, ego, curiosity, greed and desperation are just some of the components of this tale, but there's also a depressingly romantic component thrown into the mix towards the end. A lot of other things happen in this film, but you'll just have to see what they are for yourself.
I honestly can't say enough good things about this crime-noir-science-fiction-horror mashup of a film. Again, the beautiful cinematography, solid acting, great story and the on-screen chemistry between the actors are all just brilliant and a great joy to watch. Empathy, Inc. should get a lot of positive recognition once it's theatrically released on September 13th.