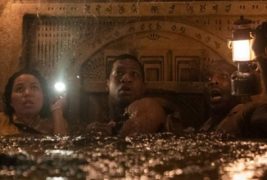 The mysterious and malevolent Braithwaites have left Ardham and come to Chicago, having survived the implosion of their mansion, and it's becoming clear that their reach extends far beyond Massachusetts. To counter their occult power, Tic, Leti, and Montrose have to return to Massachusetts to seek out an enigmatic manuscript hidden beneath the Boston Museum.
Lovecraft Country hasn't had a bad episode yet, but "A History of Violence," directed by Victoria Mahoney, may be the most fun one yet—an Indiana Jones-like crawl through secret cultist headquarters underneath the Museum, filled with water traps, pressure-plates, cobwebbed mummies, and everything else that scenario implies. For the role-players among you, it would make a great Call of Cthulhu session, as each character uses their talents, abilities, and knowledge to help the party wend its way through a series of gruesome potential deaths. For the rest of you, it's just a good old-fashioned pulpy adventure—in the best sense.
Lovecraft Country's willingness to unflinchingly, but artfully tackle the issue of race has made it something unique in the Lovecraftian horror sub-genre. "A History of Violence" doesn't abandon these themes by any means, but seeing the heroes swim through dark tunnels, defuse traps, and solve puzzles nonetheless makes for a nice palate-cleanser, and its shocking ending has me looking forward to seeing where episode 5 takes us.