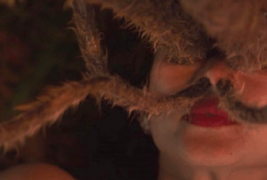 Lovecraft Country has teased Tic having had "a girl in Korea" several times already over the course of the series, and in Episode 6, "Meet Me in Daegu," we finally find out who she is. Ji-Ah (Jamie Chung) is a demure nursing student with a love for American musicals who lives alone with her mother Soon-Hee Meeh (Cindy Chang) on the eve of the Korean War. But Ji-Ah has a terrifying secret, and when she meets with Tic under very dark circumstances, it lays the groundwork for a haunting love story with implications for the rest of the series.
Directed by Helen Shaver, "Meet Me in Daegu" is good old-fashioned East Asian horror, drawing on concepts from Korean folklore to create a story of pathos, tragedy, secrets, and the supernatural. Jamie Chung and Cindy Chang have a great onscreen dynamic, and the slow reveal that their relationship may not be what it appears is well-handled by both actresses and director. The episode also has a gut-punch for the viewers when we learn what Tic's Army service entailed, casting his character in a new light.
My complaint about "Meet Me in Daegu" is similar to the one I had regarding Episode 3, "Holy Ghost." As well-done as "Meet Me in Daegu" is, it feels at times like an awkwardly placed flashback with little in the way of transition or connection back to the main arc of the story, as though series creator Mischa Green wants to have her horror anthology series and eat it too. As good as Episode 6 is, I can't complain too vociferously, I hope Episode 7 shows us more of Ruby's slide into magic and insanity.