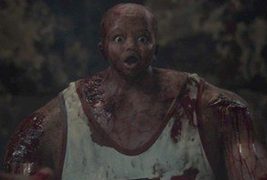 Episode 3 takes Lovecraft Country in a slightly different direction….
Picking up a month after the end of Episode 2, we find the protagonists back in Chicago. After Uncle George's funeral, each drift their separate ways. Tic has been staying with his Aunt Hippolyta (Aunjanue Ellis), who suspects that her husband wasn't really just shot by a small-town Sheriff as she was told. Father (Michael K. Williams, The Wire) has gone back to his alcoholic, abusive ways, and Leti (Jurnee Smollett) has suddenly come into money, which she uses to buy Winthrop House, an old mansion on Chicago's North Side, making her one of the first generation of "pioneering" black homeowners to move into a predominantly white neighborhood.
Leti's plans to turn her new property into a boarding house, however, face resistance from both racist white neighbors and haunting presences within Winthrop House itself.
"Holy Ghost" is a bit of a frustrating episode. It's not bad per se, but it's such a stark departure from the storyline of the previous two episodes as to be jarring. How did the four escape Ardham? Are we to believe that after their perilous journey from Illinois to Massachusetts, our protagonists simply drove back to Chicago? And while the elements of racial commentary and supernatural horror are as capably blended as we've come to expect, the action feels more like a monster-of-the-week than a continuation of the story, despite a closing ultimate tie-in.
Nonetheless, it says something for the talents of those involved that the sudden pivot from eldritch Lovecraftian horror to gothic ghost story still results in an entertaining ghost story, and while "Holy Ghost" in some respects disappoints, Lovecraft Country is still far from jumping the shoggoth.
Tune in next week, Savage Readers….