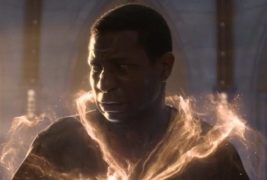 Episode 1 of Lovecraft Country introduced us to Atticus "Tic" Freeman (Jonathan Majors), a black Korean War Veteran and science fiction fan who returns from Korea to find that his estranged father has run off to Ardham, Massachusetts. With his childhood friend "Leti" Lewis (Jurnee Smollett-Bell) and Uncle George (Courtney B. Vance), Tic begins a dangerous journey from Chicago to Ardham to bring him back, a journey made dangerous not just by the virulent racism of Jim Crow's America, but by the malevolent supernatural forces awaiting them at the journey's end.
The end of Episode 1 landed our heroes in a dreamlike mansion deep in the New England woods owned by a very Village of the Damned-looking white family. Welcomed in, they find themselves in a luxurious estate filled with their favorite books and clothes, as well as fine food, gifts from their hosts, the mysterious Braithwaite family.
Even stranger, Tic is the only one who remembers being attacked by blood-drinking monsters the night before. Increasingly suspicious is the generosity of family patriarch Samuel Braithwaite (Tony Goldwyn) and his daughter Christina (Abbey Lee). This being Lovecraft Country, it soon becomes clear that the Braithwaites' mansion is the headquarters of a forbidden and terrible cult—one to which Tic has an uncomfortable tie.
Directed by Daniel Sackheim (The Americans, True Detective) and written by Misha Green, Episode 2 continues the strong start of Episode 1. Evil cults are of course part and parcel of the Lovecraftian horror experience, but the portrayal of the Braithwaites manages to feel both classic and fresh, calling back to the tropes without blindly replicating them. Sackheim and Green create a trippy atmosphere, an off-kilter sense that the sanity of the main characters maybe wavering, but never answers any of our questions. The performances remain strong and the action increasingly tense.
Lovecraft Country's strong start continues and builds upon itself. If you haven't had a chance to watch it, make it a priority.