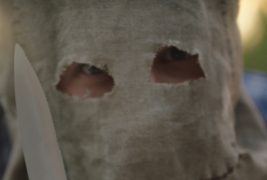 There's nothing like a good plot twist to make your eyes widen, your jaw drop and the hairs on the back of your neck tingle.
That is, if it's a twist that catches you by surprise.
If it's one you spot a mere 10 minutes into a movie, the suspense dissipates faster than rain on hot asphalt.
And so goes Escape: Puzzle of Fear, a just released flick from director J. Jones. Stripped of its mystery, viewers are left to hope the acting, dialogue and scenery are enough to hold your interest. To an extent, they do. But let's pin down some details first.
Matthew (Tommy Nash), a wealthy Hollywood agent, and his friend Tyler (Omar Gooding — yes, Cuba's brother) meet up at his palatial estate for dinner and drinks. Also, there are Matthew's live-in girlfriend Brittany (Aubrey Reynolds) and Tyler's squeeze Angela (Naina Michaud). Matthew adds some tension to the evening by talking about a Halloween night in the '90s that has Tyler squirming. But he doesn't reveal the whole story, which involved the two of them and a pair of young trick or treaters, one of whom wound up dead.
Instead, the conversation shifts to a new escape room the foursome agrees to check out the next night. Although called the Escape Hotel, the theme they choose is that of a police station and courtroom.
Now you don't need me to explain the concept of escape rooms; they've been around long enough to inspire more movies than just this. But the foursome, joined by a few other puzzle players including one nicely portrayed by Nicholas Turturro (brother of John and a veteran film and TV performer in his own right), plunge into this escape room with abandon. After solving the first room and escaping to the next, the real "fun" begins.
And you certainly don't need a doctorate to realize Matthew has a history of serial killings. We're told as much through flashbacks and his own admissions. Thus, it's soon apparent this is a game of revenge, not escape.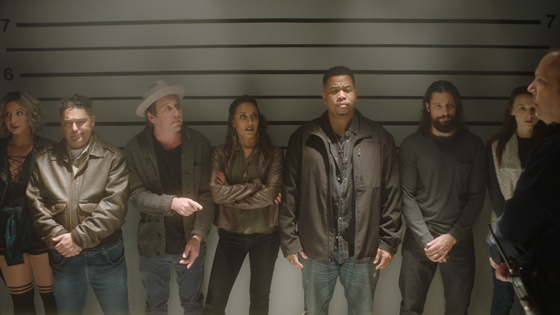 I'd give you a spoiler alert and say more — for example, one of the escape room players is the sister of the little girl killed on that long-ago Halloween night — but you'll figure all of this out after your first few popcorn bites.
Instead, we'll focus on what the film does well, since suspense isn't one of them. For starters, this is a pretty good group of thespians. Most of the performances are top drawer, particularly Reynolds as Brittany. And the dialogue is decent, working from an engaging — if, again, unsurprising — script from Lizze Gordon. The lines get better as the film moves along, though there are enough pregnant pauses in the first few minutes to birth a woolly mammoth.
The sets are terrific, well-lit and creepy when necessary. The budget had little room for special effects, however, so the gore quotient is way down, resulting in a scarcity of scares. The soundtrack is also unremarkable.
Jones does a decent job at the helm of this pic, but the opening sequences are a little scattershot. One wonders, for a moment, if this overseer didn't graduate from the School of Non Sequitur Direction.
At any rate, Escape Room: Puzzle of Fear is a decent enough diversion. It just isn't particularly … uh, puzzling.