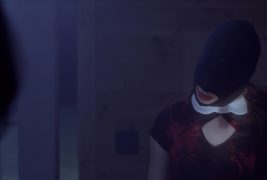 Like many of you, I've been looking for some decent, satisfying horror to watch during these crazy times. The horror offerings on many of the streaming platforms have been tame for the most part. I haven't seen anything new that's blown my mind or made me excited. This makes me a sad Barb.
However, after watching the trailer for a film called The Luring (2019), I became hopeful that a viewing of this movie might help to turn things around.  Was it successful in fulfilling my hopes or was I left wishing that I had done nearly anything else with the hour and a half I spent watching this movie? Hang with me for a few and find out.
The Luring is the first full-length feature written and directed by Christopher Wells. This film was one of the more anticipated entries of the 2019 Panic Fest film festival as it was making its worldwide premiere at this event. Since I was not an attendee at Panic Fest, I was curious to see what I missed out on because I'd heard a lot of positive things from the folks who were able to see it on the big screen. Unfortunately, after watching The Luring for myself, I was left wondering if I'd watched the same film that everyone had been raving about.
Essentially, The Luring doesn't live up to the hype. Aside from a couple of disturbing twists, the film doesn't deliver anything that I haven't already seen before. The plot is that Vermont is a fucked up area and that New York City is THE best place on Earth to be. Well, not really, but we hear something similar being said several times throughout the movie by the main characters. The actual plot of this film is generally about a traumatic event that happened to a child attending the 10th birthday party of Garrett, the protagonist.
We're introduced to an adult Garrett (Rick Irwin) in a meeting with his doctor where they're talking about the past happenings at his parents' Vermont vacation house where his 10th birthday party took place. Garrett doesn't remember much about Vermont, or what happened there, but he does recall his folks placing him in an institution shortly after the unfortunate incident occurred. The doctor diagnoses Garrett as having dissociative amnesia caused by experiencing such a traumatic event. So, Garrett decides to return to the house in Vermont to see if it triggers his memory.
Naturally, he brings his girlfriend, Claire (Michaela Sprague), along for companionship. Actually, that's only partly true because we learn that Garrett's "excited"  to return to the house to meet up with some mystery person (Molly Fahey) who's reached out to him on social media and has informed him that she can help him with his memory mission.
Now, I don't know if this movie is supposed to be an intentional love letter to Stephen King, but The Luring borrows heavily from The Shining (1980), as well as a couple of other King works. For instance, once Garrett meets the masked mystery woman who helped lure him back to Vermont, he begins his Jack Torrance inspired downward spiral and does Jack Torrance-type things. Hell, even the Vermont house has an Overlook feel to it. There are also a couple of other elements within this film that you may find very familiar, including a red balloon and a weird giant clown creature. Also, if you do decide to give The Luring a watch, pay attention to the realtor and let me who he reminds you of.
I should tell you that while this isn't a gore-packed film, there are a couple of disturbing scenes of child endangerment and worse. One of these scenes happens once the identity of the mystery woman is revealed, and we see what actually happened at Garrett's birthday party all those years ago. The other scene is something ala Pet Sematary (1989), so nothing more to say about that. Anyway, in wrapping this up, The Luring is a movie for fans of horror/psychological thrillers.
The Luring debuts on demand June 16, 2020.  If you'd like to learn more about this film, you can check out the official Facebook page or find it on IMDB.