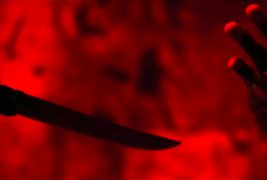 On February 9, Gravitas Ventures and Kamikaze Dogfight will deliver Necropath, a new horror film by Joshua Reale that, according to its press materials, will also deliver us a new horror icon.  We won't go that far–yet–but the trailer looks promising.
Necropath is a grimy, grindy-looking nightmare that depicts what happens when a deranged butcher does his thing during an extremely viral pandemic, a timely coincidence if ever there was one. As society crumbles and nefarious conspiracies are uncovered, an abandoned girl is forced to protect her baby sister while she fights for survival.
The film stars Moe Isaac, Nathan Faudree, Cassandra Hayes, Lillian Colvin, Natalie Colvin and Shain Hence.
Watch the trailer for Necropath below, Horror Fans, and watch for the movie on demand and digital February 9….