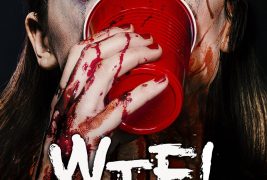 Alright, Horror Fans, we have another throwback slasher homage coming to murder the peaceful vibes in our living rooms come August 1st.  Midnight Releasing is unleashing Peter Herro's feature debut WTF! on all major formats.  It's B-movie Madness! 
Read highlights of the press release and watch the trailer below, Horror Fans….
Three years ago, girl-next-door, Rachel barely survived a brutal massacre that left her friends in pieces. Time has passed, and Rachel has moved on, but unfortunately history has a way of repeating itself.  Her new set of close friends are spending spring break in a secluded house in the woods, and they have cordially invited her to join. Little does she realize that another bloodbath will soon be showing up as a plus one. Once Rachel and her friends arrive at the house, the partying, sex, and terror begins. From girls-only pillow fights to debauchery in the bedroom, it's going to be a blast…until the stabbing, flesh melting, and castration starts.
Seven friends will go into a secluded house for the best spring break of their lives, but only one will be alive to post about it on Facebook the next week, as Rachel's biggest fears become a reality once again. Will Rachel survive another bloody massacre?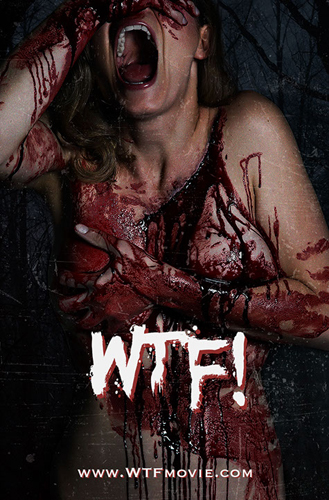 WTF! is writer/director Peter Herro's first feature, and his love letter to classic horror films. In 2000, Peter first delved into the world of horror with his short film Don't Look Behind You, where a killer – in a mask – sought revenge on his friends after leaving him for dead. That film sparked a desire within Peter that grew with each year: make a full-length film. It took multiple years of writing, hustling for investors, and it required a strong commitment, and a "never give up and fight for the film you want to make" attitude from Peter and his team. In 2015, Cthulhu Crush Productions joined on as executive producers. Having his full vision realized was the goal for director Peter Herro, and he couldn't be prouder of the final result. WTF! has many moments that make you say, "What The Fuck!" It is a true B-horror flick with a lot of heart…and a lot of gore.
"It took me a very long time to put together the cast and crew. I spent three months in auditions making sure the actors fit the parts, were up to the challenge, and had the same passion as I did. Equally as important was interviewing crew members to get the right people for the jobs. I am so happy and thrilled for the team I have working on this project. Everyone put in 100% and gave it their all." – Peter Herro, Director
WTF! will be released on VOD and DVD on August 1, 2017. The film will be available on major platforms: Amazon, iTunes, Google Play, Vudu, and Steam with additional platforms to be announced.  Fans can get connected via the official Facebook and Twitter (#WTFmovie). There is also more information on the official website!