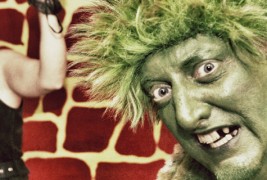 Sometimes the most inspirational epiphanies strike during the unlikeliest times.  Take Rich "Freakshow" Peterson for example.  The self-made late night horror host and director of the Madison Horror Film Fest was neither of those things five years ago when he was kicking back on the couch, squeezing in the last bit of available rest and relaxation before getting up on stage and throwing down some classic Judas Priest tunes.
After some ups and downs, the studded leather biker jacket still rests comfortably on a bed of mothballs.  In the meantime, Peterson has assembled a cable access horror program featuring beautiful, darkly sinister women and spearheaded by his evil – and green – alter ego, Freakshow.  And perhaps more impressively, he's also established an annual horror film festival in Madison, Wisconsin – a progressive university town that always seems to be on the cutting edge of pop culture.
Ravenous Monster caught up with Rich Peterson and got the scoop on this year's Madison Horror Film Fest, what it takes to organize such an event, and the current status of an iconic slice of ghoulish Americana – The Late Night Horror Host.
RavMon:  What prompted the first Madison Horror Film Fest and how did you go about setting it up?
Rich:  It was Halloween, 2006. My band, Grinder (a tribute to Judas Priest) was set to play the Maximum Ink Halloween Spooktacular which I had developed back in 2003. My niece was out of town so I had to go to her house and let out the dog.  I decided to chill out a little before we had to play so I kicked back on the couch and turned on AMC as they were running a monster movie marathon.  The show was hosted by different guests.  One of the guests they interviewed was Michael Hein, the director of the New York City Horror Film Festival whom I later had a chance to interview myself as the associate producer of the Graveyard Show Podcast in 2009.
I had always been a fan of horror films, but at the time I was not privy to the film festival network.  I had heard of sci-fi conventions, of course, but was never aware of the horror genre conventions or festivals.  Right then I decided that this was something that Madison needed.  I figured with such a diverse cultural atmosphere in this city, we would fit right in and hopefully be able to showcase some of the local filmmakers' talents.
At this point I was living in Portage, WI and still trying to keep my eye on the Madison Music scene, booking a few shows here and there while mulling over the idea a bit.  In January of 2007 I contacted one of the bigger theatres in Madison and discussed the prospect with them.  The cost to put on the event, just with the rental and union workers and everything else that went along with it, came in at around $11,000 dollars, or maybe a little more.  The venue was a perfect fit for the festival, but by no means would I be able to cover that amount of cost.
I put the idea on hold for a bit and began gathering information on other genre festivals at the beginning of 2008.  By July of 2008, I had returned to Madison and decided to stop working in the music scene and focus on putting together the first festival.  After putting together submission guidelines from parts of various other festivals, I put together a simple website, booked another theatre at a much lower cost, and started spreading the word through horror forums and other internet resources.
By the time the festival came around in October of 2008, we ended up with 23 films from around the world including Canada, Australia, Spain, and Italy.  The amount of local films was very minimal, much to our surprise, but what was submitted was all good work and we included it in the festival.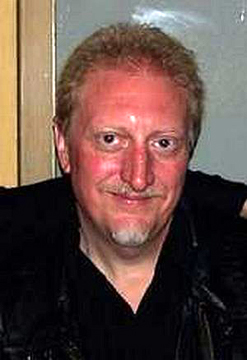 RavMon:  A couple years ago the Madison Horror Film Fest premiered Cory Udler's Incest Death Squad and Stuart Gordon was on hand for a screening of Re-Animator, followed by a Q&A.  This year there will be a bevy of late night horror hosts, both in attendance and hosting via video.  Do you try to establish a theme each year or is the line up dictated by the availability of potential guests, etc?
Rich:  I don't want to say that we set out to set a specific theme.  The idea is to make the event as entertaining as possible while still showcasing the yet-unseen work of the filmmakers.  When it comes down to it, that is really our main goal – to try and cater as much as possible to the yet-unknown talents.  Like when we had the opportunity to screen Incest Death squad, we had been involved with the film from basically the beginning and didn't feel it was fair to screen it at the actual festival as we were a bit biased.  So we screened it as a pre-performance the Friday night before the festival to a sold out crowd.  As far as booking talent, a lot of it does have to do with budget as well as availability of the talent.  When we had booked Stuart Gordon, there was a lot of buzz about a possible [Re-Animator] remake as well as his strong ties to the University here and the Madison community.  Everything just fell into place.
For this year's festival, we decided to go totally indie with the exception of Lucky McKee's, The Woman.  Both Christopher R. Mihm and Thomas Berdinski have great films that are fun and campy in their own right.  Incest Death Squad 2 has never screened in Madison so we jumped at the chance to the follow up which I am told is much darker.
As far as booking the horror hosts, there has been a great resurgence of the craft in America and we have the privilege of becoming friends with most of them through our show.  Doctor Ivan Cryptosis is the official host of Christopher Mihm's films.  Marlena Midnite and Robyn Graves from Midnite Mausoleum, as well as Doctor Sigmund Zoid and Roxsy Tyler, all appeared in Thomas Berdinski's film, "The Giant Rubber Monster Movie" which we will be screening at the festival pre-party benefit for WYOU the night before the festival on Friday October 7th.  Once again, everything just kind of fell into place.
Ravmon:  The last time we talked, you'd explained how a local late night horror host, Mr. Mephisto, was a major influence on you by virtue of the late Friday night horror movie showcase that aired on WMTV in Madison, WI from 1966-1982.  In the age of the internet, is the Late Night Horror Host an endangered species or has the internet actually saved the Horror Host?  Does this year's Horror host-centric fest have any added importance?
Rich:  The horror hosting community is very alive and still somewhat undead, and a lot of that is totally due to the popularity of the internet.  Anyone with a camera, a basement, garage, apartment or cardboard box, some sort of background, and a little talent and creativity, and also sometimes very little of each, can host a film online.
A lot of the hosts are still broadcast on the airwaves, as well, through the help of local cable access channels and now the supplemental analog channels each network affiliate has.  A couple of examples would be Marlena Midnite and her show Midnite Mausoleum based in Iowa as well as the Bone Jangler out of Chicago.  I believe that both of them are broadcast in around 40 markets across the United States on various cable access channels.  Midnite Mausoleum can be seen here in Wisconsin in Kenosha, Milwaukee, as well as Fitchburg, which is right down the road from here.
The most important part of having the hosts involved with this year's festival, whether they are appearing live or via video, is to let the people know that the art is not dead.  We are showing Christopher Mihm's film "Attack of the Moon Zombies" as a matinee performance in hopes that some children will be able to enjoy it.  Who knows how many of them might just catch the inspiration and grow up to show the same, and maybe some newer, schlocky films in the future that we show now as horror hosts.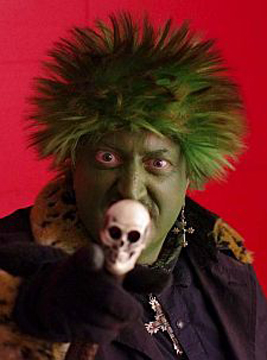 RavMon:  Tell us about your own horror show, Bordello of Horror?
Rich:  There isn't much to say besides the fact that Bordello of Horror is hands down the best written, best produced, and most entertaining late night horror show on the face of the Earth.  But seriously, we're terrible…but getting better.  We have had our moments when we shine, but then we have some real bad and rough spots as well.  We finally have a girl on the show, Sinister Seductress Stormy, who has already brought a positive change to the show.  We are starting to get a little more recognition here in Madison as well as in the Horror community.
We air locally on cable access channel WYOU from 1-3 A.M. Sunday mornings following Saturday Night Frights, which can be seen [locally in the greater Madison, WI region] on Charter analog channel 95, digital channel 991, and streaming online at www.WYOU.org.  We recently got picked up by the Monster Channel as well.  The Monster Channel runs 24/7 at 100ymm.com and features a variety of different horror host shows as well as occasional live broadcasts of different hosts' shows.  I'm not sure if we are currently on a set schedule, but for right now we can be seen at 11 A.M. and 11 P.M.  CST on both Fridays and Mondays.
RavMon:  Is Bordello of Horror an asset for organizing a horror film fest?  How do those two endeavors overlap?
Rich:  Bordello of Horror was actually conceived because of both the festival and of course the influence that Dick Flanigan as Mr. Mephisto had on me as a child.  Originally, when I was thinking about putting together the festival, I was thinking of merchandise to have available at the event.  The idea of calendar girls came up, but then so did the issue of what to call them.  Harlots of Horror kind of rolled off the tongue and then the idea that as Harlots, they would need a pimp in their life and so Freakshow, the Deacon of Darkness, the Posthumous Pimp was born.  It was a natural fit for the outline for a horror show.
Now, as time has passed, the show is an outlet for advertising the event through appearances as well as on the internet and the show itself.  The two tie together well as we have a built in host when needed and we have the opportunity of working with current and past filmmakers to showcase their films, not only at the festival but occasionally on the show, as well.
RavMon:  How many horror film fests have you done now?
Rich:  This will be the third Madison Horror Film Festival.  We did the first one in 2008 and followed up in 2009.  We then took a year off to regroup and work on the show a bit.  Now that we have gained a bit more momentum, we hope to have many more to come, as well as a few other special events throughout the year leading up to the next fest.  Through each event we learn a little bit more each time and hopefully we are honing our skills and we are able to bring the community what they want.
RavMon:  What do you feel are your greatest strengths regarding organizing the fest?
Rich:  Outside of a true passion for the genre and independent filmmakers, organization is my strongest asset.  That and what I had learned through my career in the music industry, as far as booking talent and negotiating contracts.  It helps that over the four years that I have been delving into the horror scene I have made plenty of contacts and friends.
RavMon:  Which elements do you need to improve on?
Rich:  I would say keeping a better eye out for upcoming films that we may be able to expose the public to.  To be quite honest, I was totally unaware of "The Woman" by Lucky McKee that we will be presenting at this year's fest.  A friend of mine on Facebook, Chippy McSchnitzel, who had attended at least one of the past events, turned me on to it and from there I looked into it and got it booked.  Besides that, maybe better promotions for the other events throughout the year.  Horror films are not just for the Halloween season, they just spark more interest at that particular part of the year.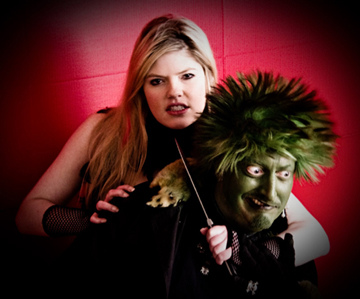 RavMon:  What are your top three favorite horror films in general and why?
Rich:  Texas Chainsaw Massacre (the original) because of the graininess of that film the realism –  that it could actually happen.  Plus it was so damn twisted.   Night of the Demons (the original) because of the sexiness and evil that it portrays.  I have since become fairly good friends with Kevin Tenney and have thanked him for that film time and again.  Toxic Avenger because of the campiness.  It straight up started a whole off shoot of campy films and the Troma Empire.  It was a great honor to interview Lloyd Kaufman and Toxie a couple of years back.  It was an interesting and very informative interview, the man is a genius.
RavMon:  Are any of these the same films that scared the young Rich Peterson?
Rich:  Definitely!  Texas Chainsaw Massacre scared the crap out of me and I wasn't even that young.  That film will always stick with me.  I remember seeing ads for a film called "Children Shouldn't Play With dead Things".  That trailer alone haunted me for years.  I just recently saw the film and it's a joke, nothing scary at all, but still a somewhat decent film.
RavMon:  Which films are you showing this year at the fest?
Rich:  Besides the featured films and their directors, and Lucky's film, we only have two other feature films.  The rest are shorts.  The two feature films are "The Collapsed", directed by Justin McConell from Canada, and "The Black Box", directed by Jason Balas and filmed in Texas.
The short films are entitled "Alone", directed by Eric Lauk, "Betania", directed by Andria Giomaro (Italy), "Flesh-Eating Fog" by Rob Michels from here in Madison, "GGS", directed by David A. Holcombe from Chicago, "Employee of the Month" which is a funny little film directed by Olivier Beguin whose film "Dead Bones" screened here in 2008, and "Last Seen on Delores Street" by director Devi Snively.  Devi does some good work.  Her short film, "Death in Charge" won an award here in 2009 and I just found out her feature debut, "Trippin'" just got a distribution deal.
The complete schedule is posted on the website at www.madisonhorror.net. We usually like to post trailers from the films on our site as well, but as these are mostly shorts, trailers are hard to come by. We'll have a few there, though.
RavMon:  Are there any of these that you're particularly excited about?
Rich:  I'm always excited for people to see all of them.  Each and every film has its own great qualities.  Over the three festivals, we have only run across one or two films that we didn't really care for.  As far as this year, Devi's film is pretty good, as well as "Betania".  That film was very well made.  Both of the feature films entered in the fest are great as well.  Describing the two, I would say "The Black Box" is a very interesting film while "The Collapsed" has some really good film work and a very interesting ending.
RavMon:  What are the biggest obstacles you face putting this whole thing together?
Rich:  Scheduling.  Putting together the schedule each year is by far the hardest part of the job.  There have been several films in the past that we just didn't have the time to show – some very good films at that.  Just this year there were two films that we definitely wanted to show, but due to time constraints, we were unable to do so.
RavMon:  What would your dream fest look like, having no limitations whatsoever?
Rich:  Wow, that is a tough one because there are so many different ways you could go.  I would say a four day event that would include numerous guests including Bruce Campbell, Sid Haig, Bill Moseley, George Romero, Elvira, Joe Bob Briggs, and many more.  I would want to do a reunion of the original cast from Texas Chainsaw Massacre, multiple filmmaker and special effects workshops, and live entertainment every night by different horror themed musical acts including GWAR and Rob Zombie.
This has all pretty much been done at one convention or another, I would just really love to be the one doing it here.