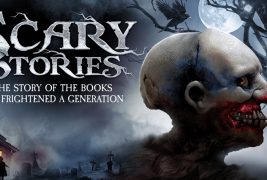 There is a particularly potent quote in Scary Stories, filmmaker Cody Meirick's documentary about the work of celebrated children's horror story author Alvin Schwartz, that resonates long after the screen goes dark. Oddly, it's not about Schwartz but about fellow children's literature icon R.L. Stine.
In this recollection, Stine talks of meeting the world's most renowned horror author, Stephen King, and asking him if he'd heard the line about his Goosebumps series: "My books are the training bra" for your novels.
King had heard it, of course. But that anecdote is most powerful in the sense that Schwartz, through his three-volume Scary Stories To Tell in the Dark, provided far more than a training bra. His books, published in a 10-year span from 1981-91, ended any vestige of literary virginity with respect to horror.
Combined with terrifying illustrations by Stephen Gammell, these books were devoured by young readers whose appetite for chills was matched by informative stories that tackled usually verboten subjects such as death. Perhaps those most terrified were a number of parents who led a crusade to have them expelled from libraries.
Part biography of Schwartz and part allegory on book banning, this documentary is wholly entertaining, enlightening and satisfying. While it sheds light on a different era in literary circles, it nonetheless speaks to present-day intolerance and social distortion.
Schwartz was a journalist, so his work represented painstaking months of research. Based almost entirely on folklore gathered globally, he was a wordsmith who managed to write on a level that captivated young readers.
The documentary feeds off the fact his words and Gammell's art infuriated some adults. Meirick interviews dozens of subjects. Apart from Stine and fellow authors like Q.L. Pearce, these include illustrators, fans, family members, librarians and antagonists.
Most notable among those interviewed are Peter Schwartz, the author's somewhat estranged son, and Sandy Vrabel (nee Vanderburg), a mother and former elementary school teacher who emerged as the preeminent advocate for banning the books from elementary school libraries.
Despite her efforts and the fact Schwartz's work was on many top 10 banned book lists in the '90s, most libraries held firm and kept the short stories on their shelves.
In one of the few contrivances of the film, the documentary builds to a kind of showdown between Peter Schwartz and Vrabel. The son's estrangement from his father, regretted if never fully resolved, had made him a critic to some degree of the Scary Stories series. Vrabel meets Peter in his home. Still unrepentant, Vrabel insists her crusade wasn't about censorship but about making the books available to children no longer of elementary school age. For his part, a sometimes emotional Peter rises to his father's defense.
While interesting, their encounter proves anticlimactic. It's kind of a shame, because this otherwise fine piece of filmmaking deserved a better ending.
Meirick's crew does a wonderful job of melding archival footage, various illustrations and location shots to quicken the pace. The background music by E.K. Wimmer is complementary to the subject matter, and most of those interviewed offer insightful comments. The big disappointment is in not landing an interview with the reclusive Gammell, whose indelible illustrations are as much a factor in the success of the series as Schwartz's storytelling.
It's worth noting that Schwartz, who died in 1992, missed both the acclaim and controversy accorded him. Were he alive now, he'd no doubt take pride not just in this documentary, but in the Guillermo del Toro-produced film Scary Stories To Tell in the Dark due out this summer.
As for Scary Stories the doc, look for it VOD later this month. And to cop a 32-year-old line from Mel Brooks in Space Balls, may the Schwartz be with you.