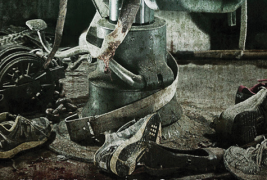 Horrors Fans!  It's Halloween season and we have a trailer for the perfect October movie-viewing experience: the recently released (October 17) Talon Falls, by writer/director Joshua Shreve.
You ever get the feeling that the sets and actors inside your favorite haunted attraction are a little too good?
Read on for a synopsis on Talon Falls and watch the trailer below, Horror Fans….
Four teenagers on a road trip decide to take a detour and find themselves at a haunted house Halloween scream park deep in the woods of southern Kentucky. After witnessing an assortment of torture and gore, they start wondering if what they are experiencing isn't a little too realistic. Before they know it, each one of them is captured and made part of the horrific attraction they originally thought was all fun and games.
The movie, which stars Morgan Wiggins, Ryan Rudolph, Jordyn Rudolph and Brad Bell, was written and directed by Joshua Shreve and produced by: Shreve, Jeff Steinborn and Leslie Mills. The film was executive produced by Todd Ferren and Kent Hammond. The film was a co-production with the well-known Talon Falls Screampark located in Melber, Kentucky, where the movie was filmed.