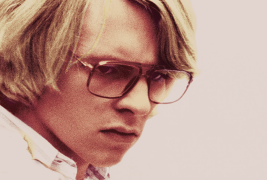 Having grown up in south-central Wisconsin, I'll never forget the day back in 1991 that the news stations plastered images of hazmat-suit clad law enforcement officials removing evidentiary blue plastic barrels and brown paper bags full of body parts from Milwaukee's Oxford Apartments and the world would learn about a real-life antagonist named Jeffrey Dahmer.
Dahmer's infamous mythology has transformed him from a sick, barely functional human being into a monster of urban lore.  The story is certainly sensational and horrifying, and it's easy to lose sight of how it all went down.  That's where writer-director Marc Meyers's feature My Friend Dahmer—based on the graphic novel of the same name and coming to Blu-Ray/DVD April 10—finds its niche.
We have the full press release and the trailer for this critically-acclaimed festival hit below, Horror Fans….
My Friend Dahmer is based on the acclaimed graphic novel about one of the most notorious serial killers ever. Its screenplay landed a spot on the coveted 'Black List', ranking it as one of the best un-produced screenplays (at the time) before becoming a hit movie.
My Friend Dahmer had a theatrical release in 2017 and has grossed over $1,300,000. It played extensively on the festival circuit, premiering at the Tribeca Film Festival and going on to play at LA Film Festival, Deauville Film Festival, American Film Festival, and many others. The film features an all-star cast that includes Emmy Nominee Anne Heche (Donnie Brasco), SAG Award winner Vincent Kartheiser (Mad Men), Former Disney star Ross Lynch (Austin & Ally), Alex Wolff (Patriot's Day) and Dallas Roberts (3:10 To Yuma).
Jeffrey Dahmer murdered 17 men and boys in the Midwest United States between 1978 and 1991 before being captured and incarcerated. He would become one of America's most infamous serial killers. This is the story before that story.
Jeff Dahmer (Lynch) is an awkward teenager struggling to make it through high school with a family life in ruins. He collects roadkill, fixates on a neighborhood jogger (Kartheiser), and copes with his unstable mother (Heche) and well-intentioned father (Roberts). He begins to act out at school, and his goofball antics win over a group of band-nerds who form The Dahmer Fan Club, headed by Derf Backderf (Wolff). But this camaraderie can't mask his growing depravity. Approaching graduation, Jeff spirals further out of control, inching ever closer to madness.
Pre-order at the MVD Shop or on Amazon.