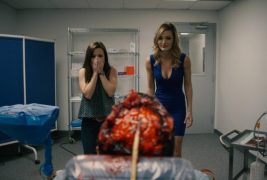 Christopher Lawrence Chapman's gory supernatural fright flick Inoperable starring Danielle Harris comes to select theaters December 1, but you can get an early taste by watching the trailer below. 
Read on, Horror Fans….
Los Angeles, CA – Zorya Films and Millman Productions are putting scream queen Danielle Harris under the knife with the December 1st theatrical release of Christopher Lawrence Chapman's Inoperable.  Harris (Halloween 4 & 5, Rob Zombie's Halloween, the Hatchet franchise) stars as Amy, a hospital patient who must battle nature and the supernatural before she ends up trapped for eternity.  Chapman directed from a script he co-wrote with producer Jeff Miller.  Inoperable will open December 1st in Los Angeles, New York, Atlanta, Houston, Phoenix, Tampa, Miami, Orlando, Cleveland and Minneapolis for weeklong runs.