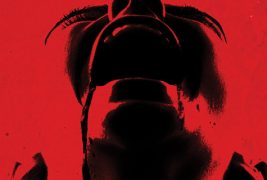 It's been a while since I've gotten my hackles up about a werewolf movie.  But Bev Land's feature debut Lycan looks promising.  In fact, this movie's made enough noise (howling and growling one would assume) to warrant a limited theatrical run next month followed in September by a VOD/DVD release. 
We have the dirty (furry) details and the trailer below.  Read on, Horror Fans….
Lycan marks the feature debut of Bev Land. The horror/thriller is based on the popular urban legend of the Talbot County Werewolf. Parade Deck Films will handle the movie's theatrical release, followed by disc, digital and VOD platforms from MVD Entertainment.
When six college kids in a sleepy Southern town are assigned a group history project, one of them sets in motion a horrific fate when he proposes they head into the Georgia backwoods to uncover the truth about the hundred-year-old urban legend of Emily Burt, the Talbot County Werewolf.
Lycan stars Dania Ramirez (X-Men: The Last Stand, American Reunion, Premium Rush), who will be starring this Fall on ABC's hit show "Once Upon a Time" as princess Cinderella. The film boasts a strong ensemble cast that includes three-time Emmy Award nominee Gail O'Grady ("NYPD Blue," "Revenge," Deuce Bigalow: Male Gigolo), Parker Croft ("Little Big Lies," "Lewis and Clark"), Vanessa Angel (Kingpin, Hall Pass, "Weird Science"), Rebekah Graf (Entourage), Kalia Prescot (The Hunger Games), Jake Lockett (Transpecos), Alina Puscau (X/Y, Conan The Barbarian) and Craig Tate (12 Years a Slave, USS Indianapolis: Men of Courage).
Making his directorial debut with Lycan, Bev Land talks about his experience in bringing his vision to life with his co-producer and star (and wife), Dania Ramirez. "I knew that the journey of making this film independently would be a challenge filled with a tremendous amount of blood, sweat and tears (pun intended) and I know we have something special that genre fans are going to appreciate. Fortunately for me I was lucky enough to be able to take this journey with Dania, who I not only respect and adore as an artist, but someone I also love as a human being."
Lycan producer and star Dania Ramirez agrees and adds, "…Latin female leading roles are rare in this industry and this one I think is one of a kind. The sense of accomplishment I feel today having not only brought our baby Lycan into this world but now having Eric D. Wilkinson at MVD Entertainment and Michael Ingram at Parade Deck Films distribute the film is overwhelming."
Lycan will open theatrically in select cities on August 4th, followed by disc, digital and VOD platforms from MVD Entertainment on September 26th. Pre-order the DVD now at MVDshop.com or at Amazon.