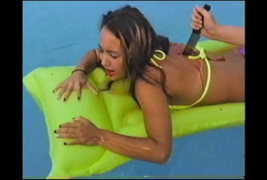 I should probably be recused from this review. By all accounts, I'm prejudiced. Currently, as I write this, there's a 3X5 West Virginia flag hanging over my bed. Next to my computer is Lon Savage's Thunder in the Mountains, which is a history of West Virginia's mine wars, specifically 1921's Battle of Blair Mountain. Yesterday, on West Virginia's birthday, I proudly wore a t-shirt reminding everyone in Boston that West Virginia is, in fact, not western Virginia. Basically, if it's from the Mountain State, then I'll defend it to the last gasping breath.
Enter Winners Tape All: The Henderson Brothers Story. When I got the email from our beloved boss, something immediately rang true. I've seen these guys before; I know this landscape. As it turns out, Winners Tape All was made by the West Virginia triumvirate of Justin Channell, Zane Crosby, and Josh Lively. Like me, all three come from the North Central region, specifically the towns of Fairmont (the place of my birth) and Morgantown (the place where I grew up). Better yet, I've known about these three since 2005, when during one of my many long crawls through Myspace I discovered their film Raising the Stakes. I should also add that I know Channell's girlfriend. Again, recuse, recuse, recuse.
Anyway, these mountaineers have come a long way since Raising the Stakes. Although clearly and defiantly indie, Winners Tape All is clean and crisp and contains few whiffs of amateurishness. In sum, the mockumentary describes two fictional films—The Curse of Stabberman and Cannibal Swim Club—and the men who made them, step brothers Richard (played by Lively) and Michael Henderson (played by Crosby).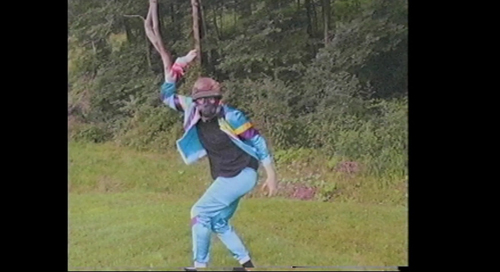 Rescued from obscurity by VHS collector Henry Jacoby (played by Chris LaMartina), the story of the Henderson brothers is recounted in all its gutsy glory alongside long plays of their two seminal efforts. In truth, Michael and Richard admit that The Curse of Stabberman and Cannibal Swim Club are essentially the same film. As slashers with the same puissance as Redneck Zombies (a Troma film made in nearby Maryland), the films of Cameo Video are grade-zero backyarders weighed down with more gaffes than a weed smokers' shindig held on a jungle gym. In The Curse of Stabberman, a former soda jerk turned serial killer practices his beloved art of stabbing while wearing a cheap gas mask and a nylon jump suit. In Cannibal Swim Club, a swim club cannibal and a descendent of the Donner Party (played by Steve McElroy) minces a newbie and swimming champion while avoiding the rain. The "swim club" is actually someone's backyard pool, while The Curse of Stabberman takes place in just one field.
The true beauty of Winners Tape All is its behind-the-scenes comedy, from Doug McNeil (McElroy) and his penchant for reading his lines openly to Michael Henderson's conviction that everyone dies with blood in their mouths. Zane Crosby deserves special kudos for his portrayal of good ol' boy Michael, an eccentric filmmaker/actor/stunt coordinator who never seems to waver in his enthusiasm for schlock, even despite the fact that most people involved with his films have died. A tip of the hat should also go to Mr. Lively for his decision to make Richard Henderson a Jaws fanboy who painfully mimics Captain Quint all throughout Cannibal Swim Party. Overall, Winners Tape All, which barely crests over one hour, is a delightfully absurd love letter to cheap horror movies and the people who make them. While the mockumentary genre may be dying, Winners Tape All stands out as an exceptionally good production.
There will be more things from these three in the future. Who knows? Maybe we'll get to actually see Richard Henderson's Father's Day of the Dead after all.