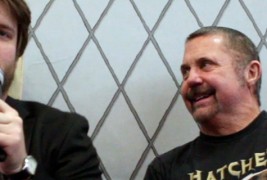 Comedian, horror aficionado, and Ravenous Monster contributor Rob Hibbs brings you exclusive video coverage of The Mad Monster Party horror convention.  Over the weeks ahead we'll roll out Rob's interviews with horror icons such as Kane Hodder, David Naughton, Howard Sherman, three – count 'em – three different Leatherfaces and many, many more!  Not to mention all the convention coverage that, frankly, only the deranged Dr. Hibbs can provide!  To kick off our video series and our new YouTube channel we bring you the first episode: The Promo Trailer (see below).  Ladies and gentlemen, Rob Hibbs….
The Mad Monster Party horror convention was held last weekend at the Blake Hotel in Charlotte, North Carolina and it was host to countless film fests, movie exhibits, indie vendors, artists and an eclectic mix of horror icons and celebrity guests. There was even a vampire Santa Clause and an X-rated haunted house.
Tickets for the convention weren't too terribly overpriced starting at 25 bucks for a day pass and going up to $200 for the Mad Monster Party version of a VIP package called an RIP (Really. Intense. Partier).
Unlike some of the conventions I've been too in the past, this one really catered to a party atmosphere with late night screenings and party rooms that opened up once the convention floor closed with live bands and a Mad Monster version of karaoke called "scaraokee" where you were welcome to murder your favorite songs.
I left the slaughtering of "Don't Stop Believing" to the hardcore party-people and attempted to get as many celebrities on tape as possible, and though I was snubbed by many of the event organizers and some other big wigs who were avoiding eye contact with me from behind their tables, I managed to get some great interviews in the process.
Below is the trailer for my coverage of Mad Monster Party 2013. Hopefully, if you missed the convention, or if this is your first time hearing about it, you'll enjoy watching these clips as much as I enjoyed capturing them.
Special Thanks to Megan Fahey for assisting in the production of the convention, Jason Thorson for being an amazing editor, the Mad Monster Party event organizers and to everyone who agreed to be on camera.