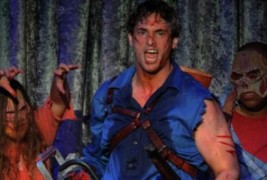 LAS VEGAS – June 23, 2014 – Evil Dead the Musical has been celebrating its two-year milestone at Planet Hollywood's V Theater with special performances, discounts on tickets, and the announcement of the show's upcoming live CD.
The show is turning its interactive energy into a CD that includes live audiences reacting to the show. Recently the production kicked off a campaign to raise funds to finalize the project.
"Fans have been a part of this process since we started it," says the show's producer and director Sirc Michaels, "And it makes perfect sense to include them in the process of bringing the CD to life."
Highlights of the upcoming CD include:
1. All major songs from the show
2. Dialogue and scenes within the show to give context to the songs
3. Audience interaction and lines shouted during the recorded performances
Las Vegas' production of EVIL DEAD is the first staging of the show to be granted permission to create a CD. Rather than have it be a studio recording like the original Off-Broadway cast recording, the team behind the Las Vegas show felt instead that a live CD would give listeners an understanding of the energy and audience reaction to the show, making them feel they were there watching it.
"We want people to be able to close their eyes and visualize what is happening on stage," says Sirc Michaels, "And we feel very strongly that we have succeeded."
How much material is on the CD will be determined by how much money the production can raise through its IndieGogo campaign. The show is looking to raise $10,000 to offset the costs of creating the CD, and increasing what can be included on the CD.
The campaign and details on how to support it can be found here: https://www.indiegogo.com/projects/evil-dead-official-live-cd/
About Evil Dead: The Musical
Endorsed by Bruce Campbell and Sam Raimi, EVIL DEAD DEAD THE MUSICAL is the official live stage show of the cult classic film trilogy. This award-winning production has been thrilling Las Vegas audiences since 2011, and shows no signs of slowing down. Performances can be seen at the V Theater inside Planet Hollywood Resort & Casino Tuesdays through Fridays at 10 p.m. and Saturdays at 11:30 p.m. For more information, visit http://evildeadvegas.com/.