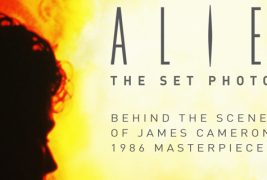 So before I get the review, which I will, I need to issue a disclaimer.  I am the type of Aliens fan that owned the series on VHS, DVD, and Blu-Ray.  I am the type of fan who bought the Loot Crate 30th Anniversary Box, and was a bit disappointed none of the contents had anything to do with Ripley.  I have multiple Aliens figures from NECA, Kenner and Titan among others.  So this review comes from someone who has really invested in this franchise.  With that out of the way, let's get to it.
First up, this book is not a cheap cash-in, a flimsy book with a cool cover wrapped in plastic that you regret buying five minutes after opening it. Aliens: The Set Photography is what's referred to as a coffee table book.  It's a large, hardcover book that probably won't fit on most of your bookshelves, so it will probably lie on a coffee table.
More importantly, it's the type of book that's great to pick up and read, with lush visuals.  You can flip to nearly any page and find something interesting.  What separates a good coffee table book from a bad one, is can you can get lost in it?  Can you plan to pick it up for five or ten minutes and not realize a half-hour has passed?
So where does this book rank?  It depends on you.
True to its title the Aliens: The Set Photography book is filled with new images, the type of deep vault stuff that even I haven't seen before.  Aside from a pretty cool opening essay that runs three pages by Carrie Henn (She played Newt) the book is a visual feast with short captions providing additional insight into what you're looking at.  Jenette Goldstein (Vasquez) adds her insight to the various sets and what it was like working on them.  Did you know Jenette Goldstein now runs a specialty bra fitting business?  …See?  That's the type of obsessive insight I have into this franchise.
The book is broken down into two main sections: sets and behind the scenes.  The first section on sets breaks down each set the actors were on, and it goes in the order they appear in the film.  The next section covers costumes, effects, props, and miniatures.  The information on the sets is pretty brief, but sets up each image well.  The images of each set are great because each shot shows you something that you never saw in the movies, whether it's James Cameron beside the cast, or a camera up in Sigourney Weaver's face.  With today's reliance on green-screen and CG effects it feels so unique to see something that was built and actually existed, rather than generated on a hard drive.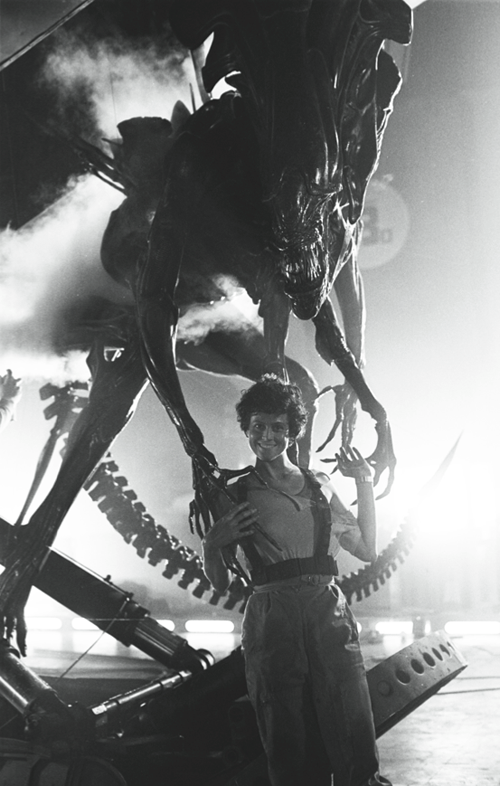 While the costume shots are the weakest section for me, personally, as I've seen images of the actors putting on the Aliens costumes before.
However, the miniatures section is great.  I've always thought the mini-models used in old films are incredibly cool, how in a film they seem so large due to controlled perspectives.  Aliens: The Set Photography gives you great shots of the stages where LV 486 was created, with men the relative size of Godzilla stepping around the planet.  Again, each image is accompanied by a brief blurb about what you are seeing.
So is Aliens: The Set Photography a good or great coffee table book?  It depends.  If you are the type of person who wants more written material, I'd advise you to skip this one.  However, if you want incredible images with brief blurbs about what you are seeing, this is the book for you.