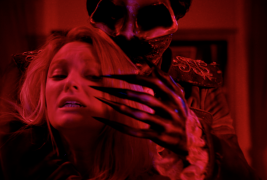 New York's Wild Eye Releasing is coming to bestow you all with more genre goodness in September and this time it's weird genre goodness.  Torey Haas, better known for doing visual effects work, directs The Neon Dead, a horror flick that's as funny as it is frightening.  The trailer—embedded below—hints at a visually over-the-top monsterfest coming to you via Digital HD and feature-packed DVD.
Read on for the full press release and trailer below, Horror Fans…. 
New York, NY – Wild Eye Releasing is flipping the switch with the DVD and Digital HD release of The Neon Dead.  The directorial debut from visual effects artist Torey Haas (V/H/S Viral, Angry Video Game Nerd: The Movie), The Neon Dead stars Marie Barker, Mark Ashworth (The Magnificent Seven, Cell, "Sleepy Hollow"), Greg Garrison, Dylan Schettina, Nathan DeRussy and Candace Mabry (Restoration, Too Many Cooks).   The Neon Dead will be available to rent or own on DVD and Digital HD nationwide on September 13th.
An unemployed college graduate hires two paranormal exterminators to combat a monster infestation in her new home. But their prodding into an evil out of their depth unleashes an ancient demon.  He and his army of monsters quickly overrun the home, intent on possessing every human they make contact with.
The DVD release of The Neon Dead (SRP $19.95) will exclusively include a feature-length commentary with director Torey Haas, bonus scenes, two monster shorts (First Date, Troll Picnic) by director Torey Haas and a creature profile.