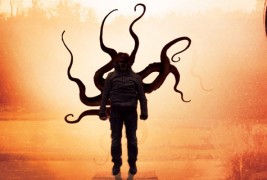 I've become quite a fan of Brian Mooreland over the years. From Vagrants to The Devil's Woods, I have yet to be let down by his stories. Mooreland's smooth prose draws you in yet it never feels like he is writing down to his audience.
The best way to describe Brian Mooreland's latest novella Darkness Rising is to imagine The Crow or High Plains Drifter where the act of vengeance brings the protagonist no relief from suffering, then add a dash of H.P Lovecraft and Clive Barker.
The story follows poet and emotional wreck Marty Weaver who's been bullied his entire life. When Marty falls in love with Jennifer, he takes a trip out to the lake to share the news with an old friend. Instead, Marty finds three sadistic killers ready to unleash hell on him. What they don't know is that Marty has an unimaginable dark side.
Darkness Rising is a difficult work to review because of the structure employed by author Brian Mooreland. The narrative is a well-developed series of reveals making it exciting and unpredictable, despite the heavy use of genre tropes. If you dig fantastical horror, you will find quite a bit to like here. The plot turns are character based so they feel earned, and the cast of characters employed and created by Mooreland is one of the novella's greatest strengths. Marty Weaver is so much more than the reader's first impression of him. In this, both the readers of Darkness Rising and his killers seriously misjudge him.
Mooreland excels at quickly creating antagonists that carry with them depth, menace and a reality of self. This skill gives Marty a great deal to face off against. Oddly the character of Jennifer, Marty's crush feels the least developed and is the only character that feels like a plot device rather than a genuine character. This stems from the high mantle to which she is held by both the author and Marty.
Imagine a version of The Crow where each kill brings Eric Draven further from peace rather than closer to it. Where the truly villainous characters he is killing become almost sympatric in their deaths. Add to this a dash of mystery and a fantastical world with clear rules of function and you have Brian Mooreland's Darkness Rising. If this appeals to you, you will not be disappointed.