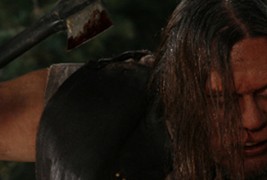 At six feet, ten inches tall, Robert Mukes has always stood out.
Hailing from Indianapolis, Indiana, Mukes has enjoyed a life and career that has seen him dot the globe, from acting in Hollywood to playing basketball in Europe. A devoted father of two girls, Mukes makes it clear his vision in life these days is all about his children, his health and doing as much as he can in the industry.
The former professional basketball player and wrestler has enjoyed a great two-decade run as a television and film actor. He's the rare "role actor" who is a well-known character in both the living room and silver screen. Mukes portrayed the Eskimo bounty hunter Abumchuk in the hit Showtime series Weeds while we horror fanatics affectionately know him as Rufus, the tow truck driver in House of 1,000 Corpses.
With a collection of film projects on the horizon and a ton of horror conventions to round out the year, including HorrorCon International in Los Angeles (September 25-26), Colorado Horror Con (October 30-November 1) and Weekend of Horrors in Germany (November 6-8), Mukes can never be mistaken for a guy who's just sitting around, waiting for his next big gig.
RavMon: Were you a big horror fan growing up? If so, what films really hooked you as a kid?
Robert Mukes: I don't consider myself a true horror fan in comparison to the fans who attend the conventions. But I definitely have a strong appreciation for the mainstream horror movies such as The Texas Chain Saw Massacre, Halloween, Friday the 13th, and so on. The first horror film I remember seeing is the original The Texas Chain Saw Massacre. I was only 10 years old and I was blown away! I thought it was real because of how the film starts- I must have thought it was a documentary. I also remember seeing the original Halloween at, like, 13 years old.
RavMon: You had a few interesting careers before acting really took off for you, primarily as a wrestler and basketball player. What were your experiences in those career fields like?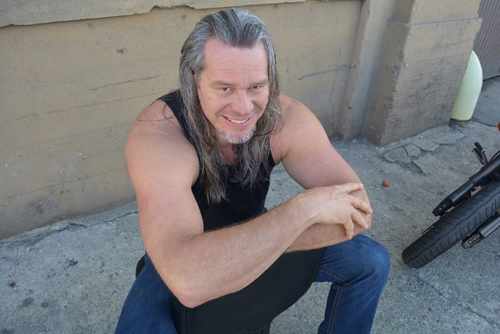 RM: I grew up in Indiana where the high schools have a history rich with basketball. So because of my height, I was pretty much obligated to play. When I first started playing basketball, I wasn't so good—I was teased and put down, which actually motivated me to work harder. The hard work turned me into a good player and I played until I was 30. The beauty of that sport was the fan support. I really loved game day—the cheerleaders, the pep band, nearly 4,000 fans—it was amazing! I played from junior high through five years, professionally, in Europe. I also trained for six months in the professional wrestling field. I had a few injuries and decided it just wasn't for me. I think I was past my prime to be a new guy entering that sport.
RavMon: Was it an easy transition, from wrestling to acting, for you? I assume there is some common ground between the two?
RM: That is correct. For both professional wrestling and acting, you are performing in front of a crowd. Adjustments are sometimes needed, and you perform accordingly. I thought it was a fairly easy transition to go from professional wrestling to acting.
RavMon: You've done quite a bit of comedy work, especially in television early on in your career, and you've obviously dabbled quite often in the darker side of cinema with horror. Is there a genre you prefer over the other?
RM: I have no preference; I just really enjoy working as an actor. These days I am mostly considered for darker roles, because I just have the look. But the biggest thrill is going to the set and being pampered a little bit, getting my ego stroked. And when it's my turn to perform, I just really enjoy it. Getting into the specific character that I'm there for is what I enjoy most.
RavMon: House of 1,000 Corpses is obviously a film that is known universally. You've talked a lot, in the past, about how fun of a set it was. Why do you think this "little gory movie that could" has become such a huge cult classic?
RM: I think the main reason for the popularity of the movie was because it was a Rob Zombie film. Then, it had such a great cast with Karen Black, Sid Haig, and Bill Moseley. Finally, Zombie had ample time to edit the film so he was able to create the perfect mix of gore, suspense, scoring, and music. The acting and editing on this film are just phenomenal.
RavMon: It's a real shame that Rufus wasn't a bigger part of the sequel. Personally, I think Rufus would have been a great help to the Firefly family in The Devil's Rejects. Were you ever filled in on why Rufus wasn't going to last any longer than he did in the sequel? (Note: Mukes was offered the role of Rufus in The Devil's Rejects but opted not to sign on, seeing as how it was more just a stunt double role at the beginning of the film)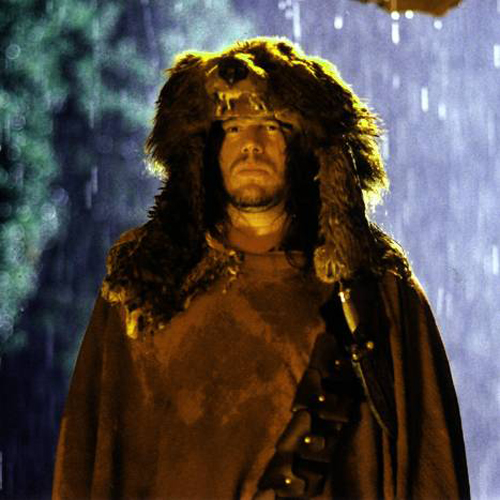 RM: I agree 100% that Rufus should have been a major part of the sequel. I was devastated when the character died in the first scene of The Devil's Rejects. I don't know the reason why, but the movie still came out great, so it's all good.
RavMon: Bone Tomahawk recently made some news when it became the first title acquired by RLJ Entertainment, formerly Image Entertainment. Sid Haig also plays a role in the film. The movie has an all-star cast and sounds absolutely bonkers. What can you tell us about it?
RM: I can share that it's a Western horror and there's an actual bone tomahawk in the movie (laughs). I didn't share any scenes with Sid so I, unfortunately, didn't get to work with him.
RavMon: What was your experience on the set of Slumber Party Slaughter? That sounds like it was another fun set to be on and the film has garnered some positive vibes from screeners and festivals.
RM: This film has not been distributed yet but it did win two film festival awards, so I'm hoping it gets picked up. I had a great time shooting it, as I always do. From Indie projects to mainstream film, television sitcoms, and network series such as Person of Interest, CSI, and Criminal Minds, I just love acting.
RavMon: You've expressed an interest in branching out, perhaps by playing a villain in a Marvel movie. I can't think of many other guys out there as physically capable of pulling off a comic book villain as you. You take a lot of pride in your fitness and workout regimen. Does your regimen fluctuate between preparing for roles or is it pretty much, what you see is what you get?
RM: What you see is what you get! (laughs)
RavMon: You've been a real favorite on the horror convention scene. Recently, you booked a stay at Rock n Shock 2015 in Worcester, Massachusetts. What are some of your favorite things about these conventions?
RM: Two years ago I did my first horror convention and, just like with my basketball career, I started off a little nervous. But the fans of House of 1,000 Corpses have been amazing motivation for me! They have inspired me to work hard and to improve my acting ability and my image. I have a lot of cons booked for the remainder of 2015 and I'm already working on 2016. Fans can check the "appearances" section of my website—it is always up to date!
RavMon: What are you currently working on?
RM: There are several people with indie projects that have asked me to star in their films and they are currently seeking budgets. I don't really consider those projects until they are green-lit. But I have an excellent agent, Sid Levin, and I am constantly going on auditions.