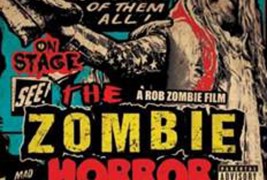 Los Angeles – June 10, 2014 – Rob Zombie's first concert film, The Zombie Horror Picture Show, released May 19 by Zodiac Swan/T-Boy/UMe, debuted at No. 1 on Billboard's Music DVD chart and has retained the chart's top spot for its second week of release.  Zombie also recently teased out his next feature film project called '31.' To celebrate, Zombie has teamed with ZUUS Media ("ZUUS") and CraveOnline for a horror filmmaking contest.  Fans of Rob Zombie's music and films are invited to create three-minute short horror films for the chance to have their entry selected to premiere across ZUUS, CraveOnline and RobZombie.com. For more information about the contest, visit zombiehorrorpictureshow.com.
Available on Blu-ray, DVD and longform digital video, The Zombie Horror Picture Show puts the viewer at the center of the hot and nasty action for a blistering set of 16 Rob Zombie classics, including "Dragula," "Dead City Radio and the New Gods of Super Town," "Living Dead Girl," "More Human Than Human," and the crushing cover of Grand Funk Railroad's "We're An American Band" from the seven-time Grammy® nominee's Top 10 2013 album, Venomous Rat Regeneration Vendor. Recorded live over two sizzling nights in Texas, the film captures Zombie's elaborate, multi-media production of mind-blowing SFX, animatronic robots, pyrotechnics, oversized LED screens and state-of-the-art light show combined with his powerhouse band featuring John 5, Piggy D and Ginger Fish.
Since 1997, Rob Zombie has achieved great solo artist success with several multi-platinum and gold albums including Hellbilly Deluxe, The Sinister Urge and Educated Horses. As a rock icon and filmmaker with a unique vision, Zombie has continuously challenged audiences as he stretches the boundaries of his music and films.  Zombie has sold more than fifteen million albums worldwide, and is the only artist to experience unprecedented success in both music and film as the writer/director of six feature films with a worldwide gross totaling more than $150 million. Zombie's Halloween, released in 2007, earned the No. 1 spot at the box office in its opening weekend.