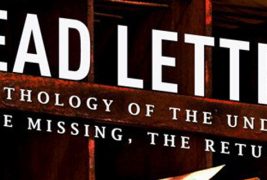 Sadly, I'm not particularly familiar with Conrad Williams, the British author whose award-winning works in the horror and fantasy genres have earned him acclaim and distinction.
Heard of him, yes. Read him, no.
And that's still the case, save for the introduction to Dead Letters, a short-story anthology Williams conceived and edited. In it, he talks of the "lost or misdirected" letters that end up at the UK's national return center in Belfast – a morgue for dead letters, as it were. Some, of course, eventually find a recipient, if not always their intended.
Williams admits a fascination with snail mail and all that you learn, eventually, about the sender and the contents. Email, tweets and other social media missives, he argues (correctly), aren't really all that social. But a handwritten letter or parcel … well, there's a story in there beyond the message.
So, he decided to ask assorted noted authors to contribute to an anthology based on dead letters. He mailed each something that looked like it "had done the rounds and accidentally landed on their doorstep." Inside was an item they would use to inspire their own story, all of which needed to incorporate the dead letter concept.
The result is a fascinating collection of vignettes that range from the macabre to the majestic.
It opens with Steven Hall's "The Green Letter," a strange little tale about a numbered list sent to people and what befalls them should they absent-mindedly circle any particular item, such as "To Be Successful" or "Be Happy." For example, circle No. 5 – "Money" – and an illness manifests itself within three to six weeks. "Often these are withering diseases, or diseases that cause a severe reduction in brain function," he writes.
That there is no more context than what you just read above makes this both compelling and unsatisfying. It's as if Hall gave us a character-free premise and wants us to imagine the rest of the story. And I was OK with that, given that it whets the appetite for the 16 entries to follow.
Next up is "Over to You," by Michael Marshall Smith. It's about a man who opens a piece of mail – intended for another – only to find a wooden bishop from a chess set, accompanied by a note that simply says "over to you." Was this a game of chess by mail, or is there a deeper message to be uncovered? The mystery will keep you turning pages.
Another entry, "Wonders to Come," is perhaps the most convenient fit for readers who just want a good jolt. Written by Christopher Fowler, it's a precisely detailed (almost laboriously so) account of the unveiling of a high-tech building. The tension mounts as unexplained glitches lead to catastrophic events. While a bit tedious at times and waffling somewhere between The Towering Inferno and Invasion of the Body Snatchers, Fowler's story features a humdinger of an ending that makes it all worthwhile.
Pat Cadigan's "Cancer Dancer," one of the best in the collection, involves a terminal patient whose mail mystery leads her to an exclusive venue called The Eternity Club. What you learn along the way says more about the human spirit than it does about the art of storytelling. I could provide more detail, but the best news comes in the author's note when we learn that Ms. Cadigan, herself a cancer victim once considered terminal, now has an anticipated lifespan that may fall short of eternity, but has the aura of decades.
Perhaps the most unique story belongs to Ramsey Campbell, who contributed "The Wrong Game." Yes, it's a piece of fiction, but Campbell also serves as the main character, even conversing with editor Williams in prose while relating the story of a late acquaintance (if unremembered initially) who left behind two playing cards. This is an extremely suspenseful tale that will keep you guessing till the end, not to mention quivering under your covers.
It would take too much space to review more than the sampling herein, but suffice to say like most anthologies, this runs a tiny bit hot and cold, primarily because of the differences in style and substance. But it's to Williams's credit – and the contributing authors, of course – that there's more fire than ice.
And speaking of authors, it's only fair to list the others included in the collection: Joanne Harris, Alison Moore, Claire Dean, Andrew Lane, Muriel Gray, Nina Allan, Adam LG Nevill, Lisa Tuttle, Nicholas Royle, Angela Slatter and Kirsten Kaschock. Maria Dahvana Headley and China Miéville collaborated on the penultimate entry in the collection, "Ledge Bants," whose interesting story involves our favorite sorcerer, Merlin.
One fascinating footnote: Dead Letters has a great mix of American and British authors, so the varying locales of the stories is both interesting and edifying.
Kudos to Williams for pulling this together. He assembled writers at the top of their game and took a risk by establishing a unifying premise that might have resulted in a sense of redundancy. Instead, Dead Letters is alive and well, just waiting for another novice – like me – to discover new talents and new horizons.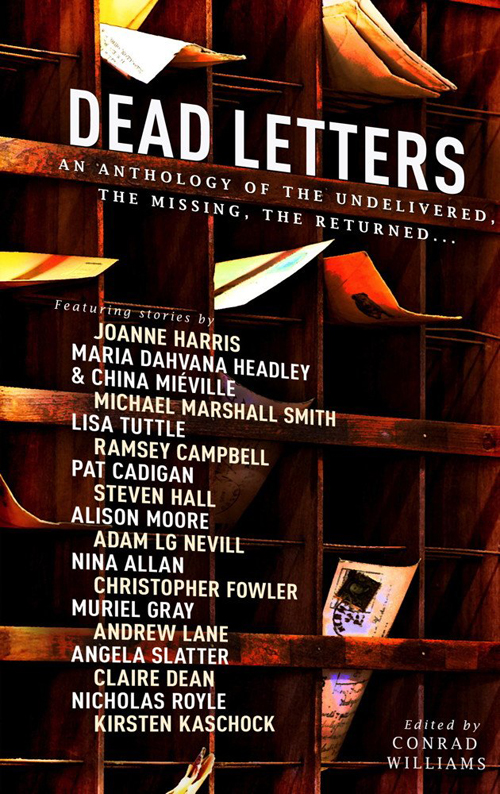 Dead Letters is published by Titan Books.