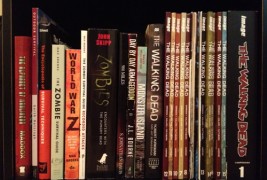 From the darkness has curiosity ever reached out and struck you?  Has it caused you to wonder about your favorite genre writers and what's on their bookshelves?  It's reached out and struck me.  Do they have some classic pulp detective novels?  What about graphic novel collections?  Maybe the severed head of the poor unfortunate soul who sent them their first rejection letter….
Like the person in a horror story that hears a strange noise, I ventured alone into the darkness to investigate.  And here at Ravenous Monster I will share with you horror authors' bookshelves and their personal thoughts on their collections, until the thing in the shadows finally reaches out and claims me.
-M.R. Gott
S. Johnathan Davis on his Bookshelves:
Ok, time to share with everybody just how big a geek I actually am.  This is a cross-section of books that I've collected over the years.  I have a ton more in the good ol' Kindle, but I've managed to pick these up in hardcopy.  I should note that I'm a big fan of sharing.  As such, while I'm a big fan of authors like Koontz and King, I've passed most of these off to friends and family (hoping to inspire them in the same way these amazing storytellers have inspired me).
My first shelf is filled with my favorite genre….Zombie Stories.  In my home there is no lack of stories filled with our friendly living dead.  From books to movies to podcasts, I've got a ton.  This shelf of books contains some of my favorite stories.  It contains a few indie authors like J.L. Bourne and David Wellington as well as the more popular authors like Brooks and Kirkman.  I also keep a few survival guides and such on this shelf.  I may just need them to help survive the inevitable zombie apocalypse.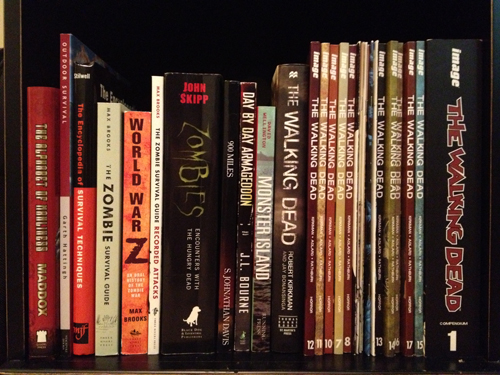 Now, while I write apocalyptic stories, I actually do read books outside of the zombie genre.  Filled with graphic novels like Preacher, GI Joe and Wolverine, I clearly have a soft spot for the visual medium.  However, I really dig just about anything written by Kurt Vonnegut and Chuck Palahniuk.  I've got a few here that I've managed to keep.  In my mind, these two authors are the authority on witty, humorous writing—something that I try to pull inspiration from every time I start to type.
I'll point to one last book here on this shelf—Mary Shelly's Frankenstein.  This is likely my one and only "collectable" book.  One of my publishers, Kings Way Press, gave it to me when I signed with them.  It's leather bound, has a foreword by Dean Koontz and is by far one of the nicest books I've ever seen.  I really think it's pretty cool!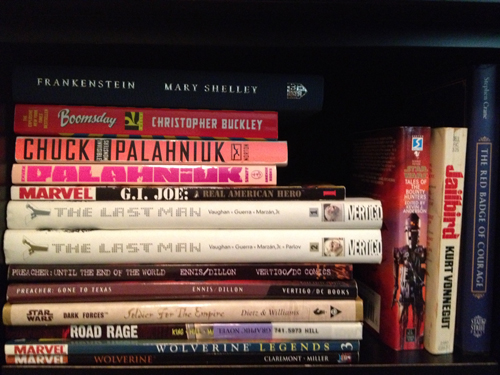 Looking at all these stories is kind of like a trip down memory lane.  I've read all of them at different times in my life, and each reminds me of something unique.  I'd like to thank M.R. Gott for inviting me to participate in this series.  It's been a fun trip.
About The Author: S. Johnathan Davis has been published by Severed Press and Kings Way Press.  He is best known for publishing apocalyptic horror.
Davis released his first novel, 900 Miles, in January of 2013.  The book debuted as number one on Amazon's top new books for weeks after the initial launch, and has stayed in the top 100 in Occult Horror on Amazon for over 8 months.
A sequel to 900 Miles is currently in the works, set to be published by Severed Press in 2014.
Davis resides in Atlanta, GA with his wife and two children.
My website:  www.zombiebook.net
Twitter account @900milesbook
URL to 900 Miles on Amazon:  http://www.amazon.com/gp/product/B00AWWDHQU