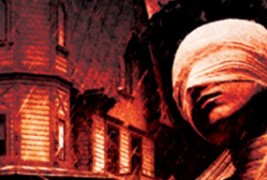 Paul Carver cannot believe his luck.  A distant relative, Myles Carver, has died and left Paul his estate. The greatest portion of this is The Watermere – a giant mansion on acres of land.  The massive house carries with it, though, Paul's real inheritance, a mystery that author Jonathan Janz teases out with uncanny expertise.  It is only when Paul meets Julia Merrow that he begins to truly understand what he now possess.
House of Skin, Janz's sophomore novel deftly weaves mystery and horror elements creating an entire town and full History of the Carver family while never allowing the plot to slow or become bogged down in excessive detail.  The novel follows Paul and Julia's budding and growing relationship while flashing back to the story of Myles Carver and his wife Annabelle, adding a sense of History to the world around them and helping the reader understand the small town's horrific and mysterious past.
At its core House of Skin is a haunted house story – typically a horror trope with more misses than hits.  Janz avoids this problem by creating a surreal atmosphere, where every shadow is menacing yet not each shadow is dangerous.  When the supernatural elements do begin to emerge, they do so with a repressed vengeance lashing out at the bodies and psyches of those involved with the house.
Janz also fills the nearby town with an eclectic cast of locals, and buried secrets.  This creates an element of distrust as the reader tries to determine whose motives are pure, and whose are vile.
House of Skin's greatest success lies in the fully formed characters of Paul Carver and Julia Merrow.  Janz creates flawed, but decent human beings that we want to see come away intact.  I found myself rooting for the pair not only to survive, but to find some small happiness in their lives.  My only complaint is that there is a 30-year-old female character that is a virgin.  Beyond the odds of this happening, she has many suitors.  I was put off at times with the contrast between her and other menacing and very sexually active female characters.
House of Skin is a fully developed haunted house story, with a full and well developed cast.  Janz wrings tension from each chapter creating a world that grows tenser with each chapter.  I can't think of a better haunted house story to recommend.
House of Skin is available from Samhain Publishing.