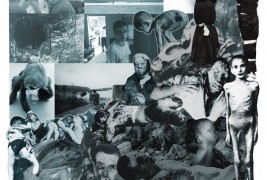 The Jaws of Life—the metaphor, not the hydraulic rescue tool—seem hell-bent on grinding us into dust. The best extreme metal acts recognize this and accept it as a fact of existence. Some choose to sing of surmounting this great impediment, whilst others seek to recreate it and expand upon the vast ugliness of life's chaos. Originating in the latter response, grindcore, the hardcore punk progenitor of death metal, is noted for its politically-motivated attacks of sound. Combining noise rock messiness with heavy metal's venomous attack of audio frequency intensity, the best grindcore reenacts a predator's consuming impulse, its need to feed.
Rudiments of Mutilation, the new full-length from Full Of Hell, is one checkmark after another in the grindcore catalog of aural evisceration. It would be simply wrong to categorize Rudiments of Mutilation as a pure grindcore release though, for the quartet from the unlikely locale of Ocean City, Maryland are far more experimental and abstract than many of their brutal peers. For starters, the first track on the record, entitled "Dichotomy," captures the intensity of Swans through the channels of Eyehategod, NOLA's princes of filth. While we all know that there's nothing medicinal about the word "Dichotomy," in the hands of Full Of Hell, its meaning shifts to include notions involving surgery and pain. Indeed, the concept of pain is rampant on Rudiments of Mutilation, an album that strives of a tortured sense of Dadaism à la Carcass and their masterful Reek of Putrefaction.
And while the influence of Carcass is ever-present on Rudiments of Mutilation (the title and the album cover alone border on thievery), it's important to recognize the flexibility of Full Of Hell's sound. While "Coven of the Larynx," the record's third track, contains the same blistering speed and diabolism as early Carcass, "Vessel Deserted," the second track, shows off the influence of sludge metal. Sludge metal's melding of hardcore punk and doom metal fits perfectly with Full Of Hell's cross-genre pollinations. Vocalist Dylan Walker is at his most foul on "Vessel Deserted," and his low-end growls perfectly reflect Spencer Howard's gloomy guitar riff and David Bland's pounding bass line. Speaking of the respiration organ, "Throbbing Lung Fiber" seems to be actively courting the destruction of Walker's precious throat. It's a break-neck blast of powerviolence with a duration barely stepping over the one minute mark – a drive-by shooting of a song that should be able to overwhelm any listener.
Essentially, that's the great takeaway of Rudiments of Mutilation—a record that subjects the listener to relentless bursts of sonic aggression until, after ten songs have been fully exhausted, the listener must try to piece their life back together again. In that regard, Rudiments of Mutilation is akin to a horror movie, but not your run-of-the-mill type of chiller. Rudiments of Mutilation is a grinding, nerve-racking release that never lets up, not even for a brief moment. And though such songs as "Embrace" may settle the pace down a bit, the song's rejoinder which involves getting "fucked to death in the streets," unravels the notion that a slower song somehow represents a break in the tension.
In summation, Rudiments of Mutilation is a record that should come with a warning. It's extreme, it's devastating, and it's everything that you could want in a punk and metal wedding. Just listening to songs such as "Bone Coral And Brine" could cause a mutation, and not one for the better. Folks, leave this record to those already initiated inside the heavy metal coven.
Track List:
Dichotomy
 Vessel Deserted
Coven of the Larynx
Throbbing Lung Fiber
Indigence And Guilt
Embrace
The Lord Is My Light
Bone Coral And Brine
Rudiments of Mutilation
In Contempt of Life
A389 Recordings, 2013.