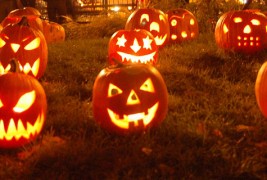 Forget Rob Zombie and Martha Stewart, Robert "H-ween" Hibbs has got the best tips on how to make the most out of your 13 Days of Horrorween.
Screw the 12 days of Christmas and Thanksgiving (AKA National Pre- Black Friday Carbo-Load Day). If you're like me you love the chill in the air right about this time of year, the bittersweet tartness of Octoberfest seasonal ciders and brews, the endless stream of horror movie marathons playing on TV, women in slutty costumes, the candy, the parties, the chaos, and the excuse to act like even more of a child (even though you may act like one every single day already), and most importantly, you're counting down the days until you can party 'til you raise the dead this Halloween.
All right. So, some of you out there may not need any advice on how to party-harty on Halloween, and I'm certainly not going to insult anybody with a pretentious list of horror movie choices I think you must see. No, this little boolog is for those who may be indecisive on how to best enjoy Horrorween, or if you don't have enough time to come up with anything on your own.
DAY 1: STRATEGIZE AND PRIORITIZE
Depending on when this little article hits the webs, and considering how long my introduction to this piece is, you may already be losing precious moonlight on Day 1 of H-ween activities this frightful Friday, Oct 19th, but that's okay. If you don't already have plans, put on a wolf shirt, call it a werewolf shirt, and take any part of the day available to strategize on how you're going to carry out the ideas for the other 12 days you have left to celebrate, at least that's what I'm going to do, but sitting around in a wolf shirt talking about what I'd like to achieve is usually how I spend every Friday anyway (continued after picture).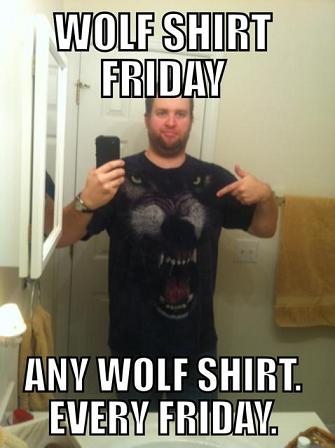 DAY 2: HORROR-IBLE HORROR MOVIE TORTURE-THON
If you're free and have nothing better to do, challenge yourself to a freaky flick Torture-Thon. Get together with some friends, find the most ridiculous horror movies you can, and try to watch them all back to back to back all day long. The first person in your group to crack from the excessive gore and stupidity gets tortured. Personally, I'd start with all of the Puppet Master and Wishmaster films in reverse order (that way the first movies of the franchises look even more ridiculous by comparison) then follow that up with any Halloween episode of Rosanne, 976-Evil,  Halloween III: Season of the Witch and Night Train to Terror.
http://www.youtube.com/watch?feature=player_embedded&v=OTTughnmJ1g#!
DAY 3: TEXAS CHAINSAW PUMPKIN CARVING (human skin suit optional)
Seek out Charlie Brown's fabled Great Pumpkin and carve it with a chainsaw. Go to farmer's markets, scope out pumpkin patches, crash pumpkin festivals, fall festivals or Octoberfests, find the biggest pumpkins you can and tear them apart with a chainsaw. Just don't get as excited about it as this guy.
http://www.youtube.com/watch?v=pYx0MOH9bW8
DAY 4: SURPRISE BLOOD BATHS AND OTHER BRUTALITY
Whip up a batch of non-stick fake blood and have it at the ready to douse unsuspecting friends or total strangers to see their reactions. Put buckets of it over half open doors, fill balloons with it to throw at people, put it in their drinks or salad, or get really creative and fake severing a body part. Do one big gory prank or space out several pranks over the course of the day at different times so your victims never see it coming.  The videos below are just a couple out of hundreds of how-to DIY special effects make-up demos online that can show you how to make severed fingers, limbs and share some recipes on how to make gallons of fake blood.
http://www.youtube.com/watch?v=tc7gfLsiOHk
http://www.youtube.com/watch?v=5QnmRXri9g0
DAY 5: DANCE THE MAMUSHKA, THE DANCE OF BROTHERLY LOVE
http://www.youtube.com/watch?v=Mw0IakmQri0
DAY 6: STUPID COSTUME CHALLENGE
Try to one-up your friends by dressing in a stupid costume every day, whether it's a mask, a ridiculous shirt or outfit you wouldn't normally wear or a stupid hat, or at least send them pictures of stupid costumes you've found like this one below and try to one up each other.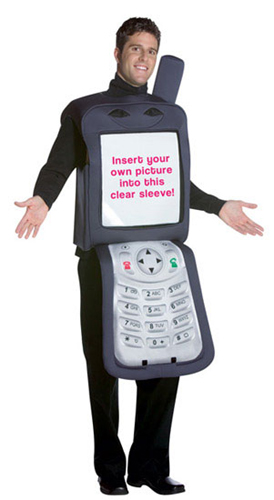 DAY 7: HAUNT A HAUNTED ATTRACTION
Keeping to the theme of this blog, here's a link to America's 13 Best Haunted Attractions according to hauntedhousemagazine.com. Pick one nearest to you and go to it prepared to scare the people who are supposed to scare you. If you manage not to get kicked out, don't leave until you make one of the masked goons jump. Try dressing up like this guy (insert dumb picture) and bring a fog horn for added effect.
http://www.hauntedhousemagazine.com/articles/top_13_haunted_houses.html
DAY 8: CHEAP HORROR MOVIE GIVE AWAY DAY
Pay it forward this Halloween, by handing out cheap horror films to friends, family and strangers instead of candy this year. Raid the discount bin at any big chain department store for their Halloween titles, buy a dozen and leave them at co-workers' desks, friends' mail boxes or in kids' treat bags along with their candy when they come to your door (just make sure that the movie you hand to the child isn't Human Centipede. Try a Goosebumps movie or even better Hocus Pocus).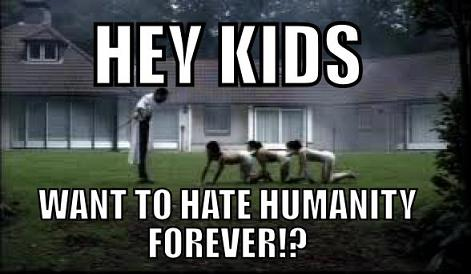 DAY 9: WITCH BURNING/SLASH AND SEEK
If you live in a rural area, go to a forest or a farm (if you have access to one), throw a bon fire and, to be cute, burn a giant witch doll on a stake. Or if that's too much work just hurl some insults at a woman who's wearing a costume that's way too skimpy for her body, then go out into a cornfield or into the woods to play "Slash and Seek," which is a horror slasher version of "Wake the Dead," which is just another version of "Hide and Seek." Basically, one person gets to be the killer (Myers, Jason, Freddy etc.) and the rest play victims running and hiding. The killer seeks them out one by one and when he catches one he gives them a weapon to help him slaughter the rest of the victims. One by one the victims are killed and turned to the side of the killer to seek out the others until (if you have a decent sized group) you've got 6 killers hunting down one person.  If you're five years old it's a lot of fun.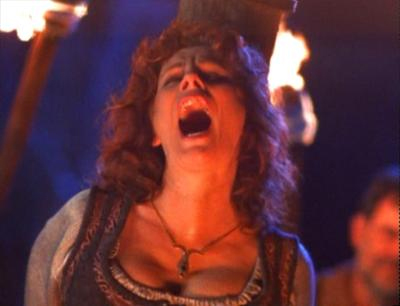 DAY 10: GO TO NEW ORLEANS FOR VOODOO FEST AND HALLOWEEN PARTY HOPPING
I have it on good authority (the Tin Man in the picture below) that Mardi Gras is nothing compared to the Voodoo Music Festival and the other Bourbon Street Halloween celebrations that go down in New Orleans, so if you can swing it head on down to The Big Easy in your best costume and get ready to get crazy.
According to TNT UK magazine online, Skillrex and Justice will be performing at the annual Voodoo Festival Oct 26th and 27th so get out there you mad ravers.
One word of advice though, if you happen to run across someone wearing the same costume as you, be sure to acknowledge the fact that you're wearing the same costume enthusiastically, or if you receive a compliment on what you're wearing, be sure to return it in kind, or you could end up stabbed.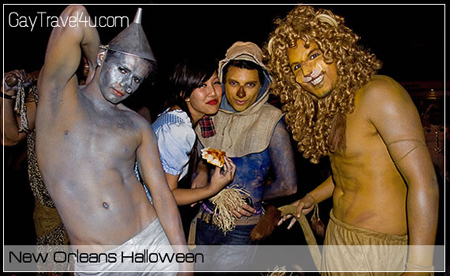 DAY 11: GO ON A GHOST HUNTING ADVENTURE
Do a quick web search of the paranormal hotspots nearest you, pack some flashlights, charge your phones and camera batteries, drink down some liquid courage and explore the most frightening haunted locations you can find to see what gruesome ghouls or fiendish monsters may be lurking in the darkness outside of your neighborhood. Tight black shirt and tough talk not necessary, but if you pose as a paranormal research group or amateur ghost hunter, some places known for their paranormal activity may give you a special tour like the people at the Moundsville WV State Pen (what's terrifying about this episode is that it represents the people of my hometown area a little too well).
http://www.youtube.com/watch?v=1z0Y_Ur4wMo
DAY 12: MAKE LOVE IN A CEMETERY
Okay, so I've never done this one, but I've always wanted to, so if anyone has any tips or pointers on how to make that happen please let me know. Personally, I'm not sure how I'd feel about getting it on top of a person's actual grave but having sex in a mausoleum could be cool or at least on the outskirts of a cemetery. Or anywhere for that matter.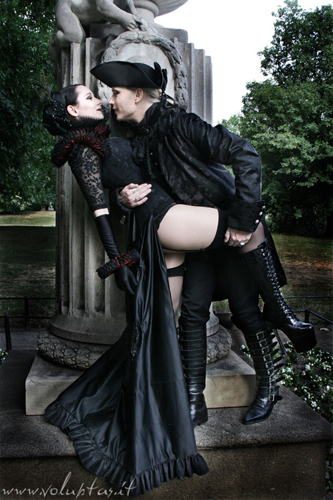 Day 13: HAUNTED HOUSE PARTY
Turn your home into your own personal house of horrors on the cheap and hand out Jello shots to all your guests instead of candy so you can all booo-gie down and get crunk on Halloween.
Here's a list of the 15 greatest Halloween songs that you can build on to make your own Halloween power hour of songs so that everyone stays in the spirit of things, or you could just play Thriller on a loop all night long like I'm going to do, OR you could take everything on this event list and try to cram into one insane Horrorween extravaganza.
http://www.youtube.com/watch?v=sOnqjkJTMaA
Whatever you end up doing this year, remember that Halloween isn't just a time where the dead return to haunt the living, but the one time of the year where you can truly kill off your adult self and bring back your childhood from the grave. It's the one night of the year where you can be anything you want, so make your choice count, be safe and YOWO (You Only Ween Once).