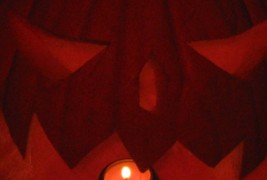 Today, Horror Fans, we continue with our cavalcade of Halloween tales and traditions.  These stories are shared with us by some of the filmmakers, authors, actors, and entertainers we've covered over the years.  Their tales run the gamut from sweet to insane so it's safe to say, there's something here for everybody.  Enjoy!
Jeremiah Kipp (Filmmaker) Contact, Crestfallen, The Days God Slept:  I remember my first Halloween in New York City. I had just moved here and was still a teenager. Not only did we have the usual costumes and decorations, images of Frankenstein's Monster and Dracula and The Wolf Man swirling around me, pop culture icons of the early 1990s parodied, and the annual parade careening down 6th Avenue with demented floats and living sculptures and such…what also pleased me was the element of urban crime that hung in the air, as if anything could happen and you could get snatched up by the creepiest denizens of this astonishing city and taken away to subterranean lairs. Maybe that's just how I felt at the time. It was a joyous, delirious fear; the kind of urban terror that's both exciting and unnerving (like the SWAT team attack on the grimy apartment building in Romero's Dawn of the Dead). Until then, I'd always spent Halloween on lonely backwoods roads or paved suburban streets, amongst my neighbors and the dry leaves blowing in the wind, Jack O'Lantern's in the windows. But when I felt the sheer intensity of the cityscape full of a night of concentrated madness, I knew I had found my home.
Brian Moreland (Author) Dead of Winter, Shadows in the Mist, www.BrianMoreland.com:  I love Halloween–the Jack-O-Lanterns, haunted houses, costumes, and especially the horror marathons on TV. I've celebrated the holiday in a myriad of ways, from Trick-or-Treating as a child and sorting through all the candy to attending costume parties as an adult. My most memorable Halloween is from two years ago, when I was living in Hawaii on the island of Maui. A group of us dressed up and went to a beach town called Lahaina. They blocked off the main street for a mega Halloween party and every bar was packed. I saw some of the craziest costumes and a lot of risqué ones too–people were half-naked. There's nothing like being on a tropical island to shed your inhibitions. We partied until the late morning when a wave of cops rolled down the street, ushering everyone to go home. Now that was a party to remember. This year I'm in Dallas, watching horror movies and having a blast scaring myself as I write my next horror novel.
Wishing everyone a safe and Happy Halloween….
Cory J Udler (Writer/Director) www.incestdeathsquad.com:  My one Halloween tradition has always been to watch Night of the Living Dead on a rainy October night before Halloween. I just remember as a kid seeing that movie almost on a constant loop on a local station on Halloween night and to me that is the soundtrack to Halloween. Oh, and the Silver Shamrock jingle. In addition, my wife's birthday is Halloween. Perfect, huh? So, every single year we go completely insane on costumes and go out and party on the Saturday night closest to Halloween.
Greg Hanson (Filmmaker) Thy Kill Be Done, www.Grethproductions.com:  I used to work in a haunted house, roughly age fourteen to seventeen. It was, hands down, the best job I have ever held. Well, appropriately Halloween was coincidentally our boss' birthday. Our boss was essentially the used car salesman of haunted houses, which means that he had these little rhymes that he lived by like a mantra: things like "Get your scare and get outta there!" or "Standing tall and doing it all!" that you were subjected to (and secretly loved because it just fit the vibe of the whole place so well). Well, on Halloween of our last year, one of my co-workers dressed up like Rich (our boss) and ran around the house with a bullhorn screaming at all the haunters things Rich said every day.
After we finished up an extremely busy night and we all smelled like a stable of Clydesdales, we gathered around our sideshow for candy, cake, and an X-Rated version of the sideshow, which, as you might imagine, involved a lot of staple guns to the nuts, shooting dildos out of potato guns, and breaking fluorescent light bulbs on each other. We hung out long into the night and then I went home and watched The Island of Dr. Moreau with Burt Lancaster. I won't forget that Halloween as long as I live – it was exceptionally sublime.
M.R. Gott (Author) Where the Dead Fear to Tread:  Despite the occurrence of the event decades ago, I remember in strong sharp vivid flashes my first Halloween. I know my Mom tried to explain the events that would soon transpire to me, but I could not fathom them. This was partially due to my excitement as I watched the pieces of my Lone Ranger costume come together.
A giant plate of candy lay by our front door and I didn't fully understand why. The doorbell rang and my Mom greeted costumed strangers with a plate of candy for them to choose from. I stood a Tonto-less Lone Ranger, envious of the marauding horde of kids, but not sure why.
My Dad arrived home shortly after and skipping dinner (he had to be hungry) he took me almost immediately around the neighborhood. The dark streets were filled with short roving ghouls and the time disappeared before me.
This was a tradition I would come to relish, even as I became the elder at the door, staring down at the eyes of fiendish kids threatening me with the words, "trick or treat."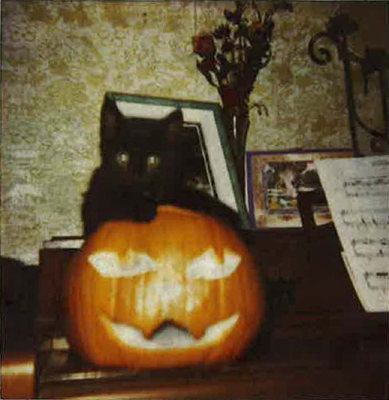 Dana Fredsti (Author) Plague Town: An Ashley Parker Novel, www.danafredsti.com:  One of my favorite Halloween memories ever is of Halloween night, 1994. We were watching The Simpson's Tree House of Horror episode (one with Flanders as the Devil) while my husband finished carving the Jack-o-lantern. This year he'd carved it in the shape of a cat face especially for me since I was (and am) a bit of a crazy cat lady. When he finished, he took the jack-o-lantern to our front porch to set it up and light the candle inside, while I made sure we had plenty of candy for the impending trick-or-treaters. Our neighborhood got a lot of the little costumed rugrats, which definitely added to the fun of Halloween at home back in those days. Suddenly I heard a "D'oh!" from the front porch and ran to the door to make sure Brian was okay, hadn't lit his sleeve on fire or dropped the pumpkin or anything else dire. When I stepped outside, he pointed wordlessly to the porch stairs.
At first all I saw were a pair of pointy black ears peeking over the bottom step. Then a pair of golden eyes followed by a little black nose as this tiny black kitten hopped up two more stairs and toddled over to me. We looked at each other and I said, "Hey there, Little Beezlebuddy!" The kitten started purring with the sound of a small outboard motor. I scooped him up and that was pretty much it. My first born son had arrived (according to Brian, in a puff of black smoke with the screams of the damned trailing after him). His full name was a bit of a mouthful, so we shortened it to Beezle. When the candle in the jack-o-lantern had burned out, we brought it inside and took a picture of Beezle perched inside the pumpkin that evidently conjured him into our lives, where he stayed for sixteen wonderful years. Happy Halloween, Beezle. You were the best treat I ever received on Halloween.
W.D. Gagliani (Author) Nick Lupo Wolf Series, Savage Nights, www.wdgagliani.com, www.williamdgagliani.com:  I was never a great participator of Halloween, but I've always been an avid "experiencer" as well as observer. It is my favorite holiday, of course, and it allows me to indulge in some of my music-oriented interests. Starting about the second week of October, I make a point to revisit as many of my favorite Halloween and horror soundtracks as possible. Starting with my all-time favorite, Keith Emerson's music for Dario Argento's Inferno, as well as his music for La Chiesa ("The Church"), also an Argento, and Fulci's Murder-Rock. Inferno I consider to be one of the best soundtracks ever composed. The first piano notes alone make me shiver. Goblin's score for Suspiria is right up there, too. Okay, then I'm in the mood, so I dust off my collections of Goblin and Ennio Morricone (both also greatly Argento-oriented), Bernard Herrmann (Psycho, anyone?), and segue on to Angelo Badalementi's Twin Peaks music (including that for Fire, Walk With Me), Fred Mollin's excellent work for the Forever Knight and Friday the 13th: The Series syndicated shows, a little Tangerine Dream (Sorcerer), and finally a dash of Blue Oyster Cult's Don't Fear the Reaper, which may be the most horror-themed rock song of all time. I play a few others, such as Italian goth-prog band Jacula, but these are my mainstays… and I try to mix up the order, but the earliest is always Keith's Inferno.
Whenever we've had trick-or-treaters, I've also made a point of blasting out Herrmann's classic shower scene music from Psycho just as we open the door — those in the know always widen their eyes, wondering who might be lurking behind the opening portal…
I guess Halloween for me is an auditory holiday as much as a visual one…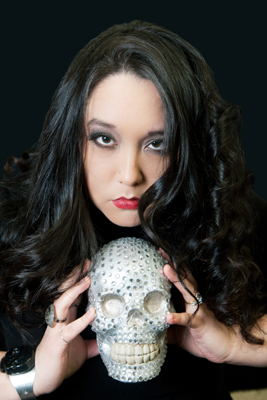 Tonjia Atomic (Director, Actress, Writer, Musician) www.tonjiaatomic.com:  For the past 4 years my husband and I have been doing the Josh and Tonjia Halloween Extravaganza!. We dress up, come to your house with treats and a movie, and throw a movie party at your house. We started it because we love entertaining but live in an apartment that is too small for that sort of thing. We let the party become whatever the host wants it to be. We've been in costume while sitting in a basement with just one friend watching a computer screen and we've have a large group with a treat table and special drinks watching a double feature on a projected screen. We are currently planning this year's party. I believe that we will be watching October Moon by Jason Paul Collum and having tomb-shaped cupcakes. I love Halloween, parties, movies, and friends. The Josh and Tonjia Halloween Extravaganza! is the perfect way to bring it all together.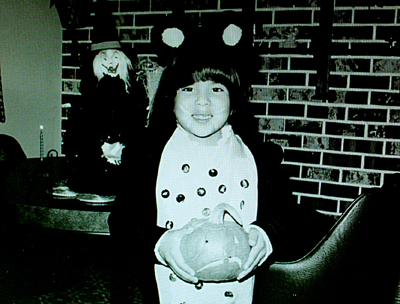 Nadine L'Esperance (Director/Owner of Blue Girl Films) bluegirlfilms.blogspot.ca:  Halloween, ever since I can remember, has always been my favorite.  You get to dress up and be whatever you wanted to be without the judgment of others.  For me it was also a time to share something in common with your siblings.  No fighting, no bugging, just pure excitement about how much candy you would collect.  Not only did I get my first taste of horror, seeing Creepshow, when I was 5, but Halloween added to the crazy love that is horror, as well.  A really funny memory that I had one Halloween was when my costume was a PUNK!  I had a plaid shirt, spikes and really far out make-up that my Mom did for me.  And the really crazy thing was, when I was dressed liked that, I felt really comfortable.  I guess that's why to this day I'm kind of punk.  Nowadays, Halloween is still a big part of my life.  With having kids, it lets me relive the fun of Trick-or-Treating and costumes.  YES, I still dress up every year to go with my kids.  In a strange way Halloween, to me, celebrates diversity with no discrimination…And besides, what other days can you celebrate and get away with Blood, Guts, Cenobites, Vampires, Werewolves, Serial Killers, Creatures, Zombies, Aliens, and EVERYTHING Scary?  NONE!  Long Live HALLOWEEN!
Greg Johnson (Actor) www.incestdeathsquad.com:  I was a part of the Haunted House in Sun Prairie, Wisconsin about four years ago. They put me and another guy in the opening room. By the end of the night five people admitted that they had pissed themselves over the scares we provided. This has always been a Halloween bench mark.
Richard Powell (Writer/Director) www.fatalpictures.com:  As much as I loved candy as a kid, for me Halloween was always about horror. My tradition may seem fairly obvious but unfortunately for the new generations this tradition is no longer possible. The video store has gone extinct (with a few great exceptions) and with it the various, glorious horror film sections that to a young person seemed like dangerous, forbidden zones. My favorite was Jumbo video, a name that referred to the sheer size of the store. These things were literally the size of super markets and at the back of the one I frequented there was a large, spooky castle-like area where all of the horror films could be found. The fact that you had to enter a new, haunted house-like area to browse walls and walls full of horror made it that much more of an experience. Now, the most important part and the part I will miss the most are those walls of amazing VHS art work. Even the worst films had amazing art. In fact the art was what sold a younger me on a film. I have vivid memories of the Leatherface box or the Nazi zombie film Shock Waves.
I gravitated to these films because the cover art was already having an effect. Nothing felt better than walking out of that section with a stack of films that usually didn't live up to what the box promised but occasionally delivered more than I could have ever wished or hoped for. That's how I spent my Octobers and Halloween and now a JYSK sits in place of Jumbo video. And with all of the video stores going by the way side, I fear this is a dying, if not dead, tradition. Netflix has nothing on the old school horror movie section and that's not just nostalgia speaking. Anyhow, that's my Halloween tradition and luckily as a diehard film collector all I have to do is look at my bedroom wall and a small part of that experience comes rushing back.
James Bickert (Writer/Director of Dear God No!) www.deargodnomovie.com:  My craziest Halloween memory is from the double vision years at Georgia Southern University in the swamps of Statesboro. I had an older friend named Eric Johnson (R.I.P.) who could be described as a cross between Timothy Leary and Charles Manson. He lived in a rat-infested dilapidated farm house surrounded by hundreds of acres of corn on the outskirts of town. It was a safe haven for growing marijuana and testing the purity of psychedelic substances without the intrusion of local law enforcement. For Halloween night, his buddies the Iron Coffins M.C. were coming to town, so Eric decided to throw one giant party complete with burning a fake witch in a bonfire and live music. Since these fine citizens made their livings running microdots (Mescaline or LSD) down the East Coast, it was sure to be one hell a mind fuck. I didn't realize just how big.
To avoid the Sheriff department, Eric had hired a Volkswagen Beatle club to run as cabs for all invited guests. It was the only way in and out. Every rider received the requisite party enhancers. Once you took the 10-mile trip and arrived, it looked like all the fires of hell had broken loose with crazed drunken demons — elaborate costumes and topless white trash women dancing on anything that allowed them to be better seen. The beer was flowing and one plastic container holding microdots melted on the mantle of the fireplace in the house. This caused a hole to appear and several hundred hits to fall out and roll across the wooden floors, up for grabs to anyone who wanted to fill their cheeks. Now Halloween costumes, beer, bonfires, Southern rock, outlaw bikers and a squadron of German cars while on free hallucinogenic drugs seems like enough for most people, but it was not for old Wade (R.I.P.). Nobody really knew why Wade was such a nut job or why Eric even hung out with him. Some say he got messed up in a secret Army experiment but nobody really knew the truth. At least I didn't. It was a few months before he committed suicide and I guess he wanted to take some folks out with him. While everyone was busy being a bunch of groovy ghoulies, Wade decided to throw a pillow case of live 9mm rounds into the bonfire. It didn't take long before bullets were flying all over the place. They buzzed through corn, shot up the side of the farm house and a hit a few VWs.
Somehow none of the several hundred party patrons were shot. Wade was quickly escorted to an ass kicking and the sane trippers quickly retreated back to the city. Me and a few buddies were not the types to let a drop of beer remain in a keg so we decided to hold out and leave last. Before we realized the VW Bugs were not coming back, the Iron Coffins informed us that they were leaving to run some stuff down to Savannah and would be back in the morning. They were also going to leave one of their old ladies behind because she had become unmanageable. We were told at gunpoint that none of us boys better lay a finger on her if we knew what was best. The dust from their Harleys had not even cleared when this road worn woman had completely stripped herself naked. She was skeletal, missing teeth on the left side of her face, had an enormous bush and pierced, flapjack tits that resembled an old hound dog with too many pups. There was a gold chain connecting these dried up protrusions. Even without drugs, she would have resembled a corpse that had spent a four day weekend at a sold-out necrophilia convention. It was not brains on her zombie mind. It was college cock. We were stuck, trapped and way past our drug tolerance levels so we scrambled for our lives. I was almost captured several times and I even heard a buddy sobbing at one point. We were living a porn version of Night of the Living Dead. I spent what seemed like hours being chased by this once-female monstrosity through the corn fields of Southern Georgia.
Not until I snuck back to the farmhouse and climbed onto the roof did I feel any tiny percentage of hope for survival. Over the course of the night, all my friends made it to that roof. We laid up there in silence, afraid that even a sigh would bring a violent raping death. By sunrise, her yelling and stomping through the house had been silent for an hour. With the sun sweating the life out of us, we took our chances and made it to Highway 67 where we grabbed a ride in the back of a pick-up truck like Marilyn Burns from The Texas Chainsaw Massacre.
Now I'm 45 and I host a kids Halloween party with my wife and daughter. I'm in charge of grilling and projecting Universal Monster classics in the backyard. There is pumpkin carving, apple bobbing and lots of cute costumes. The parents have a good time and enjoy a few beers. There are no drugs, bullets in bonfires or outlaw bikers ditching their horny old ladies. It's a simple life. Every year after everyone leaves, I crack open a beer and stare into the darkness. I think about Eric Johnson's farmhouse. A shiver always crawls up my spine, and a smile forms across my face. It was the best Halloween party ever.
Bowie Ibarra (Author) Down the Road zombie horror series, www.ZombieBloodFights.com:  I remember when I was a kid, I dressed as Count Dracula. My mom made a cape for me and all (red interior, black exterior).
Well, my cousin was taking care of me and her brothers that evening at my house and the trick-or-treaters came by. One of them was my pre-school crush, Katy.
When I went to the door, I was pretty excited and ran to the door doing my best Dracula impression.  Don't ask me if it's some kind of post-traumatic stress denial thing, but apparently I pissed my pants in excitement. My older cousin, Lilly, laughed at me the rest of the evening.
I look back on it and laugh. Truth is I still piss my pants around pretty girls.
I'm just kidding. I don't know any pretty girls.