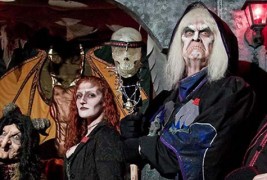 Throughout the month of October, the general area of Pittsburgh, Pennsylvania is teeming with its share of some excellent haunted attractions. Some of these offerings are on the family-friendly side, while others cater more to an older teen and adult type of crowd. In the midst of the October festivities, very few manage to blend good scares with the family friendly fun (or at least manage to do so successfully). But if you really make the effort to stop and look, you just might find that rare gem.
Castle Blood got its start in 1993 by a group of individuals that shared a passion for community and, of course, all things Halloween. Dressing up in character, decorating the house until it resembled what one might imagine a real haunted house looked like, and handing out candy to trick-or-treaters on Halloween night were favorite pastimes for the castle's founders and longest standing denizens.
After a while, the neighborhood children didn't just want to experience the "haunted house" by standing on the outside. They wanted to go inside and look around. Eventually, the idea to open up their home as a Halloween attraction came to fruition, and thus Castle Blood was born. If there's anyone at all who really does take the concept of living Halloween all year round, its Gravely Macabre and company. And they are quite dedicated to making every day Halloween.
After its humble beginnings in the last decade of the 20th century, the castle slowly developed a following. As time went on, it grew in size and even had to move, switching locations twice until it found its permanent home two years ago. And a befitting location it is, as the castle denizens now dwell inside a 100-year-old funeral home in Monessan, Pennsylvania.
For a long time, Castle Blood drew crowds every Halloween, and every year on those Halloweens, the denizens of the castle offered their visitors a different theme and story within their interactive scavenger hunt-type tours. But of course, being open only on Halloween just wasn't enough (for the castle denizens or many of their visitors, for that matter).
In 2013, the castle opened its doors in December for a Christmas tour they called the "Spooky Little Cryptmas Show." Then they started a Bloody Valentine's Day event, a Midsummers Nightmare event, and their event list continues to grow. Gravely Macabre and company also include child-friendly events—something that not too many haunted attractions do—serving those that were their very first visitors.
In our various interviews, Gravely has stated that by creating events suitable for both children and adults, he hopes to create lifelong visitors and friends of the castle.
"We hope to create a lasting impression on them," he says. "When the younger ones visit our events meant for them, we want their experience to be one that they remember upon growing into adulthood. Then when they grow up, we hope that they remember us and will want to visit our tours that involve more scares." He also adds that the castle tends to be a source of nostalgia for many adults that had visited the attraction as children.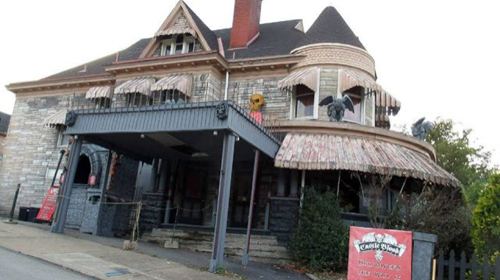 The nostalgia description fits the castle in many more ways than one. Having had such a long run, their patrons tend to range greatly in age, and the general atmosphere of the attraction harkens back to the Universal monsters of yore. Those earlier monsters made popular by the likes of Bela Lugosi, Max Schreck, the Chaney, and Karloff.
Speaking of nostalgia, now is the time that many are looking back on the year 2015 and all that it has brought to them, and this particular year saw a lot of growth for this very unique haunted attraction. Starting with a good turnout for their Bloody Valentine's Day event in February, despite the unpredictable weather. They went on to add behind the scenes tours, special FX demos, and both new and old community events to their calendar (seriously, I don't think these guys ever stop). Their permanent home inside the 100-year-old funeral home (which I did get to see in its earliest stages before renovations began…and trust me, the folks at Castle Blood definitely had their work cut out for them) had a few more rooms ready for visitors to see and enjoy. The addition of new rooms also extended the length of the tour (and who doesn't want an extended haunted house tour?).
Finally, they wrapped up the year by opening their now annual Spooky Cryptmas Show, a tour that will very likely appeal to fans of the movie, The Nightmare Before Christmas. Or even just individuals in general that enjoy combining Christmas cheer with the dark and sinister.
Many of us are gearing up for the launch of 2016 and preparing the year ahead of us. As always, I recommend checking out the yearlong events that Castle Blood has to offer and adding one or more of these events to your calendar.
As a side note, for those of you into obscure, old movies with some creepy/cool and sort of whacky hosts, check out their webseries, Midnight Monster Hop at their YouTube Channel.
To find out more about what Macabre and family has going throughout the new year, Castle Blood can be found online along with the following social media networks:
So if you haven't checked out Castle Blood yet, be sure to do so and if possible, attend one of their events. You won't be disappointed.