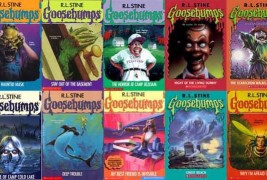 "I feel happy to terrify kids." – R.L Stine
From 1992 to 1997, R.L. Stine spooked children across the globe with sixty-two books. Not only were the stories deliciously devious, but the book cover art provided by Tim Jacobus was equally unnerving and the titles were just – mwwwauh!—perfecto.  350 million copies later and Goosebumps is now officially old enough to warrant a retrospective.
It all started in July of 1992 with a haunted house tale called Welcome to Dead House.  Already a well-respected young adult horror author with his Fear Street series, this was a whole new monster (ahem) for the Columbus, Ohio native.  Through Parachute Publishing, which was founded by Stine's wife Jane, Robert Lawrence Stine launched the series that would change the lives of millions of pre-teens all over the world.
Mr. Stine caught lightning in a bottle in a way that nobody could ever have predicted. These were monster books written for kids by a man who wrote like a loving father – you didn't find any sexual innuendo, drug use or overt violence in these books.  If things got a little too creepy, the next chapter or two would focus on how bad the family dog smelled or how annoying a little sister could be.  Stine wasn't here to keep us up at night – although he certainly made me leery of cabinets under the kitchen sink, basements, attics and the woods, to name just a few things.  He was here to encourage the world to read, and if that meant adding monster slime and the abominable snowman to a story that at its core reflected on bullying and trying to fit in, then so be it. Goosebumps books were all about things that go bump in the night, mad scientists and children visiting their creepy grandmother or being shipped off to a camp that's not quite right.  They were fun campfire tales that almost instantly made R.L. Stine a world-wide celebrity.  For three years during the 1990s, Stine was named America's number one best-selling author by USA Today.
My first experience with Goosebumps came in the spring of 1995.  I was an eight year old with a wild imagination, the kid who was labeled a class clown and someone who probably needed any and all resources to keep from becoming a rambunctious headache.  I vividly remember the day I was given my first Goosebumps book.  Dashing through a nasty rain storm as the school day ended, I hopped into the car and my mother said she had gotten me something while she was out grocery shopping earlier in the day.  You see, kids, back in my day, most Jewel-Osco grocery stores had small racks of paperbacks and the awesome Disney Adventures magazine (look it up!) near the check-outs.  So on this fateful day, Ma decided to toss a book onto the conveyer belt and start what has been a lifelong journey ever since.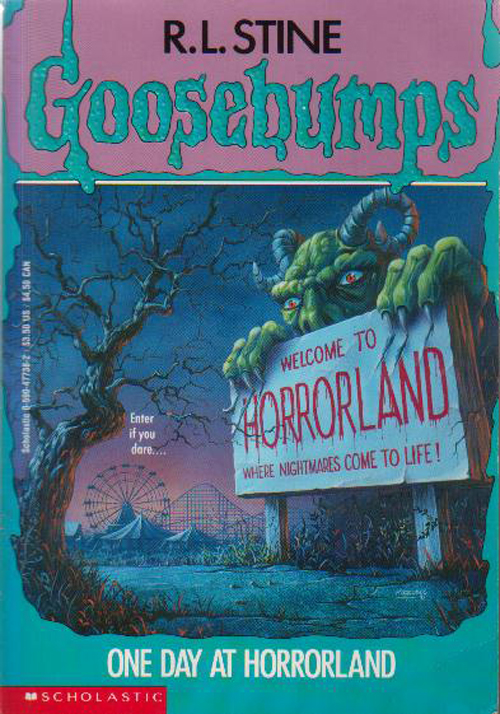 I didn't know what it was called or who wrote it, but that stuff wasn't overly important right then and there. The horned beast on the cover, peeking out from behind an old wooden sign reading "Welcome to Horror Land" captivated me like no piece of art ever had (or probably ever will).  The book was called One Day at HorrorLand and I almost couldn't believe I now owned such a cool item.  I read the book at a feverish rate, wide-eyed and falling in love with the characters and the idea that some macabre amusement park was tucked away neatly somewhere off of the suburban American path.
Over the next three years, I ended up collecting all sixty-two original books, including any repackaged gift set that was made available, my personal favorite being the Goosebumps Monster Edition #1, a hardcover collection that had my all-time favorite art of a skeleton shrieking in bed, complete with a night cap on and a bulldog cuddled up against its rib cage.  The collection featured three previously released Goosebumps books and screamed when you opened it!  There were also Halloween special edition mini stories that were found in bags of Frito Lays chips and Coca Cola packs in 1996.
I was obsessed with these books, and I wasn't the only one. I'd bring my collection (or most of it) to school at least once a week to be my classroom's "creepy librarian."  I'd let classmates borrow a book for a week or so, so long as they wrote their name on my very professional hand-written notebook sheet of paper and they promised not to fold the corners down – "Please use a BOOKMARK!! THANK YOU."  These books were also completely off-limits when it came to recess hour trades.  While a few baseball trading cards could get you a Pog or vice versa, there was simply no schoolyard currency available that could net you 110 to 130 pages of sheer creepy madness.
Goosebumps cultivated my love for reading and writing like no other.  I was writing fan fiction before fan fiction was even in the Urban Dictionary.  My grandmother loved the fact that I was reading and would gladly offer me two Goosebumps books if it meant keeping me out of the toy aisle at K-Mart.  I accepted that deal every time it was presented to me.  Who needed toys when I could stretch out in bed and lose myself in a world of plant people in the basement and killer photo cameras?!  I was reading roughly a Goosebumps book per week, finishing the newest one and then going back to re-read a past favorite.  Just as importantly, these books led me to Bram Stoker, Mary Shelley, Stephen King and Dean Koontz, which in turn brought me to Richard Matheson, Joe Lansdale, Ray Bradbury and dozens of incredible independent authors who I enjoy to this day.  Most importantly, it taught me the power of creativity and words.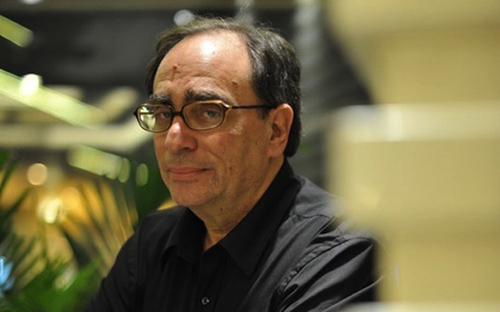 It didn't stop at the paperbacks, either. When the Goosebumps television show debuted on October 27, 1995, I watched at my grandmother's house with my younger sister.  Not since the Mighty Morphin Power Rangers movie came out early that year did I lose sleep over being so excited about a television show or movie.*  We dimmed the lights and clutched a bowl of popcorn between us.  It was a Friday night, and my grandmother was babysitting us.  It was the coolest night of my life.  While Grandma was terrified of scarring my sister for life, she let us watch as teenager Carly Beth Caldwell was tormented by The Haunted Mask. The show went on to last four seasons and seventy-four episodes.
Then there was the merchandise. Oh, the merchandise!  For three Christmases in a row, my wish list consisted of anything and everything that had the oozing G logo on it.  From action figures to board games, sleeping bags to school supplies, Goosebumps were EVERYWHERE.  I received a Goosebumps skateboard for Christmas one year and it was the coolest three months of my life.  After realizing I didn't have the coordination for boarding and that practicing in the winter wasn't the best idea, the skateboard made for a helluva piece of wall décor in my room up until I was in my teens.  A quick check on eBay also revealed that there are books selling for hundreds currently, so feel free to dust off your collection and pay a few bills before this holiday season really kicks off.
With the recent release of the live-action feature-length film Goosebumps starring Jack Black as R.L Stine, a whole new wave of young horror-lovers can be introduced to the world that I fell so deeply in love with during my youth.  The rabbit hole that Stine dug and invited so many of my peers into is still a place of comfort and nostalgia for me.  The box office numbers speak for themselves – pre-teen terror is still very viable and very creative soil to sow.  Here's hoping a few kids that see the movie can find a few worn and torn paperbacks and fall in love just like I did.
*1995 was the single greatest year of my life. A Goofy movie, MMPR: The Movie, Goosebumps: the television series and Toy Story all came out that year.  Oh, to be nine and ten again….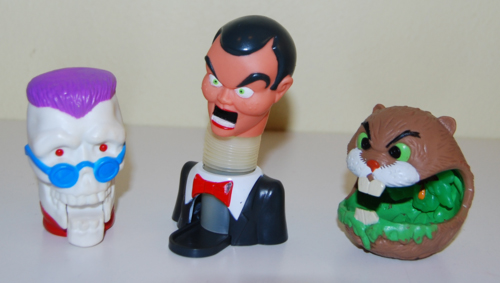 My Top 5 Goosebumps
One Day at HorrorLand (February 1994) – My first experience with Mr. Stine's twisted tales and boy, what a doozy!  When a family gets lost on the road, they come upon HorrorLand, a theme park that features an enormous parking lot, a terrifying slide ride and is inhabited by beings that definitely are not human.  This story has it all – monsters, action and one heck of an ending!
Say Cheese and Die! (November 1992) – A camera that reveals the terrible future of the person it's capturing on film!  How can you not love it?  I remember reading this book and always thinking that John Travolta would have portrayed Bird, the cool kid in the group, perfectly if he still had his Grease get-up.  One of only a few books in the original collection that got a sequel, this story about a group of outcast friends who band together to figure out how to stop this terrible contraption reads almost like a Tales from The Crypt episode.
Stay Out of the Basement (July 1992) – The plant people!  This cover stuck with me for a very long time.  I first saw it while my grandmother and I were walking past a Barnes & Noble book display at the local mall and I remember my grandmother telling me, "Oh no, that is too scary for you…."  Four years later, she was buying me a copy of the book that featured another incredible illustration by Tim Jacobus.  The knuckles are so red and mottled, it's beautiful!  The tale of a father who just so happens to be a mad scientist is also one of the best episodes adapted for television.
The Werewolf of Fever Swamp (December 1993) – My first venture into the world of lycanthropy.  There's a werewolf on the loose and, as always, only a couple of young teenagers really get what's going on in their hometown.  Another beautiful cover by Jacobus.  This installment also incorporates man's best friend into the story quite well.
Revenge of the Lawn Gnomes (August 1995) – I was terrified of the Child's Play film franchise growing up, and while Night of the Living Dummy translated more closely to the homicidal Chucky doll, it was these vengeful lawn gnomes that really got under my skin.  These little cretins were stalking the backyard of our protagonist in the shadows of night, smashing the family garden and creating all sorts of mischief.  This was the first book I ever read, cover to cover, in one night.  I remember staying up late and finishing the book in one marathon reading session and thinking I was the coolest kid alive.