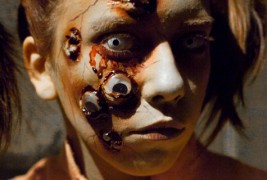 There's a lot to be said about the idea of survival horror video games as the most immersive horror experience.  The allure of climbing into a character persona and facing – and overcoming – horrifying challenges is both thrilling and empowering, and the best games are simultaneously thrilling and completely haunting.  If there's one thing better than wandering through a horror-fueled virtual world, though, it might just be walking through the video game – in real life.
That's the idea behind Universal Orlando's new Silent Hill attraction, anyway.  This year's offering for the much-acclaimed Halloween Horror Nights lets visitors wander through carefully crafted sets stocked with special effects, animatronics and costumed actors that bring the world of Silent Hill to life – or, at least, undeath.  The attraction opened to the public on September 21st and will stay open for the rest of the Halloween season, allowing interested guests plenty of opportunities to explore the maze under the watchful eye of Pyramid Head, Robbie the Rabbit and a score of nurses.
As far as horror video games go, none offers a richer world to explore than the Silent Hill franchise.  The town itself was, in many ways, the primary antagonist of the first game, and it remains a major element throughout the sequels.  Where other games might focus predominately on monsters to create scares, the Silent Hill franchise has always thrived on developing an entire world dripping with atmosphere and intrigue.  If ever there were a video game universe to visit, this would be it – assuming, of course, that you knew you would eventually find your way out.
The real question, of course, is whether the Halloween Horror Nights attraction will stand up to the scrutiny of fans.  From what I've seen of it so far, it certainly seems like it will.  The sets have been planned with such loving attention to detail that they look nearly identical to the game screens.  Even subtle touches, like the gentle fall of ash in the entryway, add to its authenticity.  The best call, though, was in building the attraction as a maze rather than a ride.  Letting visitors wander the sets – getting lost, finding dead ends, evading costumed "scareactors" – mirrors the first-person shooter experience as closely as any haunted house really could.  Of course, you won't have the satisfaction of gunning down any villains, but it's a small concession to make in an otherwise awesome event.
Even if you're not a Silent Hill fan, it might still be worth a visit to Orlando or Hollywood to get a dose of horror.  Universal has been running Halloween Horror Nights attractions since 1991.  The attraction originally only lasted for a few nights around Halloween, but it's since expanded to a month-long celebration of the macabre.  During the day, the park runs as normal.  At night, it shifts gears into its creepier side, with specific themed attractions opening up to visitors.  Many of the regular rides still run during the night, and they're sometimes modified to fit the Halloween theme.  Perhaps best of all, the park has several "scare zones" that must be crossed in order to reach certain attractions, and these zones are staffed with costumed actors who bring the whole experience to life.
Alongside the Silent Hill maze, Orlando is offering several other horrifying ways to spend your October evenings.  You can wander zombie-infested streets inspired by AMC's The Walking Dead or visit a post-apocalyptic Las Vegas created by the magicians Penn and Teller.  There're also haunted attractions inspired by Alice Cooper, a Gothic cathedral, the cursed Hartford Mansion and plenty of street performers and live entertainment.
Of course, if you're not in a city near a Universal park, you might miss out on the fun.  Fortunately, most major theme parks offer something special on Halloween.  Knott's Berry Farm goes all-out by re-theming all of its rides to more horrific versions and filling the park with scare-mongering staff.  Busch Gardens runs a Halloween event at each of its locations every year, and most Six Flags locations offer spooky-themed events and attractions as well.
There're hundreds more attractions to find across the country, ranging from complete Halloween-themed theme parks like Dallas's Screamspark to small-scale fright houses put on by student organizations and non-profits, and even a few high-end yard haunts and garage haunts put together by local fear-mongers.  Haunted houses have definitely grown over the past few decades, with attractions growing scarier, bloodier and more high-tech as the creators aim for an older and more genre-savvy audience.
With so many horror-themed attractions across the country, it's obvious that there's a lasting demand for this kind of entertainment.  Parks need to raise the stakes to compete with movies, video games and other media, but they provide something that no other form of entertainment can: They allow visitors to actually participate and create their own experience.  The feeling of being scared – and even threatened – while knowing that you're still safe is one of the most powerful draws of the horror genre, and haunted attractions make that possible.