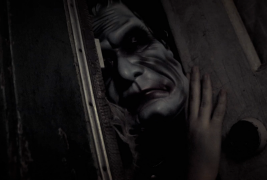 The most wonderful time of the year is finally here!! Happy Fall, y'all!! To kick off my favorite season, I decided to watch a really ballsy offering from writer/director/editor Torin Langen, and Candle Flame Films, entitled 3 Dead Trick or Treaters. The title alone caught my attention, but upon learning that it was an anthology AND a silent movie, I was even more game on to watch it.
So, that being said, let's cut to the chase already. Grab yourself something pumpkin-spiced and stick around to see if this film gave me the best treat ever…or if it left me holding a rock.
3 Dead Trick or Treaters starts out with a paperboy biking around and delivering his newspapers, on which the headline story is something about missing trick or treaters. All seems well, until he delivers to a house that's decorated for Halloween, and sees several days' worth of papers strewn about on the ground. Concerned, the paperboy looks around to see if there's anything else out of the norm that he should worry about.
As his investigation continues and takes him deeper into the woods, he passes by several rotting pumpkins along the way. He doesn't really think much of them, until he happens upon one that has a note attached to it that says: "I wrote their bedtime stories." Moving forward on his path, the paperboy comes across three grave markers, each with a rubber Halloween mask and a handwritten story posted on them. And with this discovery, the first of the four stories in this anthology is introduced.
Without giving away much more than that, I'll tell you that all the stories included in this film are intertwined in one way or another. Social issues, human (and at times, not so human) nature, and the overall celebratory feel of Halloween are rolled into each story, and even into the wraparound story that ties everything together.
While the stories themselves are interesting and entertaining, they're not without flaws. However, the flaws aren't ones that I'm going to nitpick and really say much about, because overall 3 Dead Trick or Treaters managed to hold my complete attention for the entire runtime of the movie, which is a little over an hour.
I really enjoyed this film. It's edgy because of the absence of dialogue, which works quite well adding that extra something to the already dark, grindhouse feel of the movie. The acting is strong, and watching the stories be executed as well as they are without the advantage of the spoken word is just really cool. The score is an excellent accompaniment to the visuals and the storytelling is good if not really memorable.  Lastly, the blood and guts factor is pretty enjoyable.
All in all, I think 3 Dead Trick or Treaters is worth your time.  I believe it's currently making the rounds at the film festivals in the U.S., so if it comes to your town, try to catch it!