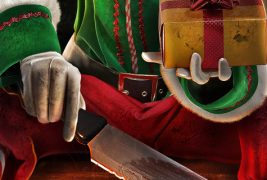 On the list of horror movies about malevolent toys – a (weirdly) long list, to be sure – Justin Price's The Elf is among the newest entries.  Not only does it cover the Malevolent Toy subgenre, but we get the Christmas Horror subgenre too.  That's two horror niche's for the price of one, or killing two horror tropes with one monster, as it were. 
So, what should you Hearty Horror fans expect come November?  Well, lucky for you, we've brought you the full press release and trailer below.  Please, read on….
This Holiday Season All Is Not Calm.
This November, warm up the eggnog, slap on a silly jumper and gather around the TV for the enchantingly frightening tale of an ancient elf doll that comes to life and terrorizes an unsuspecting family in Uncork'd Entertainment's The Elf!
If Pennywise warmed the cockles of your heart, and if you feel Chucky is the gift that keeps on giving, reward yourself with some quality time with The Elf!
Nick is haunted by night terrors stemming from a tragic murder he saw when he was young.  After inheriting an old toy shop, he discovers a cursed elf doll sealed inside an ancient chest with a naughty list of his family's names written on it. He soon discovers that the elf was an evil conduit meant to unleash a supernatural killing spree during the Christmas Holidays by whomever set it free.
A bloody treat arrives November 7 on VOD and December 12 on DVD with The Elf, written and directed by Justin Price (The 13th Friday) and starring Natassia Halabi, Les Best, and Joseph Daniel Ellis.