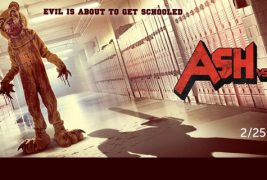 After much speculation, a little hand-wringing, and some cryptic tweets, we're happy to report that Starz has finally issued a press release for Ash vs Evil Dead season 3.  Despite whatever was going on in the real world—including the recent merger between Starz and Lionsgate—you'd be hard pressed to find anyone opposed to more mayhem inside the world of Evil Dead guided by the same folks who made it all up in the first place.
A forthcoming third season is positive news, though no explanation for the extra-long hiatus preceding it has been issued (the chainsaw will remain quiet until early next year).  Either way, we here at Ravenous Monster will take it when we can get it, no questions asked. 
To get the scoop on Ash vs Evil Dead season 3 on Starz, read the full press release below, Horror Fans…. 
Beverly Hills, Calif. – October 4, 2017 – Grab your chainsaws and watch out for Deadites because the grooviest show on TV returns in all its Ash-kicking splendor with more grisly battles, ghoulish banter and more blood-drenched fun than ever. The highly anticipated 10-episode third season of STARZ Original horror-comedy series Ash vs Evil Dead will premiere on Sunday, February 25, 2018 at 9PM ET/PT.
The wickedly gore-filled series stars Bruce Campbell as Ash Williams, the chainsaw-wielding anti-hero tasked with saving the world from evil; Lucy Lawless as Ruby, the unpredictable foe and occasional ally who has strong ties to the origin of the "Necronomicon;" Ray Santiago plays Pablo Simon Bolivar, Ash's loyal sidekick and eternal optimist; and Dana DeLorenzo returns as Kelly Maxwell, orphaned in Season One and ready to kick some evil ass. The upcoming season also finds Ash discovering his long-lost daughter, Brandy Barr, played by newcomer Arielle Carver-O'Neill ("House Husbands," "Suburbs," "Conspiracy 365").
The third season finds Ash's status in Elk Grove, Michigan has changed from murderous urban legend to humanity-saving hometown hero. When Kelly witnesses a televised massacre with Ruby's fingerprints all over it, she returns with a new friend to warn Ash and Pablo that evil isn't done with them yet. Blood is thicker than water in the battle of good vs Evil Dead!
The Evil Dead original filmmakers Sam Raimi, Rob Tapert and Bruce Campbell serve as executive producers on Season Three along with Ivan Raimi and Rick Jacobson. Mark Verheiden serves as Showrunner with Producer Moira Grant.
New and long-time Evil Dead fans can catch up on Seasons One and Two of the STARZ Original series Ash vs Evil Dead on the STARZ app.
And visit the official Ash Facebook Page and follow @AshvsEvilDead on Twitter and Instagram. Join the conversation with #AshvsEvilDead and #STARZ.