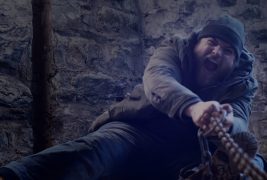 In writer/director Andrew Wiest's film The Forlorned, when Tom Doherty (Colton Christensen) arrives to restore the once impressive lighthouse of a remote island, it isn't long before he encounters forces that threaten his sanity and the safety of those around him.
The impressive coastal setting and atmosphere is nostalgically reminiscent of the horror output from the USA during the 1970s. The camerawork from Dusty Jones is impressive and the sound design from Jason Scott is atmospheric with some wonderful nautical touches that keep us squarely in the mood of the piece.
You can smell the coastal air.
You can feel the soft sea spray on your skin.
Some genuinely unsettling moments are realized by the filmmakers with jarring sightings of restless spirits and disturbing revelations involving man-eating pigs, cannibalism and an uncommon (and sometimes intentionally humorous) habit of coastal birds slamming with exceptional force into the lighthouse windows—apparently on an avian suicide mission.
The film's lead Colton Christensen is a mixed bag performance-wise. His delivery of most of the dialogue is subtle and impressive, but his expressive eyes and looks (not unlike Jack Black) don't fair quite so well when he has to evince fear. His theatricality during these moments is reminiscent of the excesses of the silent era. He is impressive, though—both physically powerful and emotive—and I, for one, would like to see him in more productions.
The rest of the cast is solid and the female lead of Amy (Elizabeth Mouton) is strong and captivating. The island publican Murphy (Cory C. Dangerfield), sporting a slightly dodgy Irish accent, is particularly entertaining and a nice throwback to the aforementioned horrors of the '70s when the narrative always relied on someone entertainingly world-weary to bring the audience up to speed with backstory.
The Forlorned is a tightly edited, beautifully shot and crisply paced horror comedy with genuinely creepy moments and an engaging cast that is sure to tickle a nostalgic bone for those atmospheric chillers from when horror was a genuine "pleasure."
Recommended.